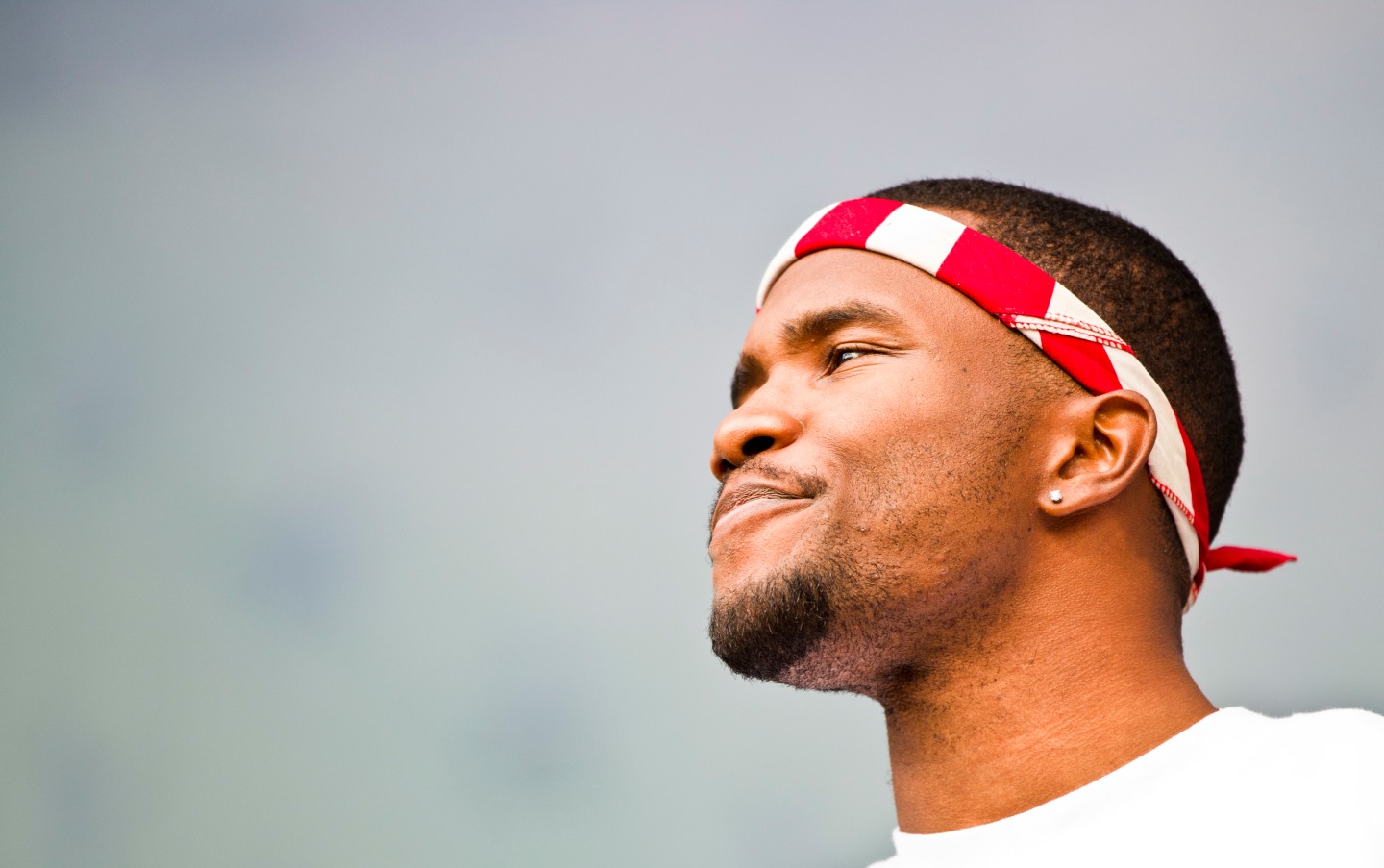 You already know this, but Frank Ocean's site still features a photo of the singer with a message written underneath: "I got two versions. I got twoooo versions." #ISSUE1 #ALBUM3 #JULY2015 #BOYSDONTCRY. He's sitting in a chair, leaning over a stack of his Boy's Don't Cry zines, which were meant to be released with his sophomore LP of the same name in July 2015.
Since the non-release of that album and zine, Kanye West has also not released a zine, and even sort of not released an album with a song that briefly features Frank Ocean (despite a launch party, West's publication has not been made available to the public). It can feel as if Ocean has become a ghost of the music industry, appearing briefly on a tantalizing chorus, only to disappear back into the canyons of Los Angeles.
Being a Frank Ocean fan in 2016 is not about being frustrated; it's about being a frustration meme. Have you expressed your annoyance that he hasn't released anything new yet? If not, are you really a fan? Waiting for Frank Ocean has become the new listening to Frank Ocean.
In 2011, things were very different. On this site five years ago (give or take a couple days), I wrote a post about Nostalgia, Ultra, the mixtape that introduced Ocean to an entire audience of people that didn't even realize they cared about R&B. My initial thoughts basically boiled down to: Here's this tape. It's free. You like Odd Future, right? Frank Ocean is connected to that. Also: something about Kenna.
My post was published days after Nostalgia, Ultra's release, a lag that's basically unthinkable on today's internet. I mentioned that during that week, rather than listening to the Frank Ocean tape for the days it'd been out, I'd gone down a highly specific rabbit hole, spending countless hours listening to a low fidelity mixtape rip of Waka Flocka and Mystikal's "Cookin Up 1000 Grams." I hadn't engaged properly with Nostalgia, Ultra because I wasn't sure how to. It felt too genuine to give it the quick blog post once over and move on. Too untouched by the music industry hype machine that Odd Future were then embroiled in.
Nostalgia, Ultra felt more like a bedroom record; the kind of thing a guy with a preternatural talent for songwriting could cook up in his attic and then dump into the world unsullied by expectations or popular convention. But it was more polished than that. It sounded like Ocean had chiseled away at these songs, holding onto them until they achieved the perfect midpoint between bleary nostalgia and emotional honesty.
Whether he likes it or not, since Nostalgia, Ultra's release, Frank Ocean has become a figurehead. He is what we want music to be: a genuine expression of emotion largely untouched from the machinations of the music industry.
About a month after the its release, another free R&B mixtape arrived without warning. It was House of Balloons from The Weeknd, another previously unknown artist who I'd written briefly about. While Nostalgia, Ultra announced itself plainly and without fuss, House of Balloons was already cynical—steeped in cocaine comedowns and glass table fantasies. Listening to it felt lurid, especially next to Ocean's considered, downright-sunny-by-comparison record.
I likened the two in my head constantly. I shouldn't have, but how could I not? Both were free releases. Both announced new artists that almost immediately impacted the state of pop music in major ways. Both seemed to say something about R&B: In those early days The Weeknd shook off the genre's roots, opting for nihilism while shunning warmth. Ocean was the opposite. Nostalgia, Ultra was a love letter to music, and, whether he knew it or not, a goodbye to being able to make songs without the world noticing. After Nostalgia, Ultra, everything Frank Ocean did would be the most important thing ever.
Back in those heady days when most of the context for the tape was that it was from a guy who was somehow associated with Odd Future even though he was older and had already had a music career that never really took off, there still was an appealing looseness to all of it. Ocean plays a quick Radiohead snippet before being told to turn it off, or he sings new lyrics over The Eagles' "Hotel California," (a move that would result in a near-lawsuit, and a harbinger of how a music industry could stifle any kind of casual fun almost instantly).
Listening to Nostalgia, Ultra now, the highs are still so high—so evocative and emotionally complex. Ocean is a vivid, but concise writer, able to sing about depression and fear and broken hearts with a fresh viewpoint: And I've got this black suit on/ Roamin' around like I'm ready for a funeral/ Five more miles til the road runs out—my favorite line from "Swim Good," a definitive highlight from the tape. Later in the song, we find him kicking his shoes off and staring at the great expanse of endless sea. It's a testament to his songwriting that he's able to find new angles to emotional cliches without veering into rote corniness.
Nostalgia, Ultra is a minor work from a major artist who works best when he doesn't have to act like a major artist. The album is minor by default. It's free to download, and was never reissued. It's not streaming on Spotify, and thanks to that whole Eagles thing some of the tracks are even hard to come by on YouTube. If it wasn't so great, it'd become another internet curiosity, buried under heaps of digital detritus and mislabeled ID3 tags.
Pretty soon (Right? Right?!?) there will be another Frank Ocean album, and it will be welcomed into a very different internet landscape than the one that existed when Nostalgia, Ultra came out. He will not be greeted by quick blog posts, but by near-immediate essays about what he means to the world. Whether he likes it or not, since Nostalgia, Ultra's release, Frank Ocean has become a figurehead. He is what we want music to be: a genuine expression of emotion largely untouched from the machinations of the music industry. One of the best things about Nostalgia, Ultra was the way I could just sort of happen upon it without having to immediately decide What It All Means. Luckily Frank Ocean seems to be blessed with the ability to not give a fuck about what people want from him. Things are different now. Not better. Not worse. But there's a good chance that if you heard the album when it was released, you remember those days fondly.
Being Frank Ocean means something very different than it did five years ago. Now we expect everything. There's a new kind of pressure on him, and it's all tangled up with a new kind of nostalgia: our own.