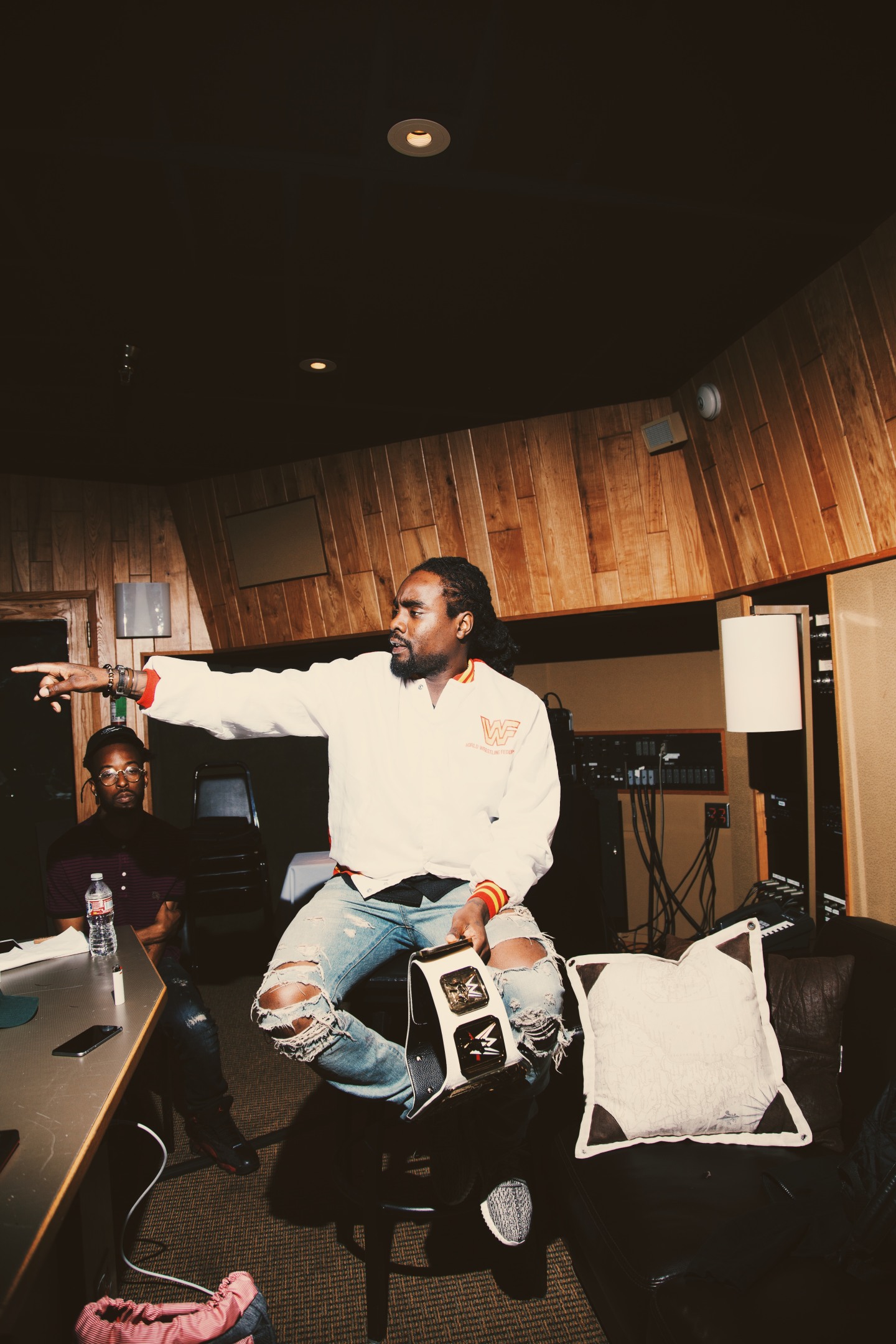 In late June, under dim studio lights at The Record Plant in Los Angeles, six men jump-danced to a beat with gut-punching drums, Sega Genesis video game sound effects, and EDM vibrations. In the center of the scrum was Wale, his dreadlocks shaking free of his forest green dad hat and smacking against the shoulders of his vintage nylon Hulk Hogan jacket. The source of the euphoria was the song "Contract Extension," a cut from Maybach Music Group's forthcoming compilation Self Made 4, which Wale is at the forefront of as both a rapper and A&R.
Throughout the night, Wale also played potential thumpers from his upcoming SHINE album (Still Here, Ignoring Negative Energy), set to come out later this summer. There's a lusty untitled one with PnB Rock. Another is called "Scarface, Rozay & Gotti," which pays homage to the vibes the aforementioned rappers create. "Fish and Grits" also knocks, and features buddy Travis Scott's woozy vocals.
It being the day after the BET Awards meant that many artists were still in town, hours away from hopping on flights back to New York City, Miami, Atlanta, or wherever home is. Rae Sremmurd's Slim Jxmmi popped in for a quick visit and played songs off his cracked iPhone. "This next joint is for all the niggas that said we can't rap," Jxmmi said. "We already went platinum. We ain't got nothing to prove on the numbers front." Lil Wayne was across the hall, hunched over the production console quietly searching for ways to attack the track looping through the speakers; he eventually released his focus and chatted with Wale for a moment. Weezy's also likely to appear on SHINE, as the pair have already recorded the track and brainstormed video concepts.
Wale excused himself from the studio session and we entered the lounge to talk. He propped his Yeezy Boost 350s on the arm of the couch as his laptop played Monday Night Raw on mute. And then we wrestled through a conversation about his ever-present need for critical praise, his goals for SHINE, and if the pregnancy scare on his latest mixtape Summer on Sunset is real or mere creative fiction.
---
There's an interesting mix of people in here right now.
I get calls from Wayne Perry and President Obama's office in the same week. [Last year] we shot "MMG Under God" in The Gardens in SouthWest, per [infamous D.C.-area drug dealer and alleged killer] Wayne ["Silk"] Perry's request. He said, "Shoot one with my sons in my old hood." I'm not celebrating what he did. He's got remorse, though. He said, "I pray to God about everything that I did." All I'm saying is [my music] reached him. I'm not a street nigga. I wasn't flipping any birds. But he hit me three or fours years ago and we stay in touch. I fuck with his sons. His sons hustle on the music side of things. I shot a video in their hood. That was Wayne Perry's call that made me do it. I'm not in the streets and I'm not trying to be in the streets in that way. I pray for all the families that he touched [in a negative way]. But at the same time, I get those calls.
Considering what SHINE stands for, why are you still so talkative to losers on social media that are trolling you?
I respond to niggas on Twitter because I've always had a problem with niggas talking shit to me. Niggas on my team done changed my password and I'll figure it out. They'll change it again, then delete tweets if I go off. I get it. I know I'm not even supposed to talk like that.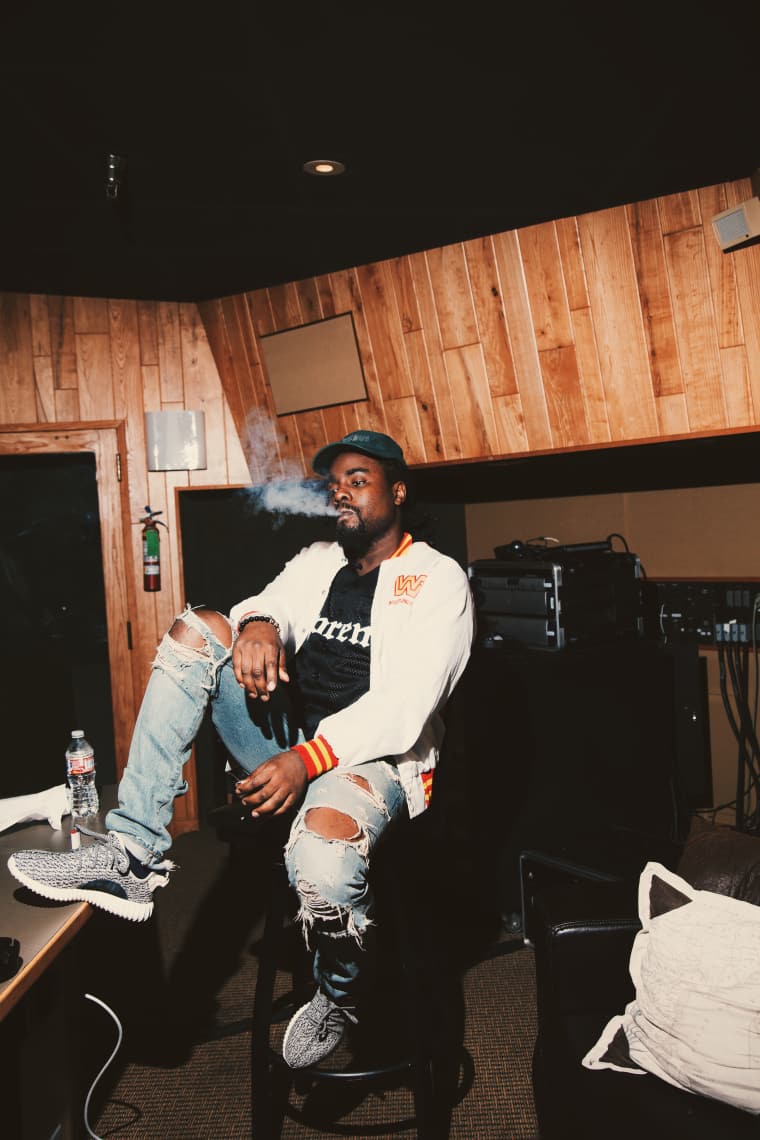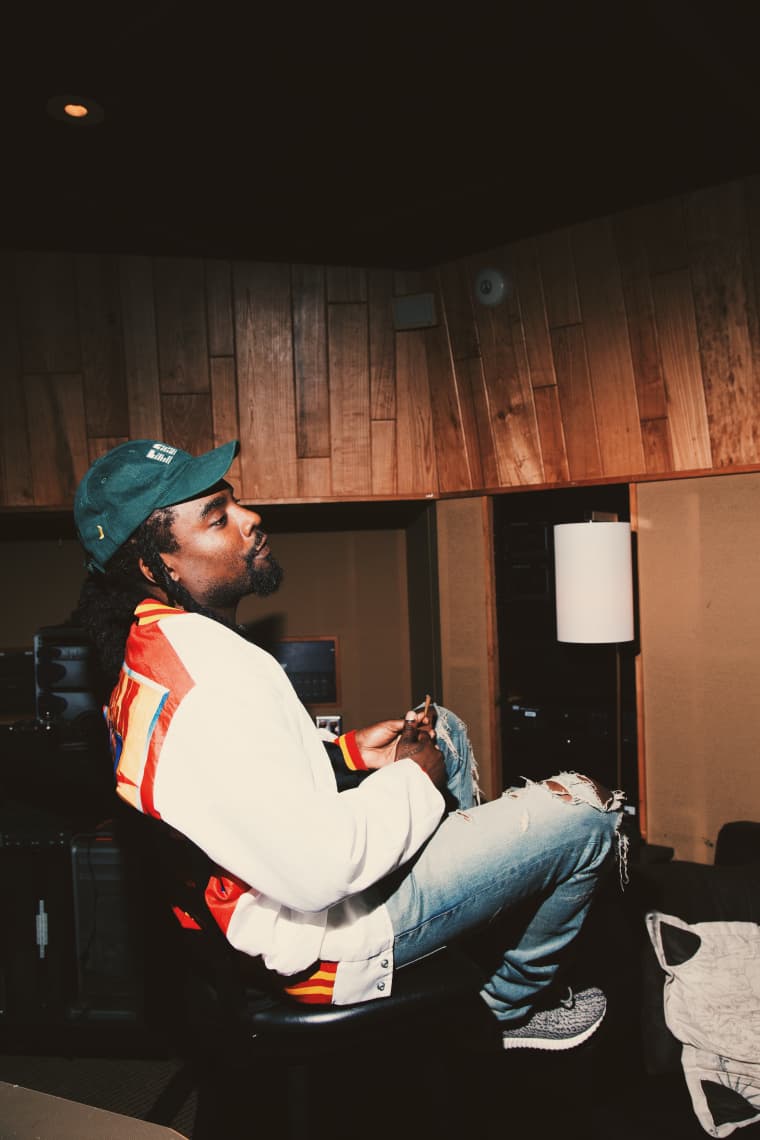 The argument for you to chill is that your career is way too good for you to be tweeting to vibe-killers or talking about things you don't have yet. Why don't you agree?
My sales were just updated. I've got double platinum songs and some gold albums. My last single ["Matrimony" with Usher] was gold. That's amazing for a lot of people. A lot of niggas would love to do that. Everyone but Drake and like a couple of other guys would love to do that. But my standards are higher.
It's like if I was a horny nigga and that's me jacking off on haters. That shit is built up. You have to understand, I go to the studio and try to produce shit that's better than Dr. Dre. Brad, I just learned how to produce and I'm sitting in here yelling, "What's Dre's best joint? Play that!" for me to compete with it. I'm in here asking what Michael Jackson's best melody is. I know I'll never be able to sing like Mike, but I'm still using that as my bar.
Some days I wake up and I just sit and think, "Oh, this is what they're going to hold against me?" In this era, we don't have that many Jay Zs and Nases. I'm here writing a message about a Jesus piece chain from a first-person perspective and y'all aren't going to celebrate that?
Cole and Kendrick are two niggas that I love to death. Those are my friends for real. Those are two people that are close to me. I know for a fact that when they heard "Golden Salvation" that they both thought, "Oh, my nigga Wale fucked that joint up." Niggas probably are going to hate when I say that and go, "Yeah, right. Kendrick probably would have written a better verses for that song. Maybe. But he didn't think of the concept to do it. That's 70 percent of the heavy lifting right there. That type of stuff should be celebrated. [But I see] that how I respond socially is going to be my achilles heel. It's going to be my Grant Hill ankles. Or my Bo Jackson hip — the fact that I overtly care. We loved 'Pac because he cared. When did it become such a crime to actually care? When did it become a sport to poke at the nigga that feels the most?
So what is your overall goal for the SHINE album?
SHINE is, "Fuck all that." You're going to know how nice I am. I'm going to get these songs off. Give me the same opportunity as these pop niggas. I'm trying to create a feeling. Happy. Sad. Turned up with my friends, with my women. SHINE is trying to describe what sky blue is to a blind person. I want you guys to feel like, "I always want to play SHINE when I'm going or out or coming from the club or going through a breakup or when I'm talking 'bout who's the nicest rapper." I might fall short. But that's the goal. That that's feeling I want to give. It should impact how you think about love, your teen years, your late 20s, marriage, your babies. All that. I'm trying to make people feel fly. I'm trying to make people understand my story.
You've got a song with Kehlani on SHINE. What's it about?
It's like the instruction manual for every girl who lands some money. It's me talking to a girl that's like a little sister and she's about to shine on everybody. It's an honest storyline. Kehlani and I are real close friends. We talk about music stuff and personal stuff. She comes over when she's feeling bad. I come over when I'm feeling bad. And we'll just talk and write. It's fun.
And you've got Travis Scott on "Fish and Grits."
Travis is a real good friend of mine. I always tell the story of how I first met the nigga. He was wearing Givenchy, tight jeans, and black and red Jordan 1s. And he was so energetic. I thought, "Man this guy is going to be vicious." I met him at Westlake Studios. And we just stayed friends the whole time.
You also seem very invested in building your own creative team and label, Every Blue Moon.
Every Blue Moon originally was going to be the first imprint under Roc Nation. This was like three years ago. Around Magna Carta time. When I had EBM at Roc Nation it was called Allure at first. I found [singer] Sam Dew and thought he'd be as big as The Weeknd, but he had some personal issues that wouldn't allow that to happen. I had Tiara Thomas, who would be huge right now if she had just said, "I'm rolling with Wale." We never toured "Bad." Jay and them trusted me. But then I left Roc Nation after some things changed there.
Later a friend of mine was talking to me and said that I'm different because I "have the street, suburban folks, but you're very cultured and articulate. That only happens every blue moon." So I decided to call it that. I wanted it to be everything between [Kanye West's] DONDA and Roc-a-Fella. It takes a lot fucking money and popularity. Phil Ade is my main act now. I've got two major-label offers now for my imprint.
Are you comfortable in that boss role?
Nah. Only because I feel like I have to involve other people. I think that the farther I go into this boss life, the more I lose myself. I'll lose my desire and the things that I'm into.
The last time we talked on record, you were about to drop The Album About Nothing and you revealed that were self-medicating and depressed about issues ranging from family turmoil to perceived professional plateauing. Are you in a better, non-drug abusing space now?
It was never that bad. I escaped how I needed to escape in that time. But it wasn't crazy bad. I know my peers and what they do. I just had to let people know that I went through it like they went through it. I'm not above vices and none of that. For sure, I'm not.
Summer on Sunset is about your first few months living in Los Angeles, being far away from home and the East Coast you grew up on. How will it lead into the music on SHINE?
Depending on how many people listen to S.O.S., I'll alter SHINE. I'll finesse it and get it done how it needs to get done. We need to get it to everybody that wants to hear it. I want to tell a story and it's going to come out on SHINE and you have to hear S.O.S. to understand SHINE.
We loved 'Pac because he cared. When did it become such a crime to actually care? When did it become a sport to poke at the nigga that feels the most?
On S.O.S., you have a few interludes with women leaving voicemails about how they're crewing up their girlfriends and coming over to one of your house parties. What's a Wale function like?
Everybody that's in the Hills, they know that we have parties. We just have people come over and we just chill. Nothing more, nothing less. We just have a good time with everybody just letting loose. We tried a lot of records out for the first time in those environments. Nothing crazy.
The last thing the listener hears on S.O.S. is a women leaving an "I'm pregnant" voicemail to you. Is that something that has actually happened recently?
You really have to pay attention and see what the fuck is going on. The listener is wondering, "Is it real? Is it fake? Is is poetic? Is it genius? What is it? How come there haven't been any articles on it?" They don't know if it's just art or more. I have all the answers.
You didn't answer my question, though.
You just have to wait and listen to SHINE when it comes.
It's a dramatic way to lead into the next project.
The next project or my life…
Dude, what are you saying?
You have to listen to it. Nobody knows what's going on.
But I know you're not a fantasy, "I rap from other people's perspective" rapper. So there has to be truth in it.
This is my fifth album. I'm doing a lot of different things.
Alright.
Alright.
So I'm just going to assume that the next album is going to start with talk about you having a child or something along those lines.
That would be nice. That'd be a great idea. Have I ever been that predictable before? Have I ever been that transparent?
You've been ultra transparent before, yes.
Never. I've never given people the evidence before I committed the crime.
In 2015, you made "Matrimony," about having a girl you thought was super special. Maybe even the one. And you rapped about her having a miscarriage. And you told me it really happened. Transparent.
I guess we'll just have to see. I could have a record with me going, like, "I thought I had this chick pregnant..." It could be, "I thought I had every chick in the world thinking..." It could be whatever.
When you end S.O.S. the way you did, does whoever you're actually dating hear the tape and give you grief about the pregnancy talk? Do you at least get the fake, "Congratulations" text?
Nah. Women of this time aren't on it like that. No one's thinking about it that deep. People don't think about it as deep as y'all do. I've probably only even gotten 10 tweets about it. Like, "Is that real?" It's been very light. Very light.
Really? This isn't even some great journalism find. A woman says she's pregnant loud and clear at the end of S.O.S. It's right there.
It's right there.
You say your goal for SHINE is to make something that fans can connect to. But I know you're still hungry for critical acclaim across the board.
Yeah, make a great album and just connect. I feel like I'm one of the best lyricists and people aren't going to see it until people are done with their preconceived whatevers. Listen to "Golden Salvation." Listen to "Black Heroes" and tell me what I'm doing is regular. I don't know, man. I just want to be respected. Every time I come out I'm trying to raise the bar.
So when critics hate, you basically know it's more a dislike for Wale than it is about your music?
I'm like, "Bro, just tell me you're wired to like certain things. Because if we go bar-for-bar, I'm running laps around everyone, but maybe two people. Tell me you're a victim to the marketing."
You get the "If J. Cole is winning and Kendrick is winning, then why aren't you winning like that?" question a lot.
Everybody and their mother asks me that question. And I tell myself, "Maybe they're trying to fuck with me to get a reaction. Let me tell myself that they don't believe that I'm as nice as these niggas." Everybody's like, "If those guys are doing that, then why do you think you're not on the level of..." So you're basically telling me I should be there.