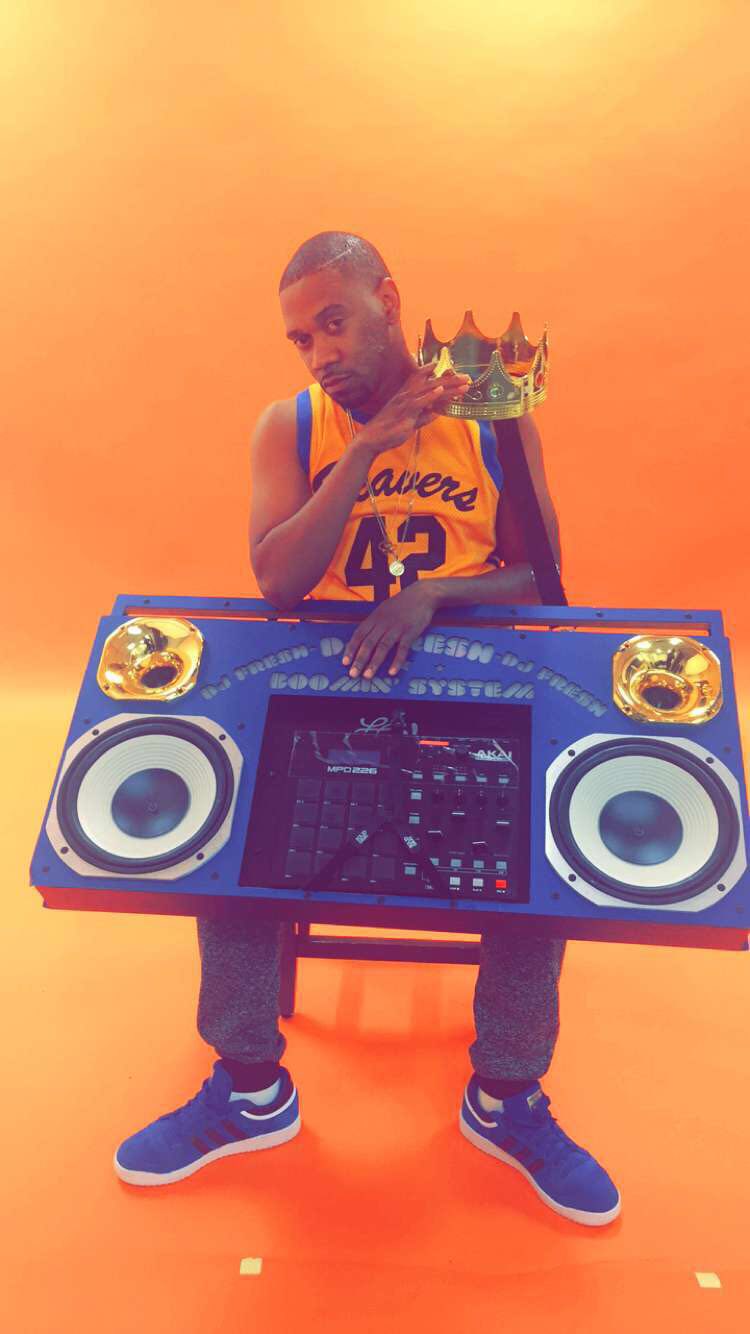 Few producers have been able to adapt to the shifting sounds and technology of rap music over the last two decades as well as DJ Fresh. The 34-year-old Baltimore native, born Marqus Brown, began his career as a turntablist, competing in national DJ battles up and down the East Coast. After moving to the Bay Area in the early 2000s, Fresh connected with a veritable who's who of the region's bubbling rap talent. Since then, his collaborative Tonite Show mixtape series has amplified the Bay Area's most distinct artists and featured internationally revered MCs like Raekwon.
"My career has always been about building at a slow but steady pace," Fresh said over the phone from an undisclosed, "tucked off" location in Northern California. "As long as it took me to get up here is as long as I'll last."
This year he's been especially productive: producing for Nef The Pharaoh, landing a placement on the Madden '16 soundtrack, and releasing collaborative projects with Mistah F.A.B., Young Gully, and Laroo. But his excellent Tonite Show album with Ezale — the Oakland rapper's first new material since his breakout debut in 2013 — feels like the culmination of years spent perfecting his funk-influenced sound.
DJ Fresh spoke to The FADER about putting down roots in the Bay, and how he's managed to keep progressing along with the region.
---
How did you first start DJing?

Well, back in the days, people used to have records, you know? My pops used to do it. He wasn't an official DJ, but he would do parties, like family parties. So I always had records around me.

My two cousins were real DJs: one was a house DJ and one spun hip-hop. I used to go over there and at first they didn't let me use their equipment. I used to just sneak down there and use it. I was 10 years old. Hella young. Then one day, I was like, "Man, let me show you something." This was back in the day and this was some expensive-ass equipment, but he let me use it after that.

The first record I got down — to where I could have two copies going, find the break, and run it back on time — was Run-DMC's "Peter Piper."

What kind of music was your dad playing?

My dad was playing old school funk: Frankie Beverly and Maze, The Gap Band, Earth, Wind, & Fire. But he really liked jazz too, so he also exposed me to Miles Davis, Weather Report, Jaco Pastorius. A little bit of everything. He had good taste. It's funny because a lot of the stuff that I sample is stuff that he used to play me. Instinctively, though, I just gravitated towards the '70s and '80s funk sound.

What was the first piece of equipment that you bought for yourself?

My first piece of gear was a Realistic mixer, I got it from RadioShack, and I had one Gemini turntable and a Sony Belt Drive turntable. I had to MacGyver that thang to make it work the right way. I had to superglue a bunch of quarters on top of the needle just so I could scratch without it jumping all over the record. You worked with what you had when you didn't have no money. That shit was expensive. You couldn't just download an app right fast and become a DJ in 24 hours. I was 11-years-old when I bought that.

How did you get into the competitive side of turntablism?

I had seen this DJ battle video. It was the X-Men versus the Invisbl Skratch Piklz. So this was Q-Bert, Mix Master Mike, and Shortkut against Roc Raida — rest in peace — Rob Swift, and Mista Sinista. Roc Raida was so saucy with the showmanship. He had that cocky energy that I was drawn to. At that point, I had just seen DJs doing some cutting and mixing, and I pretty much had that down. But when I saw that it opened up my world. I was like 15 or 16.
After seeing that, I started learning how to beat juggle and put words together from records so that it would say a sentence. Like really battle style DJing.My first real battle was in Virginia. I did a Zulu Nation battle and I placed second. The biggest battle I did was when I was 17. It was an [International Turntablist Federation] battle in 1999, and I placed number three in the whole country. I only battled for like two years, but I was kind of slaughtering shit though, you feel me?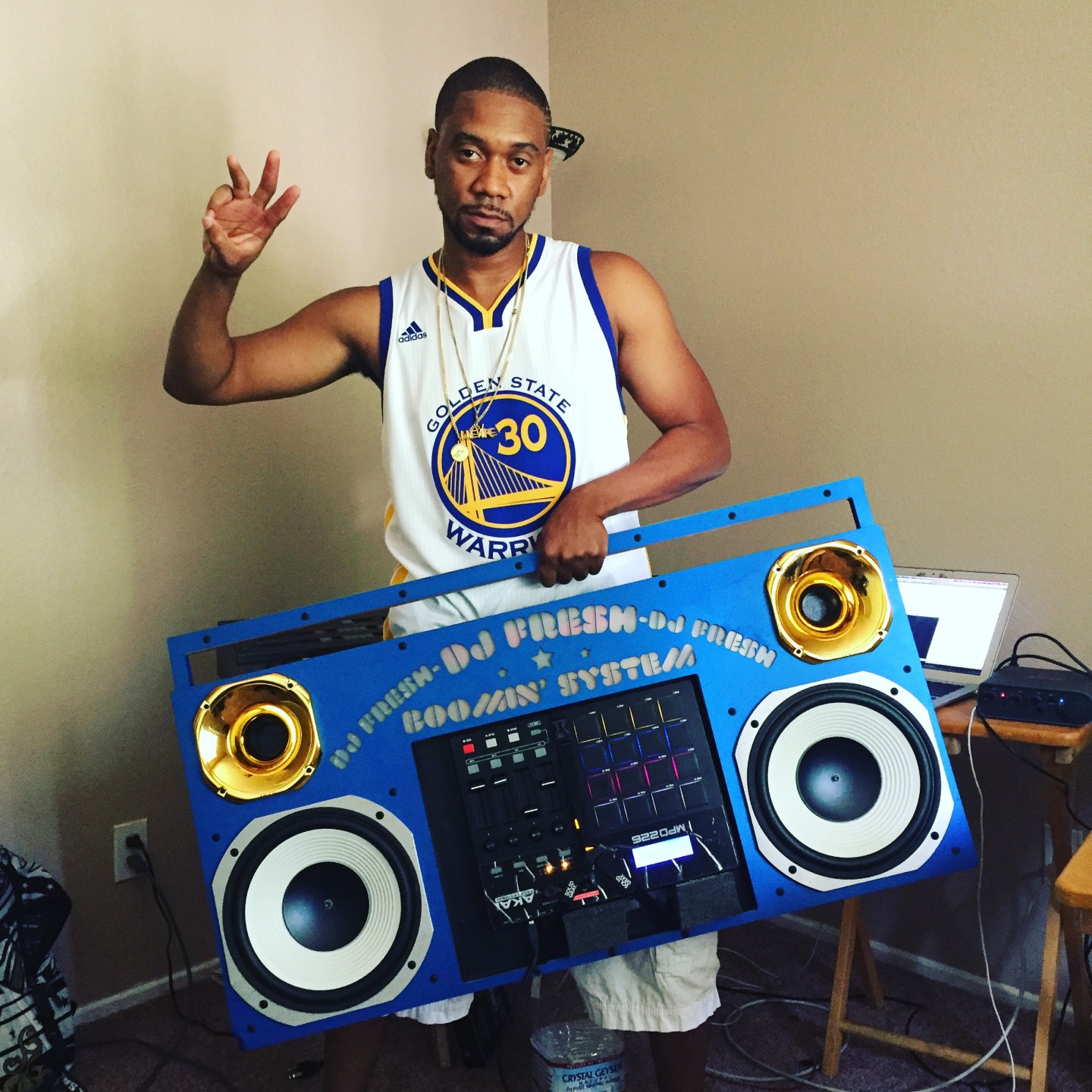 "It's weird muhfuckas call me OG. I'm only 34 years old, but I guess rap years are like dog years."
What initially brought you out to the Bay Area?

It was a bad situation in Baltimore. You've heard the story before: my Mom wanted to get us out of the hood, so we moved out to San Jose, California where my grandfather lived. I did the back-and-forth thing until I was 18 because my mom and pops had split up. So I would go spend time with him in Virginia, where he lived, and then be with her in San Jose. Once I turned 19, I stayed in California permanently and I moved up to Richmond.

During that mid to late '90s period in the Bay, was there any overlap between the turntablism and the rap scene?

At the time, the Bay was divided. Nowadays, you'll hear a song with Del The Funky Homosapien and Yukmouth. Whereas, back in the day, it wasn't like cats were hating on each other, but it just wasn't really like that. It was separated.
How did you then transition into the production side of things?

I got picked up by Nas to be his DJ for the Stillmatic tour in 2001. I was just starting to produce at this time, and I was living in the Bay, but I hadn't made any music connections with the artists there yet. When I got back from tour, I didn't really have a plan. I started going to this music production school called Ex'pression College in Emeryville. That's where I met the homeboy Mistah F.A.B.

That was the beginning of The Tonite Show mixtape series. I did the first one with Mistah F.A.B. in 2006. He just started introducing me to everybody after that. My name started to spread quickly. I was so damn hungry. One person led to another and another and another.

Was it a weird change to go from a more East Coast, turntablist style to producing for Bay Area rappers?

It wasn't weird. I was just doing me. I make beats that I want to hear, and rappers happen to want to rap on them. I never really make beats with a specific rapper in mind. I just do what naturally comes out of me. Everybody has a unique set of talents, you just gotta tap into it.
Right off the bat I was sampling stuff like Three's Company and Anita Baker. Me and Anita have a real close relationship. [Laughs] Nobody was really touching that kind of stuff at that time. The sound of the Bay Area was hella mobbed out: super deep bass lines and boom-boom-clap. Which definitely is a part of my sound too! But that style of sampling wasn't as much in the forefront. The Mob Figaz were one of the only groups in the Bay doing that. People thought they sounded more East Coast.
You worked a lot with The Jacka, who died last year. Do any memories of your time together stand out to you?

I remember we were working on The Tonite Show in 2012, and I came up to the studio where they were. I was on the master cleanse at the time, which was like you go seven days or 10 days of just drinking water, cayenne pepper, and maple syrup. It's supposed to clear out your system. It's hella hard to do. Anyways, I told [The Jacka] about it, and he was trying to tell me that he was vegan. I was like, "Bruh, you ain't vegan." This nigga was drinking syrup and all kind of shit. For me, when we worked on that tape, it was a sign of the times, like my career was going up.
Is it ever difficult to get street-oriented rappers to rap over obscure '80s samples? I'm thinking of HD and Lil Blood's "She Strange" as a specific example.

No, it ain't never nothing like that. They love that shit. It's tight because these dudes are talking about some of the most hard shit ever over these smooth beats. Plus, most of them grew up on this shit just like I did.
Tell me about the MPC boombox contraption that you use to perform. How did you engineer that?
I've been crafting it, trying to get it right, for awhile. Shout to Amp Live [of Zion I]. I was on tour with him, and he would come out with his MPC and make the beats live on stage. So, I was like, I need something that people can attach me to with my live show. I started going to pawn shops and buying old school boomboxes and just ghetto-style duct tape my MPC to it. I have a company now called Boomin Systems. I'm about to have them in stores.
How did you first hear about Ezale?

I used to live in Santa Cruz and there's this store out there called So Fresh Clothing, and these cats there were always telling me I had to check out Ezale. They played me his "5 Minutes of Funktown" video and I'm seeing this little Cambodian nigga dancing, but on some hood shit. Like mobbin' but also on some comical shit. It reminded me of something Mac Dre would do: add that element of gangsterism but still keep it light and fun. I saw that instantly in Ezale.

I reached out to him and right away it was already respect. He was like, "OG, I've been listening to you forever." It's weird muhfuckas call me OG. I'm only 34 years old, but I guess rap years are like dog years. Anyway, I pulled up on him and we chopped it up. I played him some beats, he played me some of his songs. That was in 2013 and ever since then we've been working. We were gonna do an EP at first, but after a while we decided to just do a full album.

It seems like this record has been a long time in the making. What was the process like for you two?

Well, Ezale, I'm not gonna say he's a perfectionist, but he definitely likes to make sure everything is tight and right. There were songs where he would hear one little word or something and be like, "Nah, Fresh I gotta go change that."

Normally, when I do a project, I'm kind of the one that's the driver. But on this project, I took a backseat and let him be the driver because he knows what he wants. He has a certain idea about how he wants his stuff to come out. It felt good to be able to do that: take a seat and let the artist get to the finish line how he wants to get to the finish line.

I wouldn't have expected that: Ezale the perfectionist.

I mean, he's a real calculated dude. When you watch his videos and stuff, it comes across like it's easy, but he really has a vision of how he wants to do things.

How would you describe the finished product?

It's goes by quick like a good ass movie. It'll be over before you know it, and you'll want to run it back immediately. You're gonna hear good music, you're gonna hear some of that funk. It's got some party tracks for sure, but it also has those street conscious tracks on there. Ezale's telling you about things that go on in the hood and their repercussions.