R.I.P. Director Alex G, Lost In The Oakland Ghost Ship Fire
A friend remembers the magnetic filmmaker, who worked with Talib Kweli, Spike Lee, and others.
Alex Ghassan was the last person to document the scene inside the Ghost Ship warehouse on the night of December 2. A longtime storyteller and filmmaker, he had a camera running around 10:30 as scene regulars started to gather in anticipation of sets from 100% Silk's Bay Area contingent. The time stamp on the footage, posted on his Instagram that night, is eerie. Less than an hour later, Alex and his girlfriend, the Finnish artist Hanna Ruax, would be trapped in the building alongside 34 others in what's now understood as the most devastating fire of its kind in the country in more than a decade.
Ghassan, who directed under the name Alex G, liked to work. His ambition and the joy he found in collaborating with new people took him overseas and gave him a reputation as a magnetic figure. Years earlier, in New York, he filmed projects with rap mainstays like Talib Kweli, Bodega Bamz, and Masta Ace. He and Skyzoo worked together often. After moving to Oakland and living there for two years, he put together short documentaries on artists and Oakland institutions for local NPR affiliate KQED. His reel showcases work with everyone from Aloe Blacc to Dwyane Wade to one of his idols, Spike Lee.
The rapper Fresh Daily was a good friend of Alex's. The two met back in New York, on a friend's video shoot in Brooklyn, and months later, Alex was showing up at Fresh's house nearly every day to explore the city and try out new gear. Fresh describes Alex as his "biggest supporter," a fiercely loyal friend who encouraged his creative efforts at every turn.
The sentiment, and the sense of how he impacted people, is almost universal. "People loved Alex," another friend of his, Eric Purvis told me, "I feel like he made his journey a lot easier by being such a good person." Alex had an irreverent, contagious sense of humor and wasn't afraid to speak his mind. Another friend, writer and A&R Richardine Bartee, remembered bear hugs and heated creative arguments, almost in the same breath. "We would fight like cats and dogs," she said, "but we made up like brother and sister."
At 35, Alex left a lot behind. His twin daughters, Lucienne and Alexandria turned 4 this year. Their names were tattooed across his knuckles. He was in love with Hanna, and felt a sense of purpose living in a creative community that embraced him. Over the phone from New York, Fresh spoke on who Alex Ghassan was, and what we can learn from how he lived.
FRESH DAILY: New York is unforgiving. You'll work and work. It's like being on a treadmill and never getting anywhere sometimes. Everyone's trying to network and no one's tryna be actual friends. With Alex, it was always just trying to hang out and chill first, and then like "Yo, let's do something." When we became friends, everything just seemed second nature.
I met Alex about six years ago. He reached out to me about a show called Behind the Unsigned, a series he was working on for Fuse TV. He was trying to get me on the show and I kinda blew him off. Then he did a video called "Soul Sister" for my homie Suede. I went to the video shoot, and my cameo was like 0.002 seconds, but I remember watching it come together. I don't even know how Alex found the space where we filmed, some backyard in Williamsburg. And when the video came out, it just looked amazing. There were so many good-looking people in this video!
So I was like, OK, this guy's serious serious. He's a for-real director. "This is not just some dude with a DSLR tryna shoot some shit," I said. He didn't like the term videographer. Alex loved doing music videos, but he wanted to be a filmmaker. Director Alex G — that's not just his Instagram handle, he really wanted to be that. The music videos were the intro. They were the hors d'oeuvres, the beginning, the appetizer. His end goal was really to be that director, to be the plug. He was very much the type of dude to be like, "Yo, when I get on, it's on, watch."
If you were doing an artistic endeavor, and you were his people, he was down. While I was meeting him, he was doing the same things with a whole bunch of people in creative communities in Brooklyn, and all over New York. I'd be hanging with him, working on this lookbook, and the next day, I'd see he shot a music video with Skyzoo, Talib Kweli, and fucking Spike Lee. I'm like, "When did you do this? I was just with you last week!"
He moved twice in the time I knew him, here in New York, from Park Slope to Bushwick. He always wanted to be around his kids. He was all about those girls. Those are the two things he cared about: his kids, and directing. That was that man's life. He breathed that. Alex was super sweet around his kids, always picking them up, playing with them. He was engaged.
A few years ago, Lesley, the mother of Alex's children, moved to Cali for a while. I guess things were just a little bit rocky. Maybe there was more stability in Cali for her and the kids, but he was still in New York. And he was like, "I've got to bust my ass, I gotta make shit happen."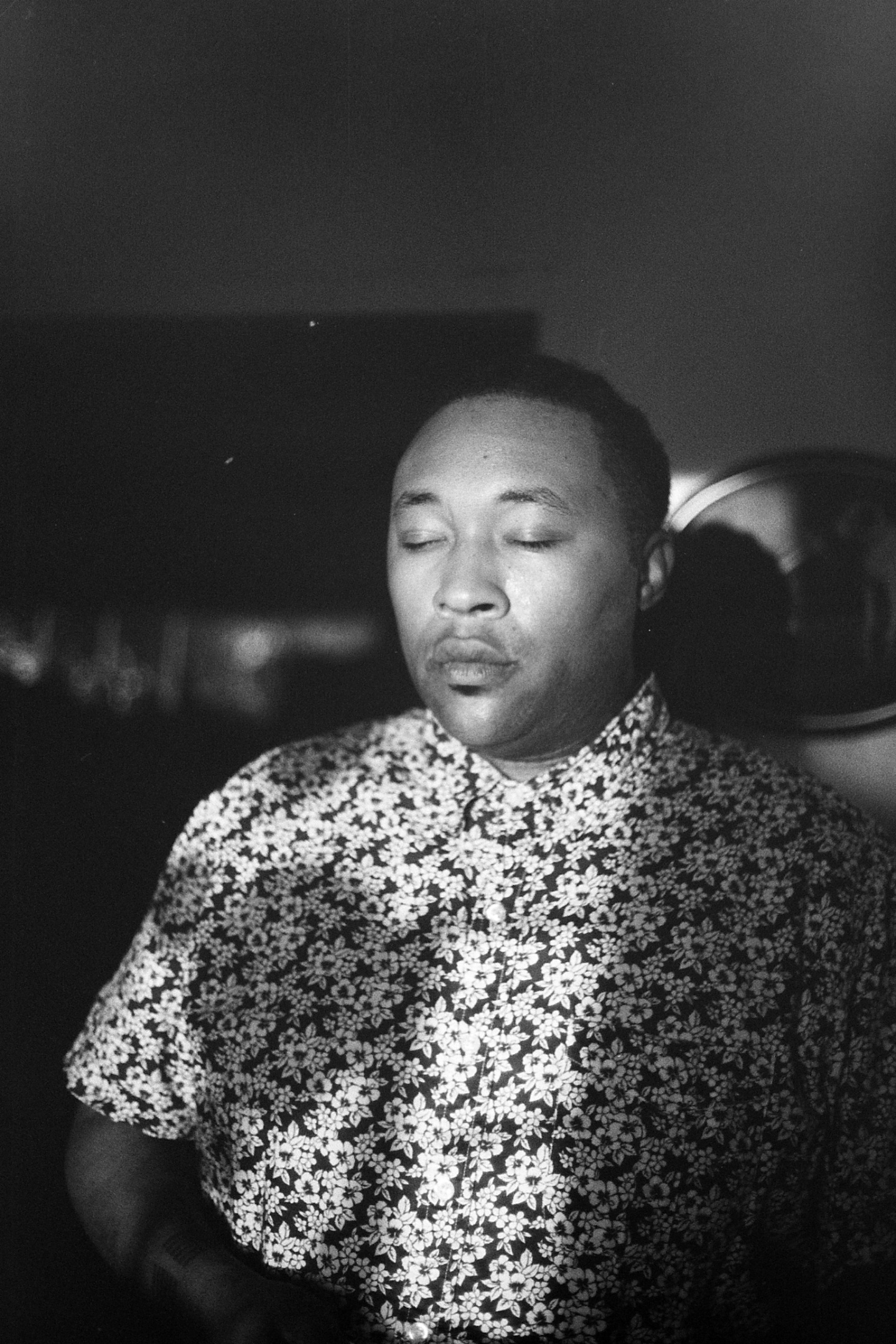 When he moved to Oakland two years ago, he just hit the ground running. There were so many opportunities for him. In New York, there's so much bullshit, red tape, and politics. Out there, it seemed like everybody embraced him.
Sometimes you need that, to pick up and go somewhere else where you're appreciated. I was mad proud of him. [His friend and collaborator] Joonbug created this sticker of him, his face with the red beanie. He sent me pictures saying people were slapping stickers of his face up all over Oakland. For him, it was an effortless transition into being like, this Oakland dude. He put on for Oakland. You would think he was from there.
Then these opportunities overseas kept popping up, too, and that's where he met Hanna. They'd have a couple months long distance, couple months together. You could tell he was really in love. When he talked about her, you could tell. You know, dudes when they're dating a girl, they won't post pictures of their girlfriend until it's like "for sure, that's my girlfriend," or they're just crazy in love. This dude turned to mush and was posting all these pictures on his Instagram.
It's kinda crazy, there's a photo on his Facebook page, it's the cover. It's him and Hanna, standing in front of a huge fire. Like a huge fire. And they're standing in front of it, and he's wearing a jacket that I sent him. That picture fucking haunts me. It haunts me. Hanna's looking off camera, directly at something. But he's just looking straight at me, every time I look at that photo.
Since he's been gone, a whole host of mutual people that I didn't even know knew him have emerged. It just shows you how insular your friendship or relationship might be with one person. You forget that they've got a whole other network of people that they kick it with. Alex was everywhere. And I bet, that night in Oakland, he was there with cameras like, "I'm gonna catch some ill shit." He was very much a right place, right time type of dude.
Our friendship was very in the present. Him and I would only occasionally talk about growing up, or family. When my grandmother died, Alex was in Oakland, but he called me and texted me. We talked a little and he told me, "You know, don't be afraid to let that out, to cry. Trust me man, Haitian dudes are mad stoic when it comes to crying and shit." He said, "When my grandmother died, I let loose man. I'm better for it. So let loose."
There were times where I would disagree with his perspective on something, but he wouldn't change it. I'm more the type of person where — I don't want no static. I'm more apologetic, I can be a little more acquiescent. Not Alex. Alex was like "Nah, fuck that. This is my perspective, this is my truth, and I stand by it." He was just a real, visceral person's person. A real person. And when you get a taste of real, you're drawn to it. Nothing else can fulfill that.