FADER Mix: Nightwave
Rave meets grime in a full-throttle mix from the Glasgow-based producer.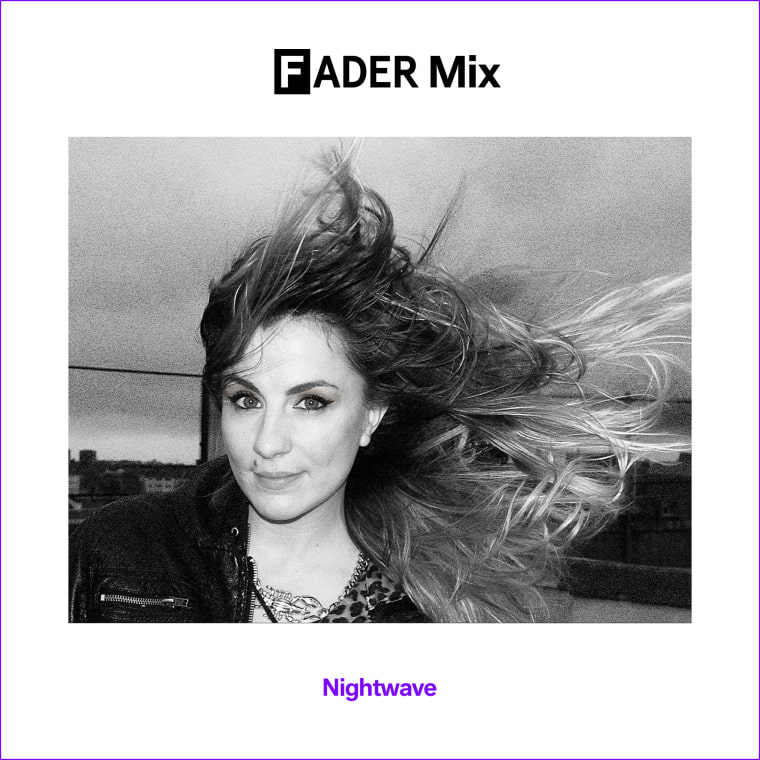 Nightwave had a pretty eventful 2016. The Slovenian-born, Glasgow-based DJ/producer is usually pretty occupied anyway, with running both her bass-fueled club night Nightrave and independent, eclectic label Heka Trax. (If you haven't already, be sure to check out the sweet-toothed R&B of Heka Trax duo Bossy Love.)
This year, though, she also found herself leading the battle against sexist trolls on Boiler Room, collaborating with Vancouver-based rapper Chippy Nonstop, and even made time to make some acid house and sax-driven club bangers along the way.
To celebrate a crazy 12 months, Nightwave has put together a crazy FADER Mix. Packed full of her signature grime, rave, and bass sounds, expect a whirlwind that would go off at any New Year's Eve party — including some previously unheard new tracks from the artist herself. Listen below, and read on to find out how Nightwave paid for her first set of turntables, and which Tibetan Buddhist teachings she reads to keep her mind straight.
Where are you right now? Describe your surroundings.
I'm in the Southside [district] of Glasgow with my lovely and cheeky cats Stinson and Delia.
Tell us a bit about this mix. What do you imagine people doing while listening to it?
I wanted to make a fun, cheerful, and playful mix as I always feel a bit strange around Christmas. Music is happiness! I hope people put it on at their parties or getting ready to go out. I put in a lot of new stuff by my friends and some snippets from my upcoming Fool's Gold EP.
How did you first get into producing and DJing?
I first got into it as a kid in the late '90s in Slovenia. Clubs have always been my sanctuary, and I thought DJing looked even more fun than dancing! I bought my first set of turntables after earning some cash acting in a sitcom (don't ask). My dad taught me a lot about production as a teenager, but I only started producing properly around 10 years ago as it became more accessible money-wise.
What's coming up from your label Heka Trax in 2017?
I'm sorting the releases at the moment. Certainly more club tracks and my own material, but I'm also planning to put out more R&B.
What's the last book you read that had a big impact on you? And why?
Probably Pema Chödrön, When Things Fall Apart. I follow a lot of Tibetan Buddhist teachers but she's my favorite, and helpful at times when life isn't making sense.
And finally, what's your favorite dish to cook and how do you make it?
I love spicy food, so I make a lot of Mexican, Lebanese, and jerk dishes. Chargrilled salmon in a jerk marinade, with pineapple habanero avocado salsa, is a dish I make the most. Takes 10 minutes to make and it's delicious.
Tracklist:
Blastto, "Resonance"
Nightwave, "???"
Machinedrum, "Let The Angels Speak (Nina Las Vegas Remix)"
Nightwave, "???"
Casement, "Hide"
Trekkie Trax, "Thunder (R3ll Remix)"
Cakes Da Killa f. Rye Rye, "Gon' Blow"
Nobel x Tuco, "Hamco"
Cooly G, "Narst (TVSI Bootleg)"
Mansa '91, "Chuku"
Shiftee f. TT The Artist "Dope Girls (UNIIQU3 Remix)"
TryTryDieDown, "Swift Dodeca"
Nightwave f. Madders, "???"
Lil Taty, "Marabu"
Carpainter, "Bowser Crasher"
R3ll x Banvox, "Down (Nightwave Remix)"
DBM, "Ride With U"