Björk Calls Out Media Sexism Following Her DJ Set At A Texas Festival
"Some media could not get their head around that i was not "performing" and "hiding" behind desks . and my male counterparts not . and i think this is sexism."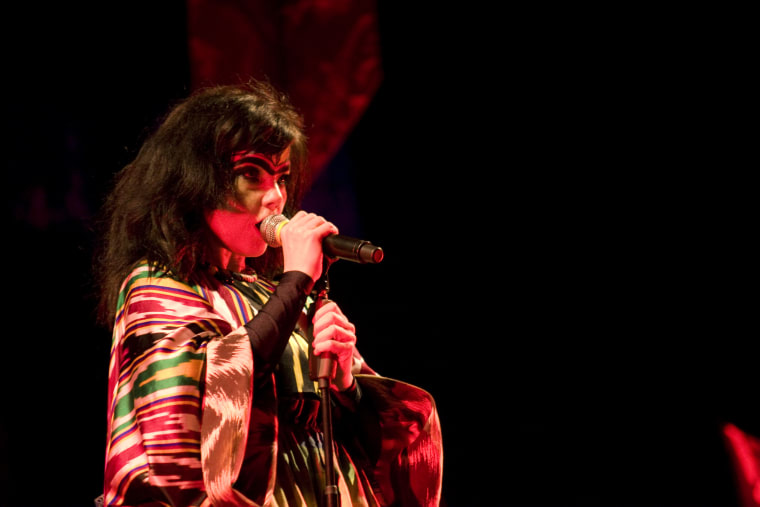 Björk took to Facebook on Wednesday to address the media in an open letter, responding to the media's reaction to her DJ sets at the Day For Night festival in Texas this past weekend. She notes that, following her set, some media critiques that suggested she was "not 'performing' and 'hiding' behind desks," while her male DJ counterparts did not receive the same criticism.
"I think this is sexism . which at the end of this tumultuous year is something im not going to let slide : because we all deserve maximum changes in this revolutionary energy we are currently in the midst of," she wrote.
Björk went to expand upon the ways in which women artists are confined to certain subjects and points of view in their artistic output, mentioning that her albums Volta and Biophilia were created "conscious of the fact that these were not subjects females usually write about." She went on to say that it wasn't until Vulnicura, when she sang about heartbreak, that the media accepted her.
During her show at the festival, Björk performed alongside multiple plants and wore an elaborate mask, according to Omar Afra, a representative from the Day For Night festival. "There's a level of celebrity of and visuality that's imposed on female artists," he told The FADER. "What she did was beautiful - the performance was beautiful — and these critiques show that maybe some members of the media aren't really interested in the music."
Björk concluded her Facebook post by expressing her hope for change and encouraging other women artists to step outside the bounds of classic female subject matter." She wrote, "lets make 2017 the year where we fully make the transformation."