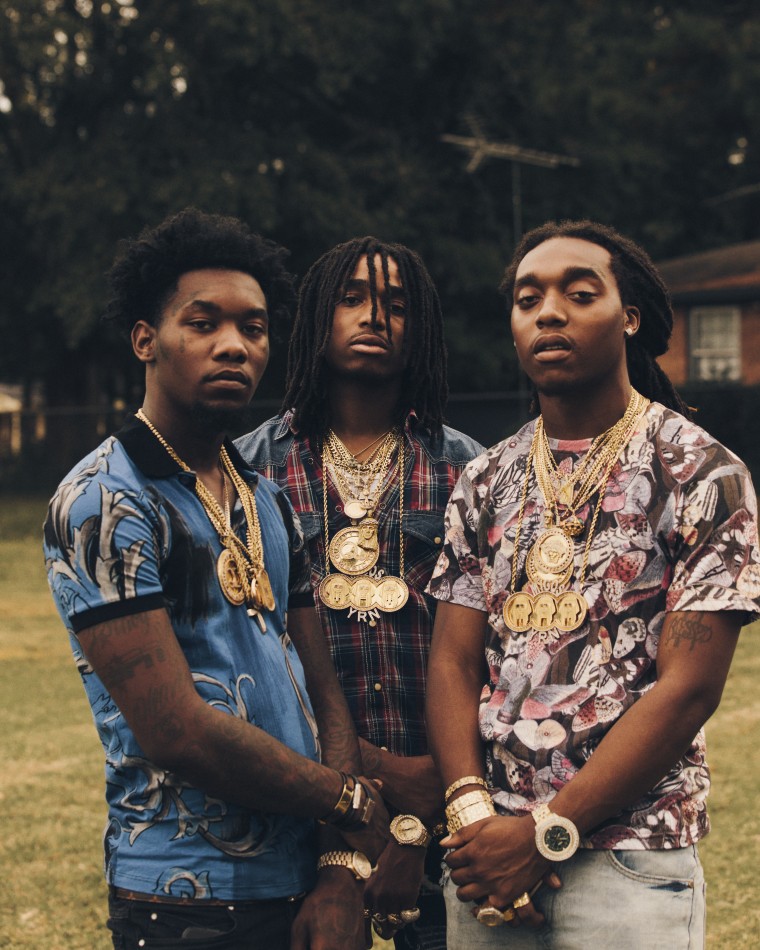 On January 3, Migos's "Bad and Boujee" reached the No. 2 spot on the Billboard Hot 100, becoming the group's highest-charting single to date.
Released as a single in late October, the song debuted at No. 76 in its first week. In the two months since, it has made a gradual but consistent climb up the Hot 100, which combines stats based on sales, streams, and radio play. Though "Bad and Boujee" hit radio just a week after its release online, it hasn't yet cracked the Top 50 on Billboard's Radio Songs chart. Instead, its success has been disproportionately through streams: it now sits at No. 1 on Billboard's On-Demand Streaming Songs and Streaming Songs charts, where it has been in the Top 10 for the past two weeks.
The most visible sign that "Bad and Boujee" was catching on — and arguably the very source of its chart climb — has been memes. Twitter posts about the song have directly mirrored its Hot 100 rise, increasing by nearly 600 percent since the beginning of November, according to analytics provided to The FADER by Crimson Hexagon, a social media analytics company.
Zack Fox, the illustrator and comedian formerly known as Bootymath, takes credit for one of the popular formats of posts promoting the song, which pairs a reaction image with a prompt about what someone does when they hear Migos member Offset say the song's opening line,"You know." The data suggests he might be right: according to Crimson Hexagon, around 82 percent of the total posts about the song on Twitter (numbering nearly 600,000 as of January 2) came after December 7 — when Fox tweeted out this "Bad and Boujee" meme:

In a recent phone conversation with The FADER, Fox said he wasn't surprised by the online reaction to his meme, which featured a picture of the character Winslow from the Nickelodeon show CatDog. "It seemed like a meme that was supposed to travel like that — not just be one person's joke," he said.
Around the same time, another meme format surrounding the song, where people created alternate endings to Offset's "Raindrop, drop top," rhyme, took off in similar fashion. "There's this mutualistic relationship between the artists and the people who make these memes that make their songs popular," Fox added. He likened the rise of "Bad and Boujee" to other rap songs which succeeded on the charts after being pushed by independent (and often teenage) music consumers: OG Maco's "U Guessed It," which blew up on Vine in 2014, and Rae Sremmurd's "Black Beatles," which has spent seven weeks at No. 1 this winter after soundtracking the #MannequinChallenge.
"I think, now, there's becoming more and more value placed on that relationship [between consumer and artist]," Fox said, "instead of just forgetting the person who did that."
If fans helped market "Black Beatles" and "Bad and Boujee," they've also spread those songs to a remarkable scale. In just the past week, "Bad and Boujee" was streamed 32.5 million times, with the majority of its streams coming from YouTube, where the song's video has racked up more than 78 million plays. In weeks before both "Black Beatles" and "Bad and Boujee" peaked on the Hot 100, each song earned the No. 1 spot on Billboard's Streaming Songs chart.
All that streaming stands to create a global audience that transcends terrestrial radio territories, and one that feeds back into excitement on social media. On December 20, a video of Migos performing "Bad and Boujee" in Lagos, Nigeria, originally posted by the trio's DJ, John J, also generated a huge spike in mentions of the song on Twitter. The performance video was picked up by publishers and popular music news social pages; as a result, on December 21, Twitter users posted about the song almost 77,000 times, more than double the amount of Twitter posts the song had generated on any previous day since its release.
For Fox, the success of songs on the backs of social media content is a signal of the power of creators, perhaps opening a space for an industry-wide reevaluation of which marketing is most powerful, and who's owed compensation. "It's a fun social experiment," he said. "How much do these artists owe to the internet? Is it monetary? Is it a shout-out? I don't know if you can bottle that, because it's not really a measured force. It'll raise a bunch of questions going forward."