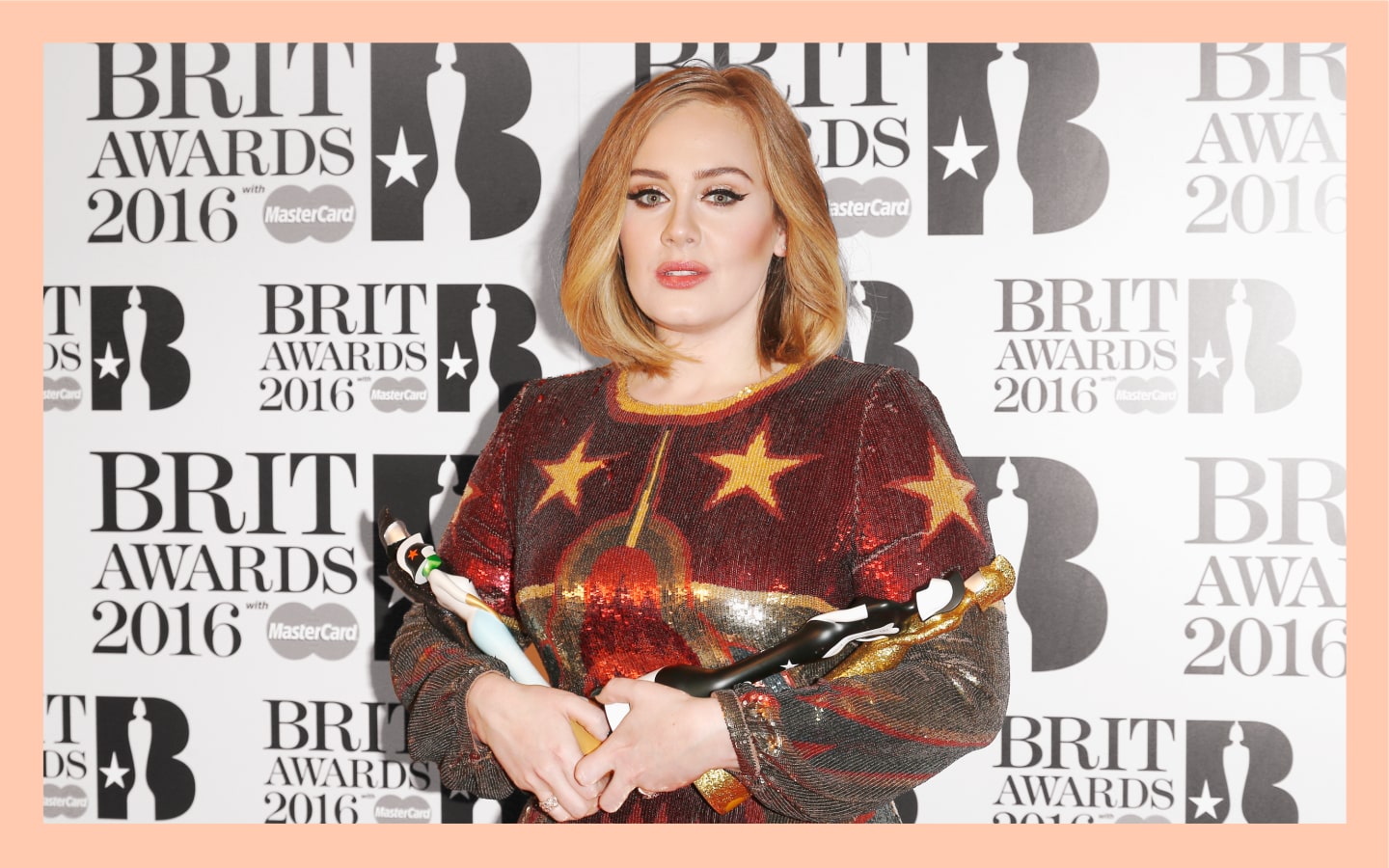 "Winning a TV award doesn't christen me successful. It took me some time to learn that." These are the words of Frank Ocean, in a letter posted to his Tumblr in February about his decision to abstain from the 2017 Grammys. More and more, artists are reacting to controversies surrounding awards shows like the Grammys and the BRITs by questioning what role these major ceremonies actually have in the modern world. Last week, following Beyoncé's loss of the Grammy for Album of the Year, Solange shrugged it off with a tweet: "Be the gold you wanna hold."
In the U.K., public opinion of the biggest music awards ceremony, the BRITs, has fluctuated in recent years — most notably last year, when a chorus of #BRITsSoWhite rang out in response to the overwhelmingly white nominations. When asked what she thought of diversity at the BRITs, Beats 1 anchor Julie Adenuga expressed a lack of concern about awards in general. "You have to be in competition with people when you didn't even want to be," she told The FADER in 2016. "It's not cool! Loads of people put work into their albums and then they have to lose."
So what does a BRIT Award really mean for artists? Here's a breakdown of what artists get out of winning in terms of sales, Twitter followers, and general cultural cachet.
The chance to connect with millions of music fans.
Arguably, the BRITs has a smaller platform today than it did when it launched: TV viewing figures have fallen from 9.86 million in 1999 (according to the Broadcasters' Audience Research Board) to 5.8 million in 2016 (according to Overnights.tv). But TV viewing figures don't give you the full picture nowadays; since 2014, the show has also been livestreamed online for an international audience, and in 2016, more than a million people outside the U.K. tuned in via YouTube.
Most people now come into contact with the awards via the memes, videos, and reactions on their timelines. In 2015, the ceremony was the subject of 7.8 million global tweets (the most for any non-sport British TV event). In 2016, the show was responsible for the single biggest minute of tweeting in the U.K. that year, when 16,832 tweets were sent at the moment Adele won an award.
According to data provided to The FADER by Boston-based social media analytics company Crimson Hexagon, conversation about the BRIT Awards on Twitter is generally pretty happy, averaging 73% positive and 27% negative (from 2012 to 2016).
A huge rise in Twitter followers.
For newer artists competing in the Critic's Choice and Breakthrough categories, winning a BRIT can lead to a much bigger follower count on Twitter. Crimson Hexagon reports that Jack Garratt, who won the Critics' Choice award in 2016, has since gained 28,254 new followers, while Sam Smith, who won the British Breakthrough Act and Global Success awards in 2015, gained 23,842 followers in a single day after the ceremony. Garratt and Smith have both doubled their followers since their wins.
And a sales boost, too.
It's well-documented that winning a BRIT can boost your sales figures — and in the age of digital downloads, this happens almost instantaneously. In 2009, the biggest winner of the ceremony was Welsh singer Duffy, and as a result her album Rockferry began selling at four times the market average almost immediately, according to the Official Charts Company. In 2015, sales of rock duo Royal Blood's self-titled debut album increased by 209% after they won Best Group (also according to the Official Charts Company). Last year, Adele was the night's biggest winner; and not only did 25 hold the number one position, but her first two albums —19 and 21 — both climbed the chart by 13 and 7 places respectively.
(But the biggest sales spike goes to performers.)
In 2009, pop duo The Ting Tings were nominated for two awards, but didn't get any trophies. But after they performed their hit single "Shut Up And Let Me Go," their album sales still tripled. More recently, in 2016, Rihanna didn't win anything, but "Work" rose to number two (its peak chart position in the U.K.) after she performed it live with Drake. That same year, Best British Male winner James Bay's "Hold Back The River" rose by 350 places after he sang it live.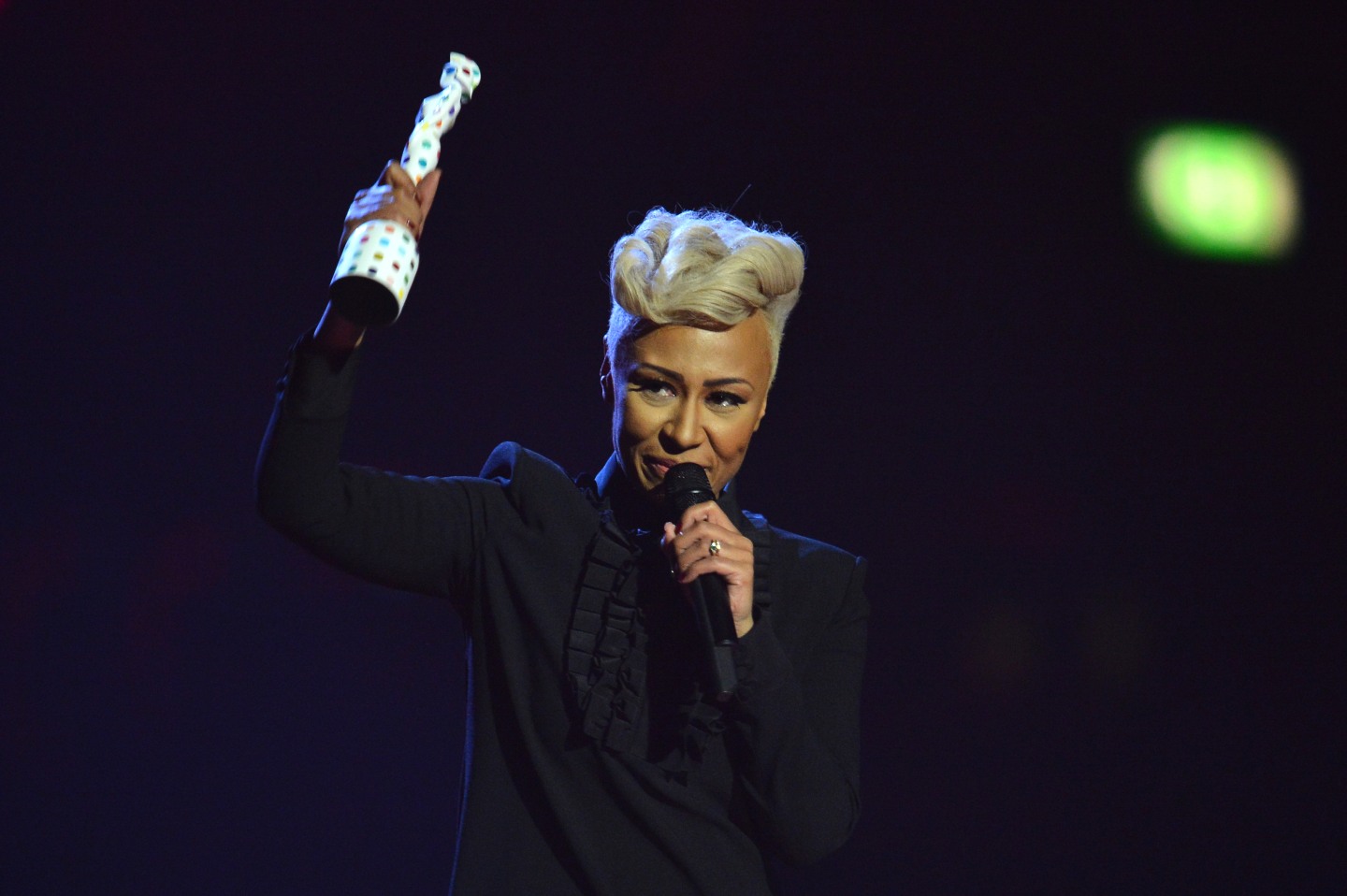 The BRITs isn't the coolest ceremony.
Much like the Grammys, the BRITs has always been a ceremony centered on the major music industry, and has never honored what you might consider counter-culture. Still, last year, in the midst of the #BRITsSoWhite controversy, it felt like the awards show was further than it had ever been from being on the pulse. (According to a report from Crimson Hexagon, the ceremony itself generated 53% less social media chatter than the previous year, and around 1000 tweets were sent about the show being boring or a waste of viewers' time.) "[The BRITs] are out of touch, they need to get up to date with what's going on," rapper Krept (of Krept & Konan), stated on Channel 4 News in February 2016.
...Although, that might be beginning to change.
In a statement to British newspaper The Mirror ahead of the 2016 ceremony, the BRITs responded to the criticism by noting that their awards tend to go to "those who have achieved the very highest levels of chart success." The ceremony organizers acknowledged that this would need to change if they were to stay culturally relevant.
The BRITs have since taken action, recruiting a diversity advisory panel and 700 new voting members to ensure that this year's nominations represent a much broader cross-section of U.K. music. With artists nominated from a much wider range of genres, backgrounds, and labels, there's a fresh feeling to this year's crop, which includes Skepta, Anohni, Kano, NAO, and Stormzy.
"I believe the BRIT Awards have maintained a standard and integrity in who and what they award, which is refreshing," wrote three-time BRIT Award winner Emeli Sandé in an email to The FADER. "It seems to be arts-driven, and so the value is still there in winning. [The awards go to] the best artistry, and the best reflection of popular culture."
Some artists still see it as the highest honor in U.K. music.
To pop-punk trio Busted, who received two BRIT awards in 2004, winning was a definite career highlight. "It meant everything to us," they explained in a statement emailed to The FADER. "A BRIT Award is the highest accolade in British music. We blew up in such a short amount of time, and the BRITs was the peak of it all."
"Winning [the Critic's Choice BRIT in 2012] definitely instilled a lot of confidence within me," Sandé reflected. "To have your talent and potential recognized at such an early stage in your career is a wonderful fabulous thing. The confidence and the encouragement that it brings is invaluable, and the attention it brings you [is invaluable] as well. I'm very thankful."
...But losing isn't the end of the world.
Speaking recently to The FADER, one of this year's Best Female nominees NAO said, "I don't think you can place so much importance on [winning an award]. I always used to do talent shows and competitions when I was little, and I never won any of them. I remember being about 15 and not winning for the fourth time…I just said, 'Fuck this.' From that moment I decided that I'm never going to [rely] on an award to give me an ego boost. It's super nice; but if I don't win it, I'll still be a good singer."