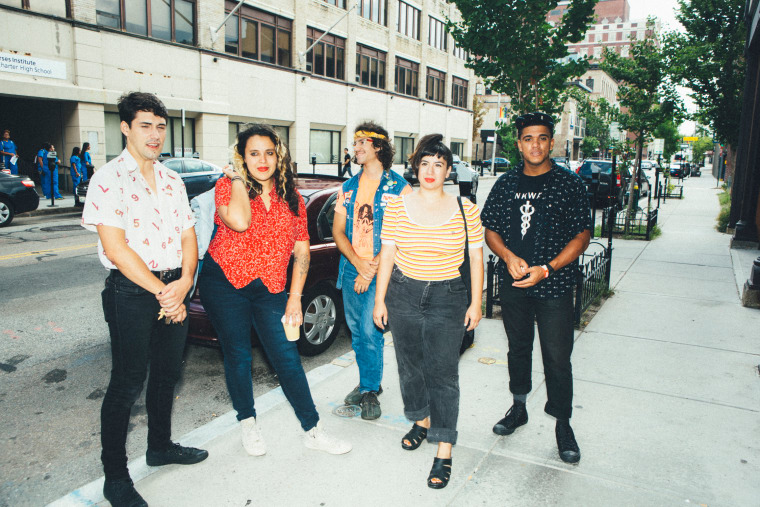 Downtown Boys has shared an open letter with Spark sharing their thoughts and experiences playing the Coachella Festival, its problems, and options for creating a more sustainable economy for musicians and fans.
The Rhode Island punk band call themselves "workers" for Coachella in the letter. "We are getting paid to do a job and we have a problem with one of the bosses." That boss is Philip Anschutz,owner of Coachella's parent company Anschutz Entertainment Group (AEG). In the months before the festival it was revealed that Anshutz had made substantial payments to anti-LGBTQ organizations. "[I]t is totally unacceptable that money from its owners or anyone for that matter ever goes to anti-LGBTQ organizations or any efforts that endorse hate," the band writes, saying that some of their Coachella fees will be donated to "organizations that fight for LGBTQ rights and freedoms."
The letter also describes an encounter with a trash collector in the artist compound. "[She] said that she used to get paid $14/hr but a few years ago, but her wages were since cut to $10/hr." As the letter states, Coachella raked in a total gross of over $84 million during its 2015 edition, a disparity the band calls "unacceptable."
Despite their issues with the festival, Downtown Boys wrote that they played the festival as there was no organized boycott against it. "Of course, to participate in this festival at all means playing a capitalist and mainstream music venture, but we can make demands within that framework," the letter reads. "We need to work to redistribute the cultural and economic resources so that Coahcella [sic] no longer holds so much power. We need to increase public funding for the arts so that musicians are not dependent on people like Anschutz to pay our checks.
"Individualistic boycotts and beliefs can only get so far, and we've got to get organized to make real change in the industry."
A representative for Coachella was not immediately available for comment.