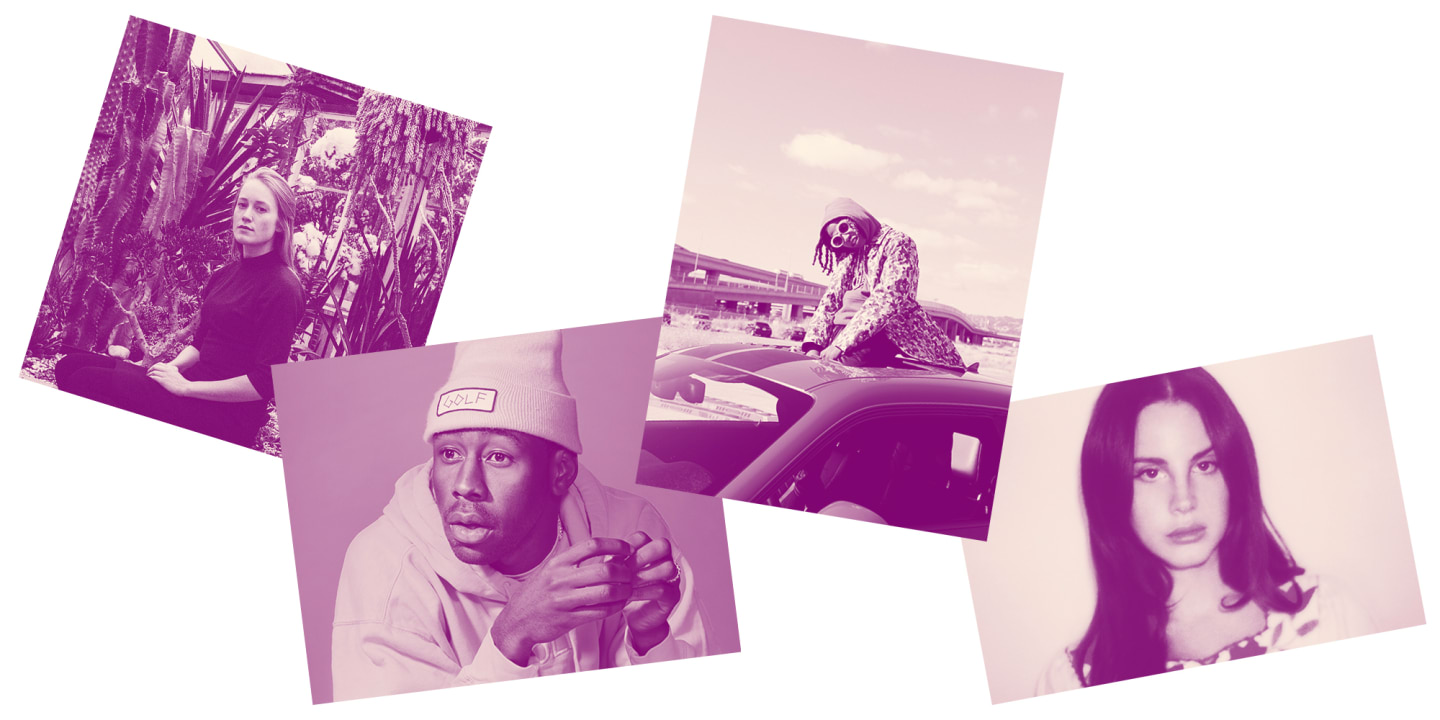 Each week The FADER staff rounds up the songs we can't stop playing. Here they are, in no particular order.
Subscribe to Songs You Need In Your Life on Apple Music and Spotify
1. We said it yesterday and we'll say it again: the best Lana Del Rey song on Lust For Life is "Get Free." It's gorgeous, and it makes us want to be at peace with ourselves.
2. It's hard to choose a standout from Tyler, The Creator's Flower Boy, since all the tracks are so different. But right now, "Garden Shed," featuring Estelle, is the one we're stuck on.
3. It's so nice when Meek Mill sings. On "Fall Thru," from Wins And Losses, he gets all harmonious about late night fucking.
4. The shiniest gem from Romeo Santos's just-dropped Golden is probably "Bella y Sensual," a melodic tune featuring Daddy Yankee and Nicky Jam.
5. "What you move for?" asks the extremely cute trio of Nef The Pharaoh, OMB Peezy, and Jay Ant on "Move4," an infectious track that gets more pleasant with each play.
6. Our favorite Nigerian rockstar Burna Boy linked with LeriQ and DJ Tunez for "Cotton Candy," a low-key groove with fuzzy-sweet vox.
7. Oneohtrix Point Never's new one from his Good Time score, "Leaving The Park," straight-up sparkles with intensity; those agitated electric guitar noodlings really go.
8. "If my light ever should go/ Feed my fire, don't burn my bones," Obongjayar chant-sings on "Endless," the enigmatic London singer's passionate and spiritual new track.
9. The video for Sona's "Bamidele," featuring U.K. rapper Youngs Teflon, is richly-colored, matching the full-sounding, catchy tune.
10. Here's a great new rainy day bop. On "Lil Thing," Chicago producer Knox Fortune weaves videogame sounds through dreamy vocals.
11. The Weather Station's arresting folk-country "Thirty" is going to make you feel some feelings. Guaranteed.
12. Light and smoky, Helado Negro's new Adult Swim loosie "Come Be Me" is a synthy song about unconditional love.
13. London crew Goat Girl murmur and sigh all over their their country-tinged punk single "Crow Cries," which sounds like an Edgar Allen Poe poem come to life.
14. Frank Ocean keeps unearthing old hits. He covered a 1984 Nigerian dance track by Steve Monite called "Only You" at FYF Fest, and now we're about to dig for some more.
15. This week, we're remembering Chester Bennington's life with Linkin Park's "One Step Closer," an early favorite that highlights Bennington's unique, lasting appeal. RIP.