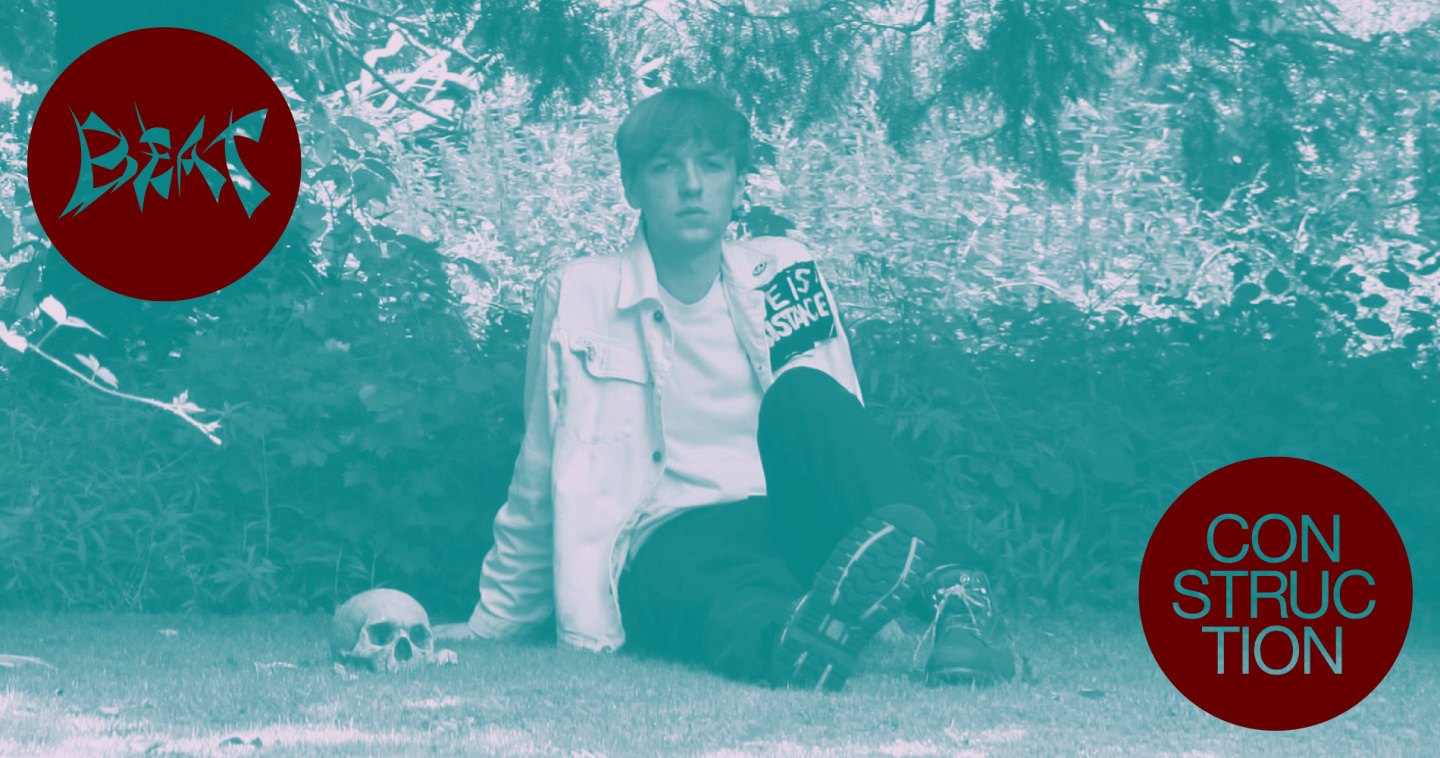 Jam City makes slick and spunky electronic music designed to invigorate the senses, nimbly traveling through the nooks and crannies of your brain and heart. At times sparse and metallic, the London producer and Night Slugs associate's most recent album, 2015's Dream a Garden, incorporated those harsher elements into more tender guitar-led melodies that feel warm and mobile — songs that feel like they're made for looking back at a sunset while zooming forth in a moving car.
Recently, the 28-year-old, born Jack Latham, worked as an executive producer on FADER cover star Kelela's debut album, Take Me Apart, alongside Ariel Rechtshaid and Kelela herself. Latham first met Kelela in 2012, at one of her Los Angeles shows, and the two stayed in touch, collaborating over email on the singer's 2013 Cut 4 Me EP, and then deciding to work together in-person for Kelela's debut. On songs like the atmospheric album opener "Front Line," or the more funk-inclined "Truth Or Dare," riffs and harmonies often feel like beams of glowing light, gently falling between the drums. Collaborating with Kelela, Latham helped to create a sound that hit a sweet-spot between the R&B realm and the electronic music world, with hints of other influences like folk and rap effortlessly nestled throughout. In producing for other artists, he's come to realize that there's nothing more important than listening.
"I feel like 90% of what I do as a producer is have conversations and just listen to the artist — Kelela in this case," he recounts of the album process. "As long as you can have a connection with the artist and they have something they want to communicate and express, then it's a really beautiful role for me to be in — to be the person that helps facilitate that."
Over the phone from his apartment/studio in London, Latham talked about traveling to London for shows from a young age, and how crafting bridges and edits for his DJ sets eventually led him to producing. He also digs deep into the collaborative experience of working on Kelela's debut, and shares what we can expect to hear from Jam City in the near future.
Where did you grow up? What was your upbringing like?
I grew up just outside of the very farthest reaches of South London. Not really much going on, but just close enough to the city that, when I was old enough, I began venturing out there. It's about an hour's train ride, so I got to go to shows.
I started playing guitar when I was 13. I played it a lot, but I'd never really learned anything [formally]. I'm still not a very good musician. I discovered DJing maybe a few years after that, when I was maybe 15 or 16. Then I threw the guitar away like, Won't be needing this anymore, and bought records and DJ'd pretty much every day until I was in my early 20s. And then I got into producing from there.
What kind of shows were you going to see in the city?
Anything really. I was into punk and hardcore, but also weird, left-field hip-hop stuff. I used to go out quite regularly, I would see like Xiu-Xiu. I was really lucky to have a older friend who turned me onto all this [music]. I think they were all songwriters and they had a real pop sensibility, but it was just so DIY. It was a punk thing, but they were real songwriters and had real melodies. I got to see things like that when I was still pretty young — that had a massive impact on me.
What got you into guitar?
My dad's an autodidact and he taught himself how to play. He'll say, like I do, that he's not a real musician, but the fact of the matter is that there was a guitar in our house and he encouraged me to look at it, to pick it up. It's addictive. I think when you're that age, there was nothing else to do. You begin to get really obsessed with it, and all you need is someone to be like, "Here, this is how to play 'Smoke On The Water,'" or something.
From there things were just like, you figure out on your own. I always wanted to be in a band, but that was just not an option. No one had the same interests as me, it didn't develop that way. So I just spent a lot of time just listening to music, obsessively finding music and playing along to it.
What kind of music did you listen to growing up?
Before Limewire and Napster, I used to go to the local library and rent CDs that they had at the library and grab anything that looked good. One of the earliest CDs that I remember renting [was] a Metallica album and the Forrest Gump soundtrack. Looking back, the Forrest Gump soundtrack was basically a history of 20th century pop music, like, Buffalo Springfield or Bob Dylan, and then doo-wop, '50s vocal harmony groups. That was the only CD I had for a long time, I just rented it from the library again, and again, and again. I just loved all those songs, classic popular American music.
I remember my sisters were into 2-step garage a lot. That was when 2-step and garage was really big and really huge in the U.K., especially around the time of the millennium. They were playing all that kind of stuff, had all the Twice As Nice compilations, and they used to go out — they're a lot older than me — clubbing and listening to U.K. garage a lot.
Coming back from the shops with my mom on a Saturday afternoon, it would be the club warm-up hour on the radio. They would play '80s music like Luther Vandross, Michael Jackson. The classic stuff. That was so early on that that really informed everything. Obviously, I'm sure everyone grew up aware of that music because it was classic and ubiquitous on the radio, but I really associate that music with my childhood. Luther Vandross in particular.
How'd you get your start producing?
DJing with house records and beginning to get into grime a bit as well, that was the music that made me realize it seemed like I could do it. It's such a small step when you're buying music and playing it, and beginning to play it out, DJing to people at parties. It was pretty easy to get hold of some music production software, purely to build little bridges in my DJ sets, and make a little edit. It's like when you first pick up the guitar or something, when you just fall into that rabbit hole and it's just completely addictive. I spent a few months making edits and then that was it, I just wanted to make my own music on the software.

I was definitely encouraged to focus on production from already hanging out with people in Night Slugs. Particularly Alex [Sushon], [a.k.a.] Bok-Bok, was very instrumental in showing me the ropes of production: how to do things from a technical level that I had no idea about. I'm still not very technically minded. That was really the kind of encouragement that it took. There was always a pair of ears that could give you feedback. I still get nervous about playing stuff I'm working on to friends or the people who I'm closest to in my life, but it makes such a difference — [it] makes you hear things differently within seconds of just being in a room with someone else hearing it. So to have that early on was really, really helpful. It taught me the value of having a sounding board.
"I still get nervous about playing stuff I'm working on to friends, but it makes you hear things differently within seconds of just being in a room with someone else hearing it." —Jam City
What equipment do you use?
I just have a laptop, an old copy of Ableton, and an Akai 49 keyboard. That's been it for a really long time. There are all types of plugins and stuff that I use, but again, I only come back to maybe five or six different sounds at a certain time. I get so overwhelmed with the choice that's available that I shut down. For guitar, I just have a chorus flanger with a pick shift on it, and it just makes everything sound like it's crying. It just makes everything sound like, Why me? And slightly sad, and slightly bent. I use that on a lot of stuff. I feel like it's nice to have those interruptions instead of just staring at a screen for hours. I've found that's been quite helpful, to have this extra element, especially when I don't have walls and walls of synths and beautifully mic'd pianos and stuff like that.
Your 2015 solo project Dream a Garden took on a more political tone than your previous work. What sparked that desire for you to have that intention with your music? Do you feel that same need or urgency now?
I don't think artists should feel any more obligation to take a stand than, say, a dentist, or a teacher, but for me, music has always had an intrinsic political context. It's easy to sneer at now, but discovering Nirvana at 13 and hearing Kurt Cobain talk about abortion rights, or police violence, made a huge impact, because that kind of thinking just wasn't present anywhere else where I was growing up. So if you were into music culture, you automatically stood for something — it was a moral compass. I think up until very recently, explicitly political sentiments in music weren't seen as very cool, but now that is beginning to change. We just need to make sure that message isn't being used to sell us something.
I'm not sure how that affects how I work with other people, but if anything, being in the producer or writer role forces you to be a better listener, more empathetic. It's about understanding, and helping someone else tell their story, so that definitely feels like it has some worth in it.
You were recently in the role of executive producer on Kelela's debut album Take Me Apart, alongside Ariel Rechtshaid and Kelela herself. What did that role entail?
First of all, it was writing and recording the music, or at least starting with the beats and some of the chord progressions, and then it expanded into working with a lot of other amazing collaborators, and doing a few arrangement things with their work. My songs had a few people work on them as well, so it was really a creative process. A good chunk of the first part of 2016, I was living out in L.A. and going to the studio every single day with [Kelela] or the engineer, Chris Kasych, who I need to shout out because no one's worked more on this record than he has, and Max Wang, as well.

I feel like 90% of what I do as a producer, or what I did in that context of that project, is have conversations and just listen to the artist — Kelela in this case. Be that sounding board that I was talking about earlier, and have conversations that would eventually lead to a song being written or a concept for a song being put down. All the technical stuff you can figure out in some way, but what I found with that project is that as long as you can have a connection with the artist and they have something they want to communicate and express, then it's a really beautiful role for me to be in — to be the person that helps facilitate that and gets to further that kind of conversation. We did so much talking.

To work as part of a team is so nice when, as a solo artist, it's pretty much just me on my own all the time doing all parts of that process: writing, recording and engineering, and mixing. To work on a big album project is great because it's like you're in a band, you're part of a team, and everyone swallows their egos and you all just fit together. It's regenerative and recharging to be in that situation, and it's just fun as well. We had a laugh in the studio.
Can you talk to me a little bit about how you both might have worked together on a track, and what that might have been like?
"Waitin" is a good example. I think that was the first session we had together in earnest. I prepared this folder of songs for Kelela and I got halfway through the first one and she was like, "You know, this is good, but stop. We have to do this all in the room. I don't just want to sing over beats." That really set the precedent for the rest of how things unfolded. She really encouraged my playing in terms of, "Let's just figure this out on the spot," because that's when the magic happens. It doesn't matter how sloppy it is. You're going to get something down. A lot of the sessions that I have with other people as well, it's not so much about coming in with these expectations, it's just about having a conversation and trying to get to a place of honesty with each other, then hitting record and seeing what happens. 9 times out of 10, something will something interesting will happen.

Another one was "Frontline" where, again, the beat was made on the spot. We were joking about doing a record for The Weeknd. I started playing, and once the beat was done, we hit record and she just started free-styling, pitch perfect, for a good 20 minutes. I went out of the room, made myself a cup of tea. Kelela's delivery on that song in particular, actually — we were joking about her doing a triplet, like Migos rapping on it, and it started out as this throwaway, almost a joke. But then she started doing it, and we were like, "This sounds good." You can hear the triplets still in the chorus of it. It was a real confirmation in that way of working, being free and playing, allowing this magic to happen.
"Being in the producer or writer role forces you to be a better listener, more empathetic. It's about helping someone else tell their story." —Jam City
The sound of the album is like this perfect marriage of R&B and electronic. How did you guys achieve that sweet spot?
I didn't think there was any real sense about this has to be the perfect marriage, but we definitely shared some musical reference points. She's a massive Joni Mitchell fan, as am I. I remember early on talking to her about the sound of her records in the '70s, they were produced with this beautiful fretless bass playing, like Jaco Pastorius on the fretless bass, really chorus-y and lush. I basically put chorus on everything because it just makes everything sound good — a chorus of drums, a chorus on vocals, chorus on synths, guitars. That really sparked me because I felt like something interesting would happen if we tried to recreate that, and "LMK" began as that, where the main riff is a fretless bass plugin, but it comes out all wrong when I play it and make a track around it. And [Kelela's] pulling in that direction, she's taking all these references, taking what was a folk record, and pulls you in that direction of something that could be played in a club. I loved that.
[Our references] will go through the Kelela filter or the Jam City filter and it will end up sounding just like a Kelela record. I love working with artists like that, where you can pull from anything. It doesn't even have to be music. It could be a lyric from a poem or a conversation you had and that gets sucked into this process and comes out as the hook, or whatever. I think that's how we ended up with the record [feeling] like a nice balance or a melding of these different worlds. It starts at a completely different place and it kind of gets sucked in and filtered it into this different thing that just doesn't sound like anyone else but Kelela.
Did this experience, moving into a different creative space, push you to want to try anything else new, especially as Jam City?
I think one thing is just working with other people more because it was so fun doing that. As much as [working on Take Me Apart] was fun and free, a lot of it had to be really strict, like, "Look, we can't write a 6-minute song. There has to be an intro and there has to be a real chorus." So that structuring is something that I can't get rid of now in my head when I write [my own songs]. [On] the Jam City project comes out next, the songs are probably going to be shorter.
What is next for you?
I don't want to jinx it 'cause I've got a lot of work to do, but there's a few other projects with other artists that I've had a hand in that are going to be surfacing pretty shortly. There's definitely going to be new Jam City music really soon.