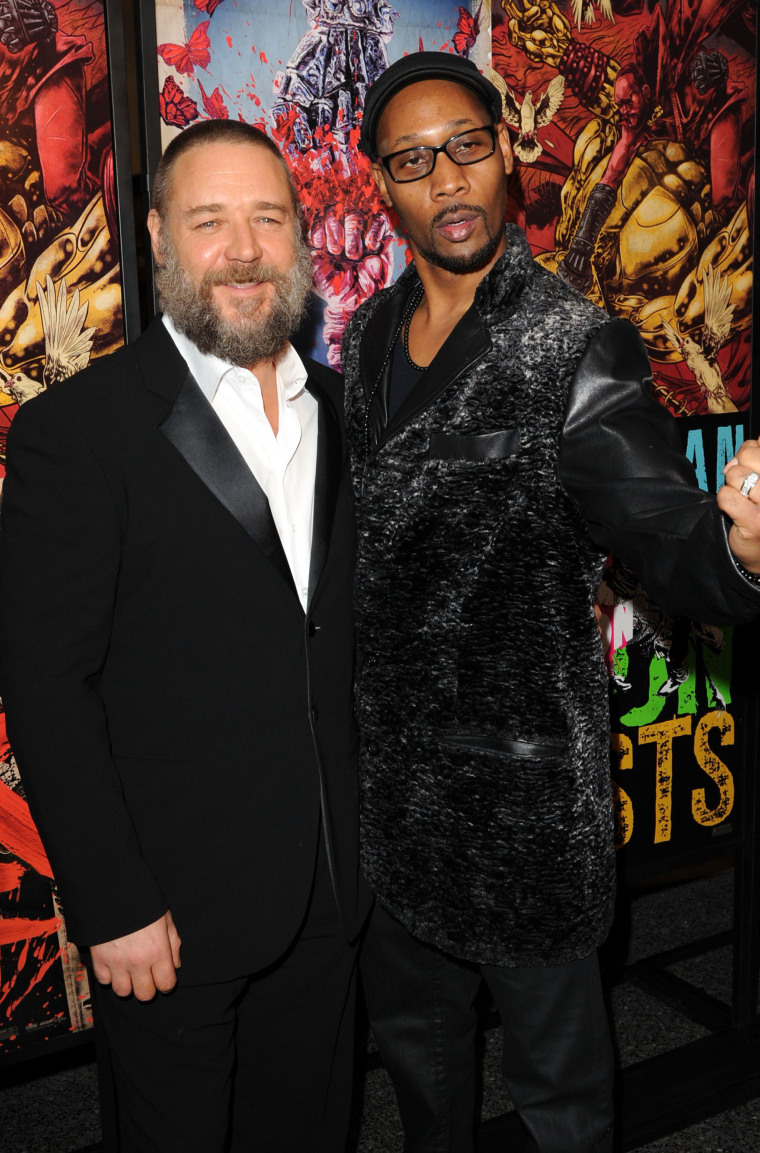 During a recent interview with The Breakfast Club, RZA said that Russell Crowe spat at Azealia Banks during a party in Crowe's hotel suite in October 2016. Banks said at the time that Crowe "called me a nigger, choked me, threw me out, and spat at me" during the party, while Crowe claimed he removed her from the premises after she threatened to cut the throats of other partygoers.
"He spit at her. I saw that," RZA tells Breakfast Club co-host Charlamagne The God (watch the exchange here at 30:05). Off-mic, RZA seems to qualify that Crowe spat on the ground near Banks, and not directly at her body. RZA then says that Crowe apologized to him, though it's unclear if Banks received one.
RZA's new comments represent a shift from his initial public statement after Banks filed a police report against Crowe in October 2016. RZA condemned Banks in a a forceful and widely-publicized denial of her version of events, and claimed she was acting like an "obnoxious erratic individual."
Banks's case was dropped by the Los Angeles District Attorney's office in December 2016. According to TMZ, several witnesses confirmed Crowe's version of events.
As The Root points out, Banks responded to RZA's new comments on social media. "Nobody understands how badly I wanted to die the moment rza LIED and told the world I deserved to be spat [at]," she wrote in one post. "People laughed at me and said I lied." Her posts conclude with "@RZA I HOPE YOU DROP DEAD."
RZA is currently promoting the new Wu-Tang Clan album The Saga Continues, and Love Beats Rhymes, an upcoming movie directed by RZA and starring Azealia Banks.
Watch the full Breakfast Club interview below.
On October 20, a representative for RZA issued a statement to The FADER. The statement accuses Azealia Banks of "playing the race card," and points to a TMZ video from October 16, 2016 in which RZA describes Russell Crowe spitting at Banks. Read the statement in full below.
The derogatory posts against my client RZA by Azealia Banks is unwarranted and beyond that — unbecoming.
RZA, from the moment he met Ms. Banks, bet on her to win. So much so that when others felt she would be too much trouble to work with on the film Love Beats Rhymes, he disregarded what had been said and looked beyond her well documented controversies moving forward with securing her as his lead.
He felt she did an amazing job and his support didn't stop there; he felt her voice needed to be heard and started negotiating a deal for her to release new music while simultaneously introducing her to his friends and colleagues. He introduced her to key people in the entertainment industry to help her broaden her reach. Her introduction to Russell Crowe at his private party resulted in Banks going on a salacious mission to disparage him and RZA. Playing the race card and anything else she could.
I represent RZA and found it necessary to state he would never have done what he has in support of Ms. Banks to put her in a position to be harmed, ridiculed, demeaned, or treated in an inhumane way. And still, he continues to support her.
Contrary to recent reports, a year ago RZA interviewed with TMZ on October 20, 2016, and clearly stated that Russell did, in fact, spit at Banks (found at :28). RZA never denied that. While there is no excuse for spitting at anyone, you would have to be in the room to witness the whole ordeal to see exactly why the night ended that way.
As Ms. Banks reputation precedes her, RZA hasn't and does not want to further embarrass Banks and stands by not revealing all of the details at this time. In fact, after the incident, concerned about her welfare, RZA made sure she made it back to her hotel safely.
Just this past week while promoting Wu-Tang: The Saga Continues on The Breakfast Club, RZA was asked about Ms. Banks and he responded positively with she's a "great talent." (found at 28:10) He went on to explain that there was a lot that has not been revealed about the night in question and that he did speak up on her behalf.
Nothing derogatory here; yet Banks goes on to socialize her attacks stating RZA should "drop dead" while making unfavorable remarks against him.
Regardless of any rumored conditions she may have, I feel there is no excuse for this type of behavior, therefore I feel obligated to let the record show that RZA has tried his best to support Ms. Banks. Taking the high road is not an easy task when someone constantly slanders you, but he has.
Enough is enough. Respect and decency should happen at some point.
On October 20 2017 at 11:13 a.m. PST, this post was updated to include a statement from RZA's representative.