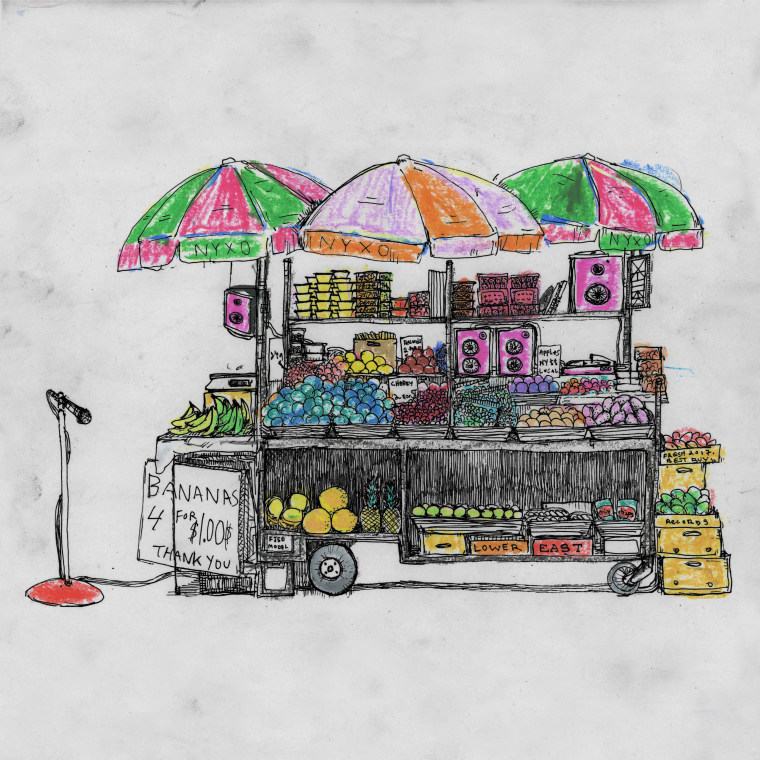 Onyx Collective has become a common thread in the fabric of downtown. On a given night, they might be heard via their show on KNOW-WAVE, or seen performing in a walk-up Chinatown studio or The Good Company's storefront. A couple members might be backing New York artists like Princess Nokia or Wiki during a live set. Maybe you'll see them on a Lower East Side sidewalk, just plain kicking it.
Founded by saxophonist Isaiah Barr in 2014, the group is often comprised of Barr, drummer Austin Williamson, electric bassists Felix Pastorius and Spencer Murphy, and upright bassists Dean Torrey and Walter Stinson. Onyx plays live, churning out often-improvised jazz informed by its members's own experiences, musical influences, and, of course — the city. A lot of their work pays "homage to the past," Barr explained to The FADER earlier this year.
Today, The FADER is premiering "Fruit Stand," our first taste of Lower East Suite Part One, Onyx's new project and follow-up to last year's 2nd Avenue Rundown. The song is a gently rocking, upright-bass-rooted voyage, with strokes of sax and swooshing drums. It all comes together as a loving nod to a vital part of their city's makeup: the New York fruit stand. The song actually comes with the announcement of three new Onyx Collective projects, all set to be released via a London-based indie label called Big Dada, with Lower East Suite Part One being the first. Listen to "Fruit Stand" below.
Lower East Suite Part One Tracklist
1. Color Images
2. East River
3. Fruit Stand
4. 172 Forsyth St.
5. 175 Canal St.
6. Mambo Pancakes
7. The Mask
8. Market St.