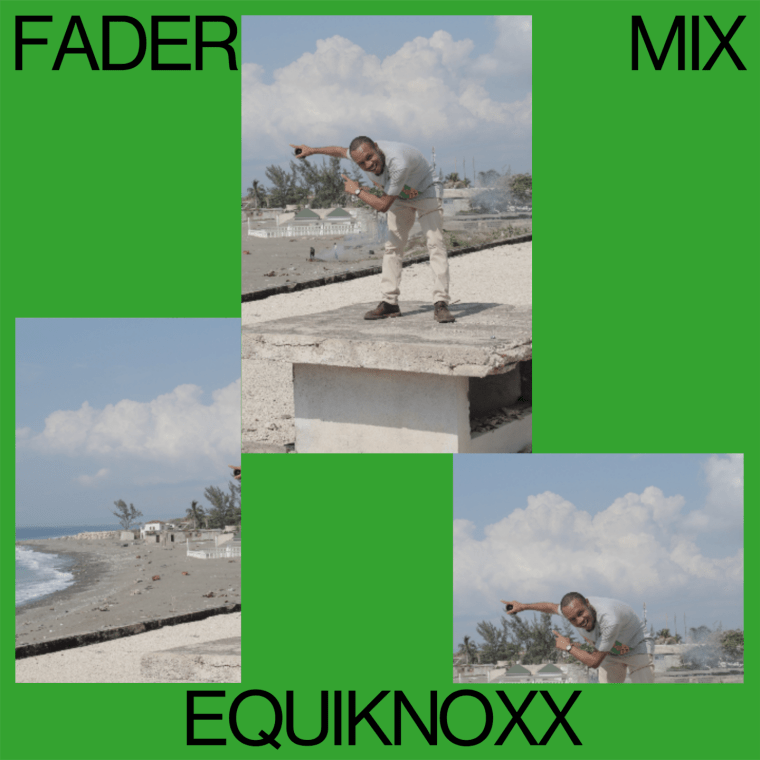 The longstanding FADER Mix series presents new, exclusive DJ mixes from our favorite artists.

Since The FADER's E.I.C. is currently upending our own year-end lists, I'm gonna join in: Colón Man, the debut album from avant-garde dancehall group Equiknoxx, is one of the best albums of 2017. Gavin Blair, a.k.a Gavsborg, and Jordan "Time Cow" Chung crafted the record's brutalist instrumentals, an alchemy of unusual samples and playful musical contrasts that coalesce in tracks that are as pulse-pounding as they are progressive. The unmistakeable menace of Colón Man makes it an ideal fit for DDS, the Manchester-based label run by electronic sorcerers (and FADER Mix veterans) Demdike Stare.
Today, The FADER is proud to premiere a new mix from Gavsborg, recorded in one take early in the morning. It is a massive series of genre-crossing vibes and a fantastic introduction to Equiknoxx's range with their edits, dubplates, and impeccable ear for remixes. Listen below, check out Colón Man out on streaming services and vinyl, and read our interview with Gavsborg about working with dancehall royalty, their endearing track titles, and much, much more.
Tell us a bit about this mix — what do you imagine people doing while listening to it?
Well, Equiknoxx is a fun sound, so it's always nice to see people dancing, head bopping, feet tapping or enjoying the tunes in whatever way they are comfortable, and I do imagine some of that. I also imagine some connecting to tunes that they didn't know before. Introducing new acts is a strong point with our label and in our DJ sets. We take pride in showcasing not only our talents but generally just anything that we like.
What's your earliest musical memory?
My earliest musical memory is beating 'bam bam' riddim on an old desk in my backyard.
What's the last book you read that had a big impact on you and why?
That would be Dying To Better Themselves by Olive Senior. This book speaks of the men and women of the Caribbean who contributed in building the Panama Canal. It had a big impact on me as even though I had done some prior reading, as well as listened to stories from my mother etc. It was with this book that I became officially informed in great detail on a great part of our history. It gave me a broader appreciation of the term 'Colòn man' and I was also in awe to discover specifically the contributions of Jamaicans to the canal, and to also discover some of the notable people who went. One was Geroge Stibel, who Jamaicans call the first black millionaire, as well as Marcus Garvey.
What are some of the most significant ways the music industry in Jamaica has changed since Equinknoxx began?
Well, one significant way is that, locally, tunes have taken shape to a style that the creators more or less feel is more appropriate for a winder listening, which is essentially delivered via radio play. I reckon this happened maybe seven or eight years ago when the broadcasting commission of Jamaica clamped down on a new wave of dancehall, I would go as far as to classify this as a sub-genre. This was called 'daggering.' Daggering came about roughly in 2008 after a darker wave of tunes hit after the 'Jiggy' era slowed down in 2005. Daggering involved very intense gyrations to tracks 120bpm and over where the audience takes instructions from the lyrics on the track, with familiar melodies sometime borrowed from Jamaican folk music. The broadcasting commission lashed out against the daggering culture and lashed out against any songs that contained bleeps or edits so this propelled most artistes to shy away from it all, to then create a new sound shaped by what the radio was allowed to play.
I love your track titles. How do you come up with them?
The titles come from anywhere, and by no means a dark art as some people opine — I guess we are deeply connected with the simple things and think of things in a very literal way. For example, a good friend of mine, Kareece, came by our studio and I noticed her gracefully twiddling with some thread which she then left it in a zip lock bag. Fast forward to about a week after, the zip lock back was still there when the track "Karceece left some thread in a zip lock" was being made, so at a single glance I named the track that.
You've worked with dancehall royalty over the years. Which is your most special collaboration and why?
Equiknoxx has worked with many big dancehall acts such as Mavado, Vybz Kartel, Aidonia, Beenie Man, Bounty Killer, Spice, Masicka, and Busy Signal to name a few. But my most special collaboration was working with the late Alty Nunes, a.k.a. J.O.E. Alty. I went to Wolmers Boy's School together and we met at about age 13. He was there when I made my first beat and, for me in that time of building, he was my biggest motivation. He also taught me a lot of what I know in a very natural way which was generally leading by example — this ranges from cooking with coconut milk to songwriting and arrangement, plus learning the special skill of talking to artists. Alty was also staple in the most Equiknoxx studio sessions and he contributed to many Equiknoxx produced tunes lyrically, such as Spice's "Jim Screechie," as well as De La Ghetto & Mavado's "Come out & See." Alty unfortunately passed away in 2011 from a ruptured brain aneurysm, and even now, almost seven years after passing, he is still one of my number one motivations.
What's your favorite dish to cook and how do you make it?
This definitely changes from time to time but my favorite dish to prepare right now is broad bean stew in coconut. It's relatively easy to prepare:
1. Wash the beans then allow them to soak for a couple hours and drain off any bad stuff and then set to boil until soft. (Not too soft now.)
2. Season up with a nice hot jerk seasoning mix.
3. Dice sweet potatoes and pumpkin very small and set to brown on a medium to high fire.
4. Lower the fire and add the seasoned beans along with coconut milk and any fresh herbs and seasoning you fancy on the top. (A little basil could set it proper ☺)
5. Let all simmer until it gets a little body and add salt and a little olive oil for extra flavor.
I generally do this with basmati rice.
What's your favorite thing to do with your friends?
My favourite thing to do with friends is really just to spend time with them, by either going for food or hanging out. We don't really have hobbies, outside of Bobby Blackbird who is into all kinds of sports including professional racing. I'm still trying to get all of them to go hiking with me, though; a few have come along but the rest appear to be afraid of heights. So, to the six friends who have promised to go hiking with me from 2015, I use this forum to ask again, "What's up?"
Tracklist
Kacique Intro "(Part Time Lover Freestyle)"
Equiknoxx – "Clink" Feat. Puppy Disco, Aidonia, Kvnye W3st
Equiknoxx – "Flank (Time Cow Dub)"
Rhythm & Sound – "See Me Yah (Shanique Marie Freestyle)"
Fox x Famous Eno – "Big man Ting (Puppy Disco Dub)"
Equiknoxx - "Flagged Up (Mark Ernestus Remix)"
Equiknoxx x Shokryme x Rtkal – "BBS (DJ Murlo Remix)"
Madd Again! - "Bawlout"
The Bug – "Bad" Feat. Flowdan
Equiknoxx - "Jump"
Cee Gee x Psycho Clan – "LFNY (Affirmitive Action)"
Equiknoxx – "Time Bird Dub Ft. Bounty Killer Dubplate"
Equiknoxx x Alozade x Kacique – "Bubble Like"
Equiknoxx – "Fly Away (Dubbed By Gavsborg)"
Kemikal x Time Cow - "Hi"
Puppy Disco Links Soul ll Soul
Puppy Disco Visits The Hanging Tree
Equiknoxx – "Melodica Badness Ft Addis Pablo"
Equiknoxx – "Sent For Ducklings Got Ducks"
Kelman Duran - "1984, PRIMERO, ULTIMO"
Barrington Levy – "Love (sinjin edit)"
Reggie Sosa X Faith Riddim – "So Forth (Dubplate)"
Reggie Sosa X Faith Riddim – "Seventeen (Dubplate)"
Muslim Gauze - "Memsahib Of Gup and Ghee"
WILDLIFE! – "Forgiven"
Last Japan – "Teflon"
Aidonia – "Hot Tool"
Swing Ting Ft. Blvk H3ro - Can't Wait
J Hus – "Spirit (Swing Ting Remix)"
Swing Ting Ft. Shanique Marie – "Turn It Up"
Samrai – "Khadi"
Equiknoxx Feat. Fox, Gavsborg & Jnr Stress - "Somewhere In Poland"
J.O.E Ft. Konshens – "Fit"