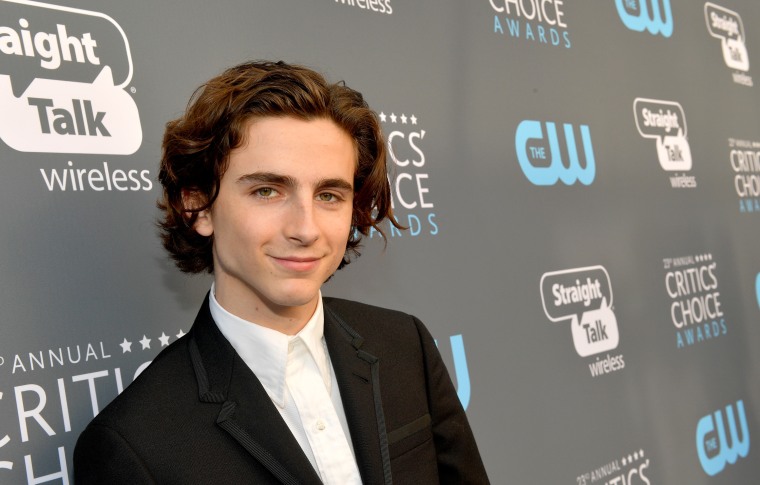 Timothée Chalamet has become the first high profile male actor to distance himself from Woody Allen, donating his fee for his appearance in the director's upcoming A Rainy Day in New York to the Time's Up initiative,
Chalamet announced his decision on Instagram on Monday night, writing that the last 12 months of his career has "changed the way I see and feel about so many things."
"I am learning that a good role isn't the only criteria for accepting a job – that has become much clearer to me in the past few months, having witnessed the birth of a powerful movement intent on ending injustice, inequality and above all, silence.
"I have been asked in a few recent interviews about my decision to work on a film with Woody Allen last summer. I'm not able to answer the question directly because of contractual obligations. But what I can say is this: I don't want to profit from my work on the film, and to that end, I am going to donate my entire salary to three charities: Time's Up, the LGBT Centre in New York, and Rainn [the Rape, Abuse & Incest National Network].
"I want to be worthy of standing shoulder to shoulder with the brave artists who are fighting for all the people to be treated with the respect and dignity they deserve."
Chalamet stars in A Rainy Day In New York alongside Rebecca Hall, who has subsequently apologized for her appearance in the movie, and also donated her wages to the Time's Up initiative. Greta Gerwig, with whom Chalamet worked on Lady Bird, similarly said she will not work with Allen again.
Allen has been the subject of allegations of sexual abuse by his adopted daughter Dylan Farrow. Allen continues to deny the allegations.