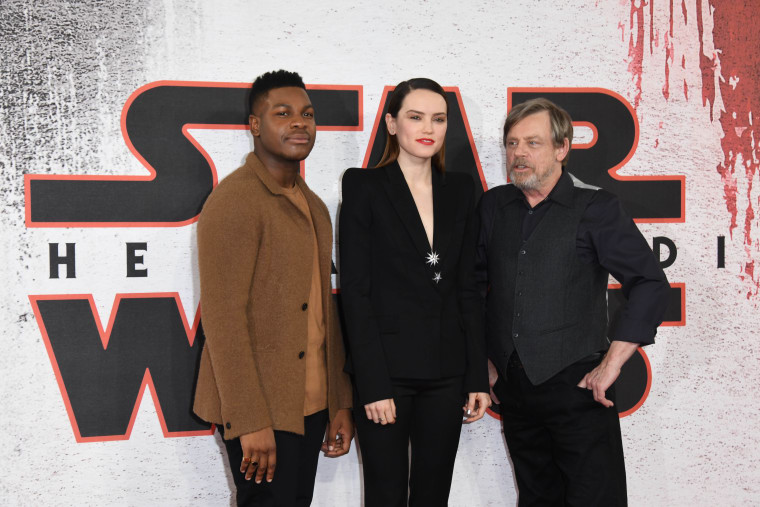 Star Wars: The Last Jedi came out last December and features prominent roles for women actors including Daisy Ridley, Lupita Nyong'o, and Laura Dern. However, this hasn't pleased everybody in the fandom and a new version titled The Last Jedi: De-Feminized Fanedit (aka the Chauvinist Cut) surfaced on file sharing sites over the weekend.
ahhaahahahhahahahahahhahahhahahahahhahhhhhaaaahahahha pic.twitter.com/Uz2JfF8Snf

— priscilla page (@BBW_BFF) January 16, 2018
This sexist take on the original promises that the women characters have been removed, as well as scenes pertaining to their plots in the movie. It clocks in at 46 minutes long, nearly two hours shorter than the proper cut, with a note from the editor explaining that it understandably has "plot holes and continuity errors."
Writer and director Rian Johnson was the first to respond to alternate version to his movie with the mockery it deserved.
Priscilla hits all the major points here but I'll just add hahahahahahahahahahahahahahahahahahahahahahahahahahahahahahahahahahahahahahahahahahahahahahahahahahahahahahahahahahahahahahahahahahahahahahahahahahahahahahahahahahahahahahahahahaha https://t.co/f0bKJ9NeUe

— Rian Johnson (@rianjohnson) January 16, 2018
Mark Hamill, aka Luke Skywalker himself, then chimed in.

Agreed. But let me add
🤣🤣🤣🤣🤣🤣🤣🤣🤣🤣🤣🤣🤣🤣🤣🤣🤣🤣🤣🤣🤣🤣🤣🤣🤣🤣🤣🤣🤣🤣🤣🤣🤣🤣🤣🤣🤣🤣🤣🤣🤣🤣🤣🤣🤣🤣🤣🤣🤣🤣🤣🤣🤣🤣🤣🤣🤣🤣🤣🤣🤣🤣🤣🤣🤣🤣🤣🤣🤣🤣🤣🤣🤣🤣🤣🤣🤣🤣🤣🤣🤣🤣🤣🤣🤣🤣🤣🤣🤣🤣🤣🤣🤣🤣🤣🤣🤣🤣🤣🤣🤣🤣🤣🤣🤣🤣🤣🤣🤣🤣🤣🤣🤣🤣- mh https://t.co/H3jacep5sU

— @HamillHimself (@HamillHimself) January 16, 2018
John Boyega, who also starred in The Last Jedi, continued the mockery.
Great points. Hope it's okay to make a final point...
😂😂😂😂😂😂😂😂😂😂😂😂😂😂😂😂😂😂😂😂😂😂😂😂😂😂😂😂😂😂😂😂😂😂😂😂😂😂😂😂😂😂😂😂😂😂😂😂😂😂😂😂😂😂😂😂😂😂😂😂😂😂😂😂😂😂😂😂😂😂😂😂😂😂😂😂😂😂😂😂😂😂😂😂😂😂😂😂😂😂😂 https://t.co/YnXFrjW47r

— John Boyega (@JohnBoyega) January 16, 2018
Star Wars: The Last Jedi had the second-biggest opening weekend of all time when it was released and went on to become the highest grossing movie of 2017. All three of last year's highest grossing titles, The Last Jedi plus Wonder Woman and Beauty & the Beast, were female fronted movies.