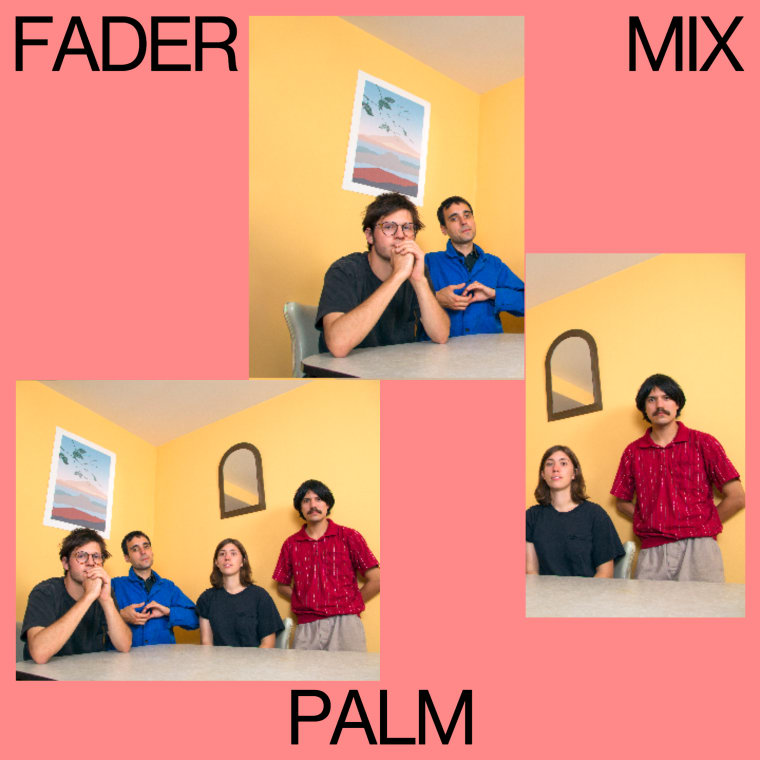 The longstanding FADER Mix series presents new, exclusive DJ mixes from our favorite artists.

Palm, the Philadelphia band behind some of right-now's strangest and most inventive rock music, was kind enough to make us a FADER Mix. Across 90 minutes, the expansive set spans a bunch of moods and genres: footwork, Japanese electronica, cassette-quality jangle pop. Maybe more than anything, though, the mix shows off the group's special affinity for unique, challenging rhythms — from odd and edgy to straight-up confounding. Listen below, then read a brief interview with the band's Eve Alpert and check out the mix's complete tracklist.
Where are you right now? Describe your surroundings.
Eve Alpert: I am in my bedroom sitting at my desk eating a bowl of cold noodles. I live on the third floor, eye level to the passengers on the overground train. It shakes the house.
Tell us a bit about this mix. What shaped it?
It's basically music that makes us feel good. We do the band thing but we're all fans first and foremost, so we spend a lot of time listening to music together — in the van on tour, and at each others houses. It's always really fun to discover something that moves you alone and then share the wow feeling with your friends. We also included some friends who inspire us: Ada Babar, Lily and Horn Horse, Pamela and her Sons, Eyes of Love.
What's the last book you read that had a big impact on you?
I just read a pretty tragic play called Buried Child by Sam Shepard. It's about a family living in rural America during an economic recession and, in part, deals with the failing of the "American Dream."
You guys included John Maus's "Teenage Witch" in here. Who's your favorite witch?
Tracklist:
Java Trot - M Sage
Ricoh 2 - Yasuaki Shimizu
Night Communication - Foodman
Dajjal - Yves Tumor
Roll a Tree - DJ Rashad
Who-Is - Errorsmith
7 End Beginning - Big Ded
Os PDDG (w/ DJ Liofox) - DJ Firmeza
Unknown Tongues - Jlin
Sad Laugh - Pamela and Her Sons
Yami Nabe - Foodman
Wha'ts Wrong with Mini - Lily and Horn Horse
Tumbleboy- Kasra Kurt
Teenage Witch - John Maus
At Me Like - Ada Babar
Say Goodbye- Hiroshi Sato
Comme Ca - Domenique Dumont
Picnic - Haruomi Hosono
Vector Milk- UNBE
Pop- Ditto
Waltz of Water and Bubbles - Kazuko Umino
If We Could Be Fools - Eyes of Love
Everyday, I Don't - Anna Domino
Golden Lane- Cleaners from Venus
D'ya Hear me! - Brenda Ray
Scandal - Billy Boyo
Bruma - Nuno Canavarro
Woodland Band - Graeme Miller & Steve Shill
むねん- ゆうたいりだつ