Inside CL's four-year struggle to make it big(ger) in America
For a time, the Korean pop phenom's U.S. crossover felt imminent. So what is standing in her way?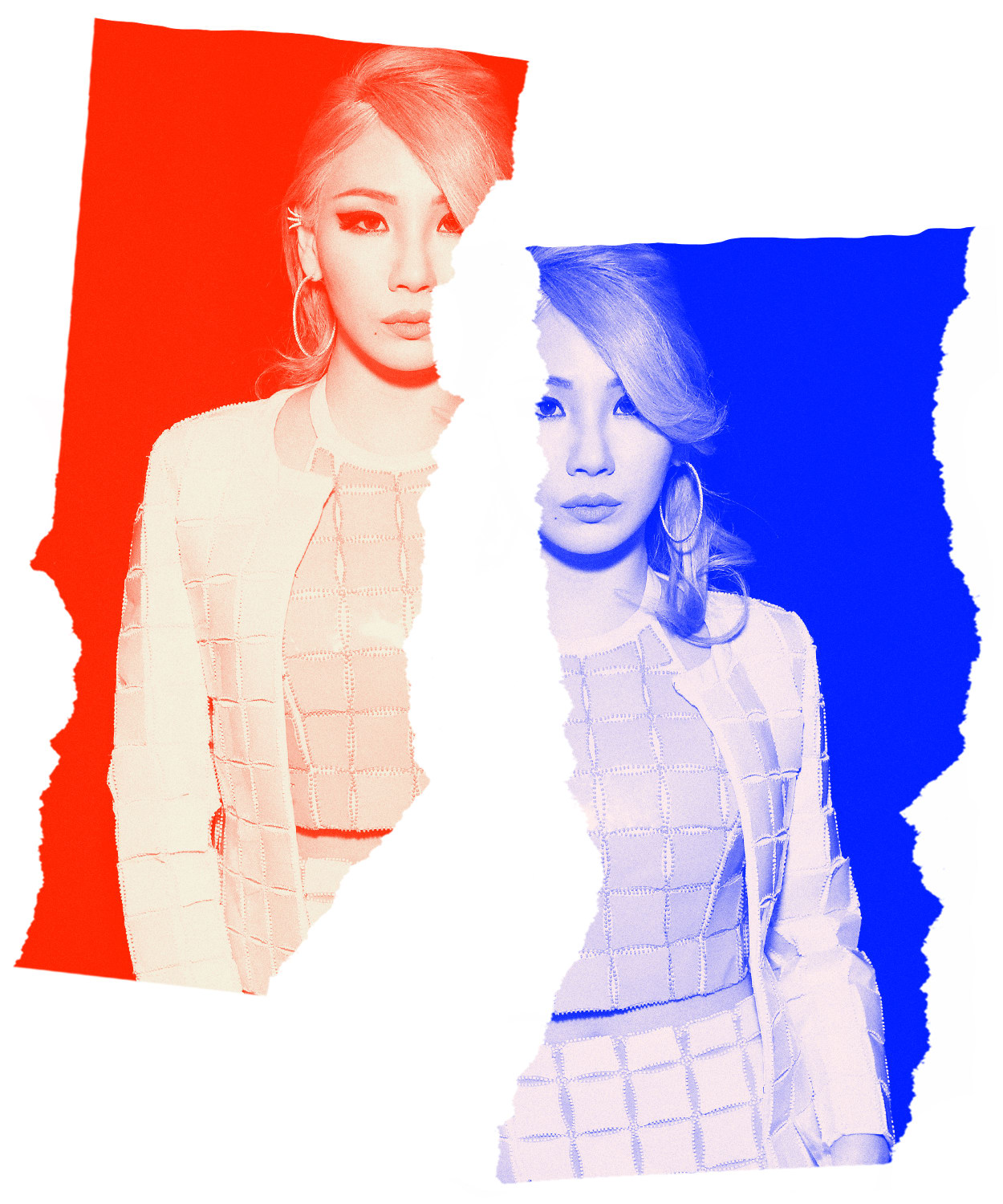 In November, K-pop's self-proclaimed "baddest female" seemed to be at breaking point. The Korean pop phenomenon known as CL was a centerpiece guest on "Livin' The Double Life," a Seoul-based TV show that promises intimate insight into the lives of the country's best-known personalities. Live interview elements were interspersed with pre-recorded segments that generally veered towards light, enjoyable fluff: CL bonding with L.A. teens over In-N-Out burgers, or adorably failing to master the "fireman spin" at a pole-dancing class. But in one particularly vulnerable part, when she talked about her four-year struggle to succeed in America, her eyes filled with tears. "I didn't even know that it was hard," she said, her voice cracking. "Since [a K-pop artist crossing over] never happened before, there's no path I can follow. People want to help but they don't know how to help."
Three years earlier, CL's U.S. ascendance had seemed inevitable. In November 2014, she'd signed a management and label deal with Scooter Braun, who had masterminded the careers of Justin Bieber and Ariana Grande. (To this day, CL has dual management under Braun's SB Projects and her Korean label, YG Entertainment.) Seoul-born, and raised in Japan and France, CL was was already regarded as one of Asia's most captivating performers as the leader of Korea's punkish all-women band, 2NE1. Thanks to global fans and her long-running affiliations with Western fashion designers like Jeremy Scott, that recognition had started to spread. In the immediate aftermath of her deal with Braun, CL moved to Los Angeles and made solid inroads in the States. She danced with Justin Bieber and Ariana Grande in a spontaneous-feeling viral video and linked up with Method Man. She toured with Diplo's Mad Decent Block party. She got shout outs from Lorde, Charli XCX, and Grimes.
But since the release of her debut U.S. single, "Lifted," in summer 2016, CL's American dream has seemed to be on hiatus. Even though she says she's recorded over 200 songs for her first English-language album, an initial stream of new music has dried to a trickle. CL continues to be in demand in Asia, and performed at the closing ceremony of the Winter Olympics in Pyeongchang, South Korea. That was a big global look, but it exists in stark contrast to her lack of promotion in America. Her fans, who call themselves GZBs (gizibe is Korean for "bad bitch"), have taken to flooding Braun's mentions with memes and irate messages that demand the release of her album.

In her Korean-language music, CL declared herself to be "bad," but, in media-trained interviews, it was hard to see what that meant beyond a vague desire to be "mischievous, courageous, and strong." Eleven years into her career, though, she did something truly rebellious. On December 31, 2017, CL uploaded 90 seconds of a dazzling new music video to her Instagram, for the previously unheard song "All In." The post has since been deleted, but the clip teased CL's best solo music to date, a squiffy electro banger powered by helium horns, with lyrics that lay out her terms for a relationship, sung with an assurance and a seductive flair. The video combines slick choreography and moody scenes in dark tunnels with guest star Vic Mensa. "Showing this little bit that I am able to may get me in trouble," CL wrote. "But it's worth the risk."
"I kind of gave up on that video," says Matthew Mazur, a New York-based stylist who worked on the clip and has collaborated with CL since summer 2016. "It was supposed to come out [in 2016], but it never did." The costly shoot had been a grind, spread over three 16-hour days on an L.A. soundstage. The video's director Dave Meyers, who has directed iconic hip-hop videos like "Get Ur Freak On" and "HUMBLE.," was equally confused by the delay. "Most of the other artists I work with [release the video] literally the day I finish [it]" he says. "It was nice to see her leak it, but it's actually a good time for me to call her and ask what's going on. Like, 'What the hell? You're so fucking talented.'"
In the wake of the leak, CL went on a spree of favoriting comments underneath her "All In" post that criticized her Korean label YG. One fan wrote, "I'm sure [the leak] is because of @fromyg [YG's president, Yang Hyun-suk]. I don't understand why she signed with @scooterbraun if she won't be allowed to release any song[s]."
YG Entertainment and Scooter Braun declined to comment for this story. A planned interview with CL was rescheduled multiple times and eventually nixed by YG.
In their heyday of 2009-2014, CL's group 2NE1 had few rivals in global pop. The four-piece's music, a post-Timbaland reimagining of futuristic synth-pop, came alive in performances that took the eccentricity in K-pop's DNA to fiercer, weirder places — like when they smashed up their own platinum discs in the video for "I Am The Best," or when CL rapped with a parrot on her shoulder. But if 2NE1 were ciphers for a fantasy of fearless living, they also seemed, in some ways, more relatable and "real" than their rivals. Songs like "Lonely," or their soaring guitar-backed 2011 anthem "Ugly," spoke directly to human insecurities, not unlike empowerment anthems by U.S. pop stars like P!nk and Kelly Clarkson. CL was also active behind the boards, and had writing credits on half the tracks from the band's fantastic final album, 2014's Crush. The album reached No. 61 on the Billboard 200, giving K-pop its highest-charting U.S. album at the time.
But throughout 2NE1's peak years, CL sometimes spoke of a systemic culture at YG that cast a darker shadow over the band's honest-feeling songs. It's no secret, in a country that has been dubbed the world capital of plastic surgery, that many of Korea's pop idols have undertaken cosmetic procedures. But CL said that that her label tried to coerce her to go under the knife against her will. "They told me to get plastic surgery before my debut, she told ELLE in 2013. "I stood up for myself and said 'No, I'm not doing it.'" On a Korean television show in 2012, she said that YG Entertainment's founder, Yang Hyun-suk, called 2NE1 "ugly" when they were rehearsing without makeup.
Looking back, it's possible 2NE1 never spent enough time doing U.S. promotion to have a serious shot at crossing over. For Korean acts scoring No. 1 hits and lucrative endorsement campaigns back home, spending months grafting in the States is often simply not worth the "opportunity costs," as one YG agent put it to The New Yorker in the fall of 2012, when discussing K-pop stars' brand opportunities in Asia. But when Psy's mammoth EDM hit "Gangnam Style" infiltrated the Western consciousness in the summer of 2012, YouTube views of his fellow Korean artists' videos tripled. The power players of the American music industry couldn't fail to notice the moneymaking possibilities of introducing east Asia's banner acts to the Western mainstream.
While other label heads had previously been cautious about the potential challenges in translating K-pop to the U.S. public, Scooter Braun doubled down. Less than two months after the release of "Gangnam Style," Braun signed Psy — like CL, a YG artist — to his management company and label, SB Projects. A video posted to Psy's YouTube channel in September 2012 shows the artist taking shots of Soju with Braun in the Hollywood hills to celebrate. A year, and a few more shots later, CL followed suit.
Braun recruited Chicago-born Dan Suh, who'd previously worked closely with Psy, to be CL's day-to-day manager. (Suh confirmed to The FADER that he no longer works with CL or Braun, but declined to comment further.) Throughout 2015, CL hunkered down in L.A. working on "some more American-leaning music," says Jasper Goggins, president of Mad Decent. At the label, Goggins worked on CL's first big U.S. feature, an EDM banger "Doctor Pepper," where she shared credits with Diplo, OG Maco, and Riff Raff.
"No one was treating it as 'this will be the [mainstream] next hit for her,'" says Goggins. "At first it was kind of a joke, but then we were like, 'this is kind of awesome.'" With the pressure off, CL let loose, spitting flamboyant rhymes and confidently flexing at a debauched Las Vegas party in the video. Speaking over the phone in January, OG Maco remembers CL's succinct explanation of the song's meaning: "I'm the queen bitch, I'm the boss."
"Doctor Pepper" was never meant to be a serious statement of of CL's artistic intent, but singing lyrics about soda with Riff Raff felt slightly gimmicky all the same. With 2NE1, CL's music had begun to incorporate zeitgeisty moments of cool restraint, but "Doctor Pepper" was a backwards slide into an EDM sound that, by 2015, felt stale. That year, CL entered the Billboard Hot 100 for the first time with a blink-and-you'll-miss-it feature on PSY's "Daddy" — a wise-cracking follow-up to "Gangnam Style" that currently has 300 million YouTube views.
That same year, CL put a fresher flip on hectic electronic pop with "Hello Bitches," a buzz track that featured tough-talking raps in both English and Korean. At Asia's premier music-centric awards show, the MAMAs, her stunning performance of the song included revving motorcycles and an all-women squad of dancers led by choreographer Parris Goebel. "I wish western award shows were like this," wrote Lorde in a tweet, echoing a long-held sentiment shared by K-pop fans worldwide.
But "Hello Bitches" failed to chart, and CL's announced collaborations with BloodPop, DJ Dahi, Diplo, Skrillex, and Bibi Bourelly never surfaced. That same year, she instagrammed a shot with Grimes in what looked like to be a studio of sorts, but nothing has come from that, either. OG Maco describes two "dope club bangers" he has in the can with CL that are stuck in limbo. "I don't really know what's going on with them," he says. "Why they haven't brought her over to let her be what she is, I'm not really so sure."
But for CL's official English-language debut, Scooter Braun had a plan. In spring 2015, he introduced her to Asher Roth. Roth was an early SB Projects client, a Pennsylvania-born rapper who rode his frat boy image all the way to a Top 5 album in 2009. He collaborated with CL on "Lifted," a generically catchy pop song centered around a Wu-Tang sample and punctuated with "Paper Planes"-esque cash register sounds. "[CL] was starting anew and getting involved in more of a hip-hop space," Roth tells me. In a late-night session in L.A., Roth says, he wrote around 60% of the first verse of "Lifted" with CL and Teddy Park, a YG producer who has collaborated with CL since her 2NE1 days. "[Braun and Suh] wanted real lyrics, with complexity and dexterity. They really wanted help getting CL's personality across, rather than just like, 'Hey, here's a female, she's already popular, Iggy Azalea worked so she'll work too.'"
At times, CL has been criticized for lifting from cultures that are not her own. There was outcry after she wore a "chola" look in one 2013 video, as well as when she incorporated a Quran verse into some performances on her 2016 U.S. tour (she later apologized on Twitter). The "Lifted" video, which was filmed in the summer of 2015 and released a year later, features a cameo from Method Man and uneasily navigates the imagery of '90s rap videos.
With glossy direction from Dave Meyers, CL's dancing with friends in a Brooklyn basketball court shows her decade-honed star power. But it's less comfortable to see her rocking chunky gold jewelry and clutching a paper-bagged 40oz in the streets of New York. Keeping in mind CL's millionaire status and cultural background, at times the "Lifted" video feels like a ploy to align her with the "cool" social signifiers of a black, inner city experience that does not belong to her. The single's reaction was lukewarm, although it became her second Billboard Hot 100 entry. In October 2016, it landed at number 94 on the singles chart.
"It's a good time for me to call her and ask what's going on. Like, What the hell? You're so fucking talented." — Dave Meyers (music video director)
It's illuminating to see new musical forms created when locally specific styles merge. Some of CL's most effective moments have been when she's put her individual spin on Western music tropes. When she rapped Korean verses over the "It's All About The Benjamins" beat at Miami's Ultra Music Festival, or lit up the stage with a backdrop of Hangul graffiti on The Late Late Show, CL showed a knack for nodding to her home country's culture while embracing her favorite things about the U.S. It also proved that she didn't need to borrow from other cultures for a memorable performance.
Not everyone in CL's camp appears to share her comfort with a globally-minded take on pop. Dave Meyers says that there were initial plans for a "more off-putting and cool" follow-up to "Lifted," with expletive-heavy raps and an inventive electronic edge. But CL's American team got nervous and switched to the more Top 40-sounding "All In" — of which, at the time of this writing, we've still only heard a 90-second leak. And, in a tense appearance on "Livin' The Double Life" in November, Braun blamed touring commitments with 2NE1 for the delay with CL's U.S. music. But that doesn't seem like the full story, as she hasn't toured with her former band since 2014. Meanwhile, CL consistently jabbed at her Korean label throughout January 2018, saying that all they care about is money, and that her plan for the year is: "more waiting for YG to release my album."
Korean artists are flourishing, and their ability to make solid inroads in the U.S. charts is unquestionable. In the past year, K-pop boy band BTS have scored a top 10 album, dominated the AMAs with a showstopping performance, and become the first K-pop act to appear on the cover of Billboard. In many interviews, CL has spoken of her stateside ambitions. In a 2016 video for TIME, she said: "There's no one female pop star that's representing all the girls that [are] living out here [in the U.S.]. I want to represent Asian girls." That dream is still achievable for CL, but it's hard to know what will happen without a clear picture of the behind-the-scenes forces that seem to be standing in her way.
It's undeniable that none of her English-language music measures up to the electrifying heights of 2NE1 at their peak. Since "Hello Bitches," CL's songs have felt somewhat impersonal, and the nebula of uncertainty that has surrounded her for nearly half a decade has grown increasingly harder to ignore. She spent summer '16 in Seoul, working on a Korean-language 2NE1 album that was eventually scrapped by YG. The group officially disbanded in November 2016, and a tepid farewell single, "Goodbye," came the following January. CL released just two new songs in 2017: a bland contribution to the My Little Pony OST, and a bizarre guest appearance on a Lil Yachty album track.
It's perplexing that CL's partnership with Braun hasn't opened doors for collaborations with artists dominating U.S. pop radio; she'd certainly bring a unique magic to a feature spot with Top 40 heavyweights like Zedd or Kygo. But there could be an even more meaningful way for CL to connect with new fans, one that doesn't involve big-name collaborations. Some of pop's most beloved young artists, from SZA to Lorde to Julia Michaels, have found success and acclaim by turning the personal into the universal, by translating their intimate conflicts into radio-ready art. If CL can find a way to use music to reflect on her own complex life story, including her industry struggles, it's probable that her songs will have a better shot at connecting with listeners. It's likely that her voice will ring out louder than ever.