London rap is enjoying a moment in the sun right now. The genre-blending wave of the past few years has established itself as a viable mainstream sound with artists including J Hus, Mostack, Not3s, and Yxng Bane invading the U.K. charts and picking up huge audiences along the way. At the heart of the vibrant sound is producer Steel Banglez. A veteran on the east London music scene, Banglez has helped the scene's emerging artists combine the diasporic sounds of grime, afrobeats, and U.K. rap, packaging them in a joyful and melodic way that prioritizes making people move.
Best known for his work with Mist, the Birmingham rapper with outrageously lavish music videos, Banglez has also enjoyed success behinds the boards of songs including Dave's "No Words" and his own "Bad," featuring Mr Eazi, Not3s, Mostack, and Yungen.
When we met up in the lobby of a London hotel, Steel Banglez told me he'd been up late the previous night recording with Tory Lanez in a room above us. But his life isn't all glamour: Earlier that morning, he was looking after the family business while his parents, Punjabi immigrants who arrived in Britain in the 1980s, were away on holiday. Fresh from ensuring the fleet of local shops were OK, Banglez tucked into his order of scones and jam and talked about taking an underground sound global, bonding with Metro Boomin on tour with Drake, and how a stint in prison made him want to become London's answer to Max Martin.

How did you first get into making music?
When I was a kid my mum taught Indian classical music. She had instruments around the house that she used to play; all of her harmoniums and tablas and stuff like that. We created our own entertainment at home. So we used to play a karaoke game and watch Bollywood films, my mum loved them.
Did you have any specific favorites when you were growing up?
One of my favorite Bollywood films is Donga, where an Indian actor imitates Michael Jackson. Bollywood's known for a lot of imitation of the west. I started dancing from watching that and I always used to watch all Michael Jackson's films.
When did your parents first come to Britain?
1985. And I was born in 1987. So I was this Asian kid whose parents have just come to the U.K. from civil war in The Punjab. I've grown up in this weird way where I'm meant to be in India, really, but I'm in England and I'm discovering music through my ancestors. I'm the first one in my family one open to the west. I was listening to loads of pop music on [U.K. TV show] Top Of The Pops every week, that was standard. I think I was about nine years old, my brother bought a pair of decks and started DJing drum and bass in the house. That's when I started to hear music being played loudly. That and the bhangra music and Bollywood stuff at home. Once I got my own room, I started finding my own music. That's when the internet came in. Napster and Kazaa. I used to sit there for four hours downloading Blackstreet songs. Whatever the fuck it was.
When did you discover hip-hop and grime?
I grew up in a very diverse area [the London borough of Forest Gate]. My next door neighbors were Jamaican and used to have a sound system. D Double E was starting out when I was younger too. I was just influenced by so many people in my social life. I started studying Dr. Dre after I heard The Chronic and 2001 for the first time. I couldn't believe what I was hearing. I was enjoying grime but when I heard Dre and I was like 'How does he make that snare?' I started asking questions.
And when did you start making beats?
I was 13 or 14 years old and I got Fruity Loops. I would just sit in my room and make beats all day. I was addicted, it was mad. Now that I think about it, it's crazy how little time I spent outside after I got Fruity Loops. That never changed.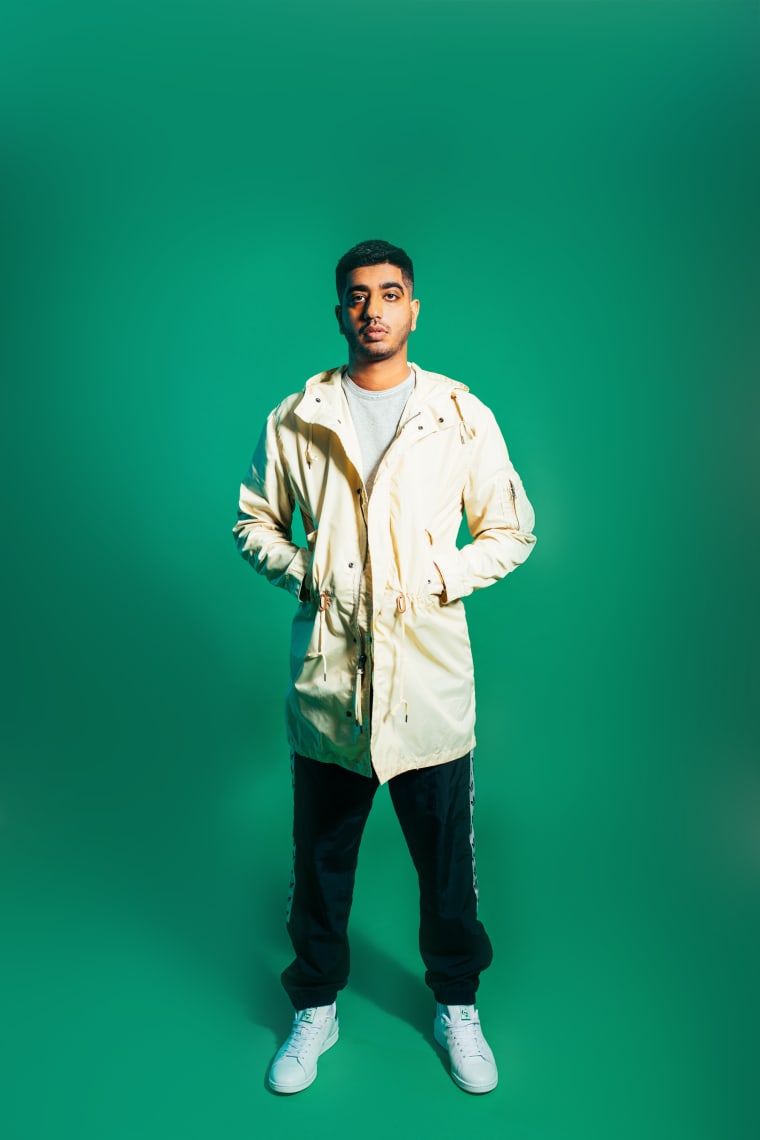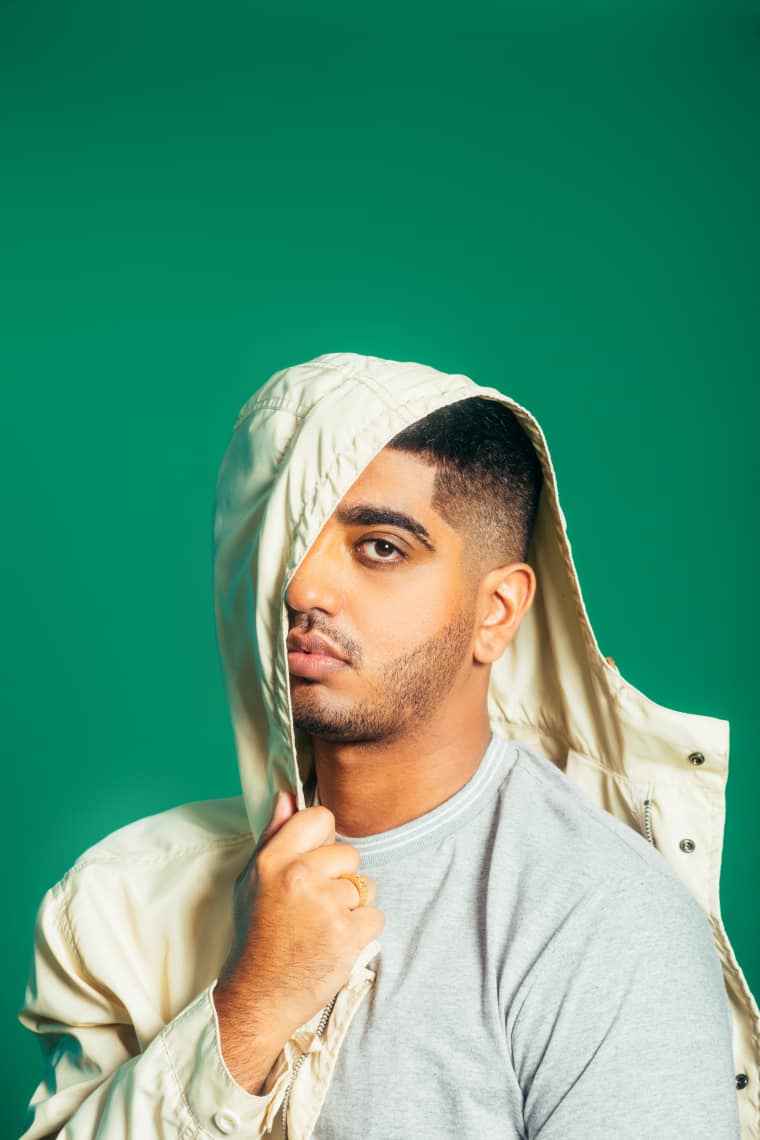 "I feel like a lot of people don't know themselves. They find acceptance in other people, but I'm so cool with just being myself."
Were there any figures who helped you establish yourself in the industry?
I stayed close to D Double E because he was like the biggest grime MC of all time to me and my friends. I was always observant and he let me shadow him on tour with Dizzee Rascal. I was 16 and I watched the crowd and realized that it's happening. Grime music is turning mainstream. I just wanted to be a part of something because I loved music that much.
Your breakthrough has come in the past couple of years. What were you up to between then and now?
Just after that Dizzee tour, I ended up in prison. I got six years and served three on a firearms charge. So it was a long time. This was 2005 to 2008, so I kind of missed my university years. While I was in prison I used to make beats on my keyboard. I was in prison with [rappers] Fix Dot'm, Yung Meth, and Colours Miyagi. We used to make music together. You can have a keyboard in prison and mine would record too. So I would play the beat, keep going for a minute then onto the next bit and build a track that way. Later, when I got out, I messaged Meth on MySpace. He was blowing up at that time and was part of Giggs's crew. It all started taking off from there.
Did being in prison help focus you as a musician?
Yeah, I think everything was written for my life. I was meant to go through that experience. I got to spend time on my own and study music and study myself. I feel like a lot of people don't know themselves. They find acceptance in other people, but I'm so cool with just being myself.
You've developed a great working relationship with Mist. How did that come about?
I have a crazy connection with Mist, which is very pure. He understands Asians because a lot of his friends are Indian Punjabis and he speaks that language. He uses Asian words in his music, that's what drew me to him. We've both come from prison and opened our spiritual sides through that. So the conversations we have are very deep. We also just work great in the studio. He has the patience.
You're one of the central figures in the scene people are calling afro-wave, afro-trap etc. What are the defining musical elements of this sound?
First of all, I wouldn't call it afro anything. I just think it's all U.K. rap to me. The key components are happy chords, and dark chords that make you feel a certain way. The drum pattern is the most important thing about this whole sound, it's the snare that comes on the third. In hip-hop it comes on the fourth. Coming off the third beat comes from afrobeats. That is what makes people move, is making money, and is making kids happy.
Last year you signed a major label deal with Warner and have been releasing music your own singles. How do you decide which of your beats is for you and which you take to another artist?
First choice always goes to the artists I work with. If they pass on it, and if I feel like it's still a big song, I take it. That's what's happening now, I'm still conducting myself as a producer, and I'm making records, but I'm still taking the scraps and turning them into hits. Things are changing though. Now people have seen the impact of my choices and my sales and stuff, I have the power to phone an artist up and make things happen.
Do you see yourself diversifying your sound going forwards?
Yes. If you listen back to my music eight years ago it sounded nothing like now. It's just being knowledgeable and always understanding how to change. I want to be like Max Martin. I look at him and and he can adjust to the times. I feel like I'm one of the guys that has a gift to adjust too.
What's next?
I have two new tracks coming out soon. There's one with Loski and there's also my main single, "Your Loving," which features Yxng Bane and MØ. I made the beat when I was on Drake's Summer '16 tour in America. There was a tour bus with a studio on it. I had a euphoric moment after a show in Atlanta and I made this beat. I was just running around the tour bus like, 'You don't know what the fuck I've just made.'
Wait, how did you end up being on tour with Drake and Future?
Being a hustler.
And after "Your Loving"?
I'm gonna drop a mixtape first and I'm gonna work on an album with the greatest talent in the U.K. I'm not gonna be one of them guys that always just draws from American features. I'm gonna make a definitive album. That's what I'm trying to do.