If you're trying to get over someone, DRAMA's dark pop might help
Listen to their newest single, "Majid," and read an interview with the duo.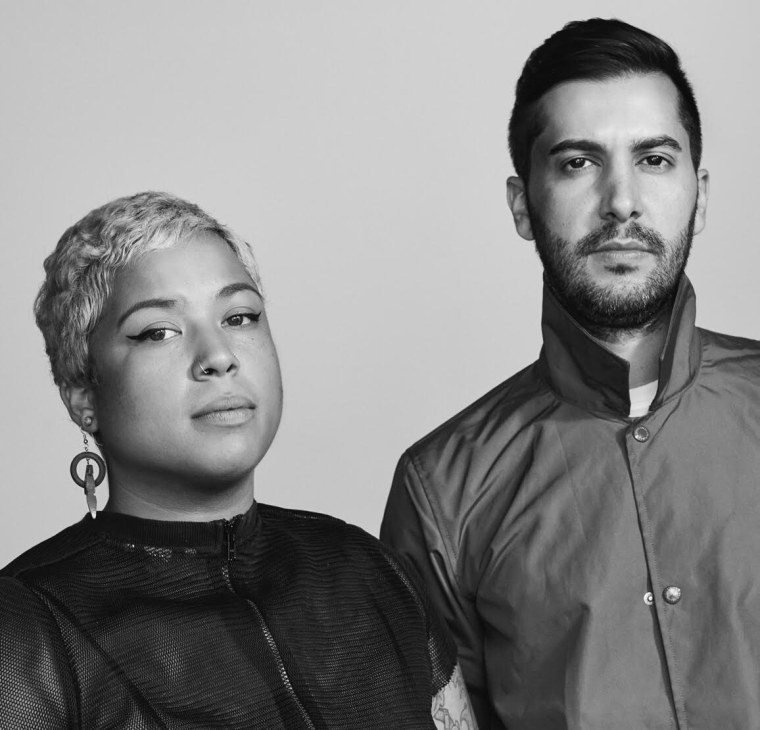 I can't imagine how many things in the universe must've aligned for DRAMA's newly released single, "Majid," to land in my inbox last week. Let me explain:
1. I was, and still am, coming out of a recent breakup.
2. I've been following vocalist Via Rosa for years now, and had been itching to engage with her new material (she is one-half of DRAMA, a dark, electro-pop duo from Chicago, along with producer Na'el Shehade).
3. "Majid" is the first single from their upcoming Lies After Love EP. It's a breakup song — one that I needed to hear this week.
Sleek and dancey, "Majid" succeeds by providing the kind of cathartic release that usually accompanies a good cry session. But the real beauty comes from how generously Via Rosa's writing dips into the polar ends of the post-breakup emotional spectrum. She sings the lyric: "I guess this is all I got for now; memories stacked on memories of this and us / All I have is this, I thought I'd die to this," to staggering, heartbreaking effect; it's like she's pressing a finger in a wound. But then the chorus is blindingly, almost absurdly, optimistic: "But I still believe in magic. I still believe in love."
I can't help but compare the song's 180 degree narrative flip to the exhausting tug-of-war I've been playing with myself this past week — a fraught self-negotiation of allowing myself to grieve and forcing myself toward recovery. Ironically I kept thinking about how great it would be if only I knew how to turn my pain into a song. Then I found this.
Listen to "Majid" below and read on for a short interview with Via Rosa and Na'el Shehade about the happy-sad single.
How did you two meet?
Na'el: We were introduced by a mutual friend in 2013. We met at Na'el's studio, where he was finishing up working on Chance the Rapper's Acid Rap mixtape. We started talking and formed a friendship, which made the process of working together super easy.
We don't tell each-other what to write about or force our opinion on one another. While working on a song we'll both be in the same work area but not in the same room. I'll be in the studio blaring the music and Via will be in the other room pacing. We leave each other alone and come together when we're ready.
How would you describe the music in your own words?
Na'el: The music we create is the combination of dramatic lyrics, dark chords, and pop melodies with dance-y, happy beats and arrangements. We don't limit ourselves when it comes to the sound we create. It's a very natural combination of both of our passions. It's interesting because we come from two different worlds but have so much in common. Fusing these two styles together created DRAMA.

Tell me a bit about "Majid". Is it named after Majid Jordan?
Via Rosa: After we finished recording we laughed because we thought it sounded like I was saying "Majid" even though I was saying "magic." We both just love Majid Jordan. Na'el also has a brother named Majid, who ironically was experiencing something similar to the story described in the song's lyrics. So, in the end, we decided to dedicate the song to both of them.

It's a really stunning song, in that it kind of goes no-holds-barred into the pain that follows a break-up, yet, still manages to maintain a really optimistic chorus. Was it difficult for you reconciling these two emotions?

Via Rosa: I'm in a place in my life where I just realize that not all relationships last forever. I wrote the song based on a conversation between two people where they come to realize that they're not right for each other but still want to encourage each other to find love again instead of shutting down or giving up — something I've definitely done before. So, it was really beautiful that I could foresee myself having this conversation with someone.
I feel it's so important and rare to find a song that manages to do both sides of a breakup so well, because it's easy to create breakup songs that are just 100 percent grief with no glimpse of light in the tunnel.
Via Rosa: It also allows me to feel good and not loose myself in the sadness of a song.
Na'el: For me, I love the challenge of trying to balance out the production between the sadness and the happiness so that the results make you feel, and also make you want to dance.
How does "Majid" figure into the rest of the EP? Is there a story or running theme between the group of songs?
Via Rosa: The new EP is called Lies after Love. The idea came from when we were on tour and I introduced 'Majid' as a song about believing in 'life after love'. We began to realize that all the new songs were about affirmations and lies one tells themselves to get over a heartbreak. Words have power, so saying "I still believe in magic" kinda makes it real, ya know?
How has the music evolved since your last project, Gallows?
Via Rosa: Musically and lyrically Lies After Love sounds bigger.
Na'el: For this project, I wanted to connect my thoughts with what I was actually making. I understood what I wanted Lies After Love to feel and sound like before going into it. I wanted the records to be bigger and stronger. I wanted the arrangements to flow a certain way. I wanted Via's voice to sound bigger. Gallows was a great project. Our records will continue to grow and evolve just as any artist or human strives for growth and improvement.
Via, you've got a huge solo catalog behind you of more R&B, soul, and DIY-leaning stuff. How was the transition towards more electronic, sleekly produced tracks?

Via Rosa: It was difficult at first. I'm still terrified at times, but it's a lot of fun and I'm the happiest I've ever been musically. I never really considered myself R&B. It's so funny when I'm thrown into that category. DRAMA's music is easy to write to because it's just good music. Na'el makes something and I'll have a song within a few minutes. I try not to think about it as "writing dance music." I'm just writing.

Lies After Love EP comes out 5/18.