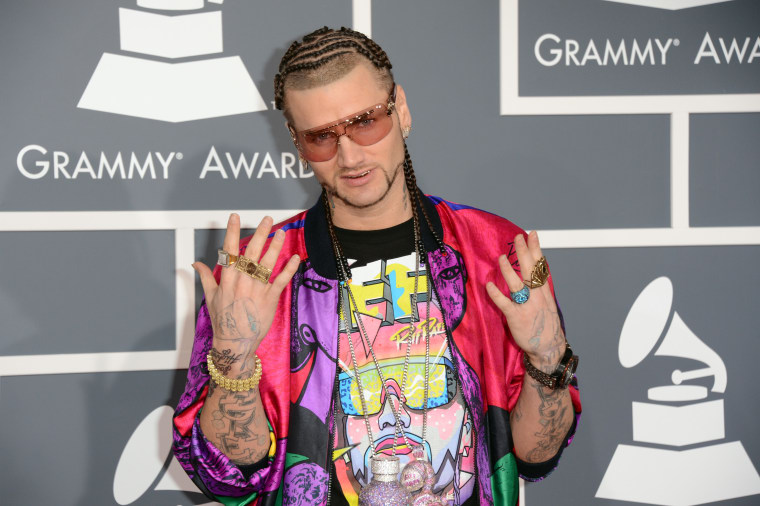 Riff Raff has been accused of raping a woman backstage at a concert in 2013. The rapper's tour of Australia has subsequently been pulled with multiple promoters axing upcoming headline shows in wake of the allegation.
Melbourne resident Eliza Stafford accused Riff Raff, whose real name is Horst Christian Simco, of drugging and raping her five years ago.
"In 2013 I was raped by a man whose stage name is Riff Raff," she wrote in a Facebook post. "I was offered a 60ml 'party' shot. I took the shot, it was syrup and I immediately asked what it was. Riff Raff and his support act told me that it was codeine and started laughing. I don't remember anything from that point."
"I woke up as Riff Raff was pulling out of me and getting into the shower." Stafford said she was 19 at the time of the alleged attack.
Stafford said she spoke out after learning that Riff Raff was due to play in her local area as part of a tour of Australia. Tour promoters Audiopaxx subsequently pulled his tour in Australian and New Zealand.
"We have been made aware of allegations made against Houston rapper Riff Raff," the statement read. "Audiopaxx take these matters seriously and does not condone any of this alleged behaviour. In light of this, we have spoken to his management team and the scheduled tour of Australia and New Zealand has been cancelled, effective immediately."
On June 14, Riff Raff shared an Instagram post denying the allegations against him. ""Never once have I forced a girl to have sex. Never once have I forced a girl to do any type of drugs. I don't want to have a girl drunk and sleepy," he says in the video. Riff Raff says the clip is part of a 13 minute interview/short film called "Trial By Media."
This post was updated on Thursday June 14 at 3:39 p.m. to include a statement from Riff Raff