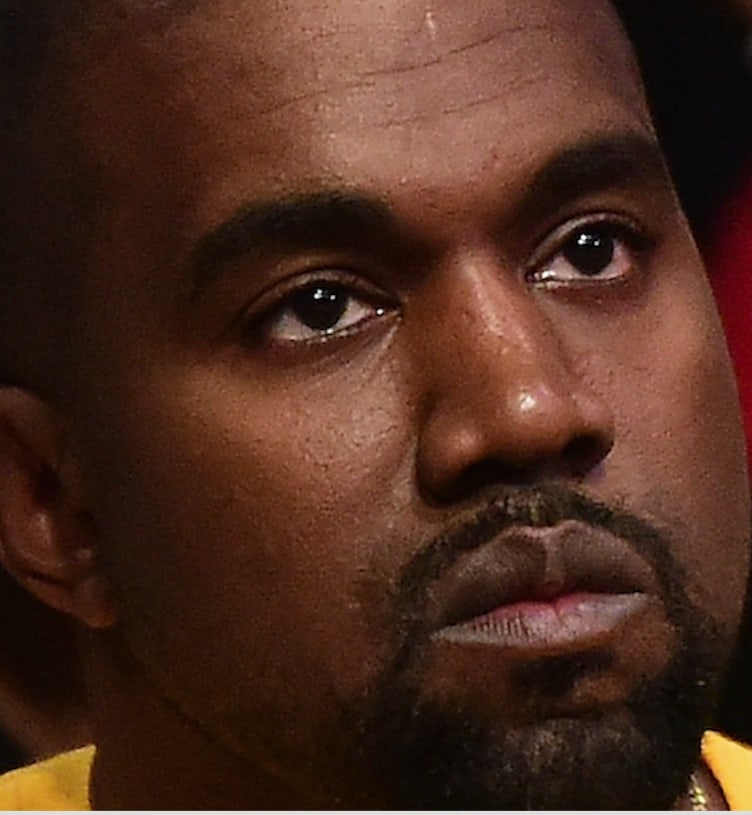 In 2004, when he was 26 and living in a Hoboken loft decorated with Ikea paper lanterns, Kanye West spent $25,000 on a Jesus piece. A blond-haired, blue-eyed white Jesus piece. When challenged on the choice by the journalist Touré, who chronicled the exchange in a Rolling Stone profile, Kanye demurred. He believed that Jesus was black, he said, and the "only thing that bothers me is how people are going to react to [the pendant]."
Kanye went on: "I actually love the way it looks with the blue eyes but I'll get too much flak for it… Because I have socially conscious lyrics." He was concerned enough over that potential flak that he took a trip to Jacob the Jeweler's and enlisted the celebrity jeweler to perform a reverse-Dolezal on the piece. When it didn't quite work out, Kanye got creative: "I gotta get my explanation together," he said. "I'll say it's the one off my grandmother's wall! It's Grandma's Jesus!" (Nearly a decade later, grandma's Jesus anchored his Yeezus tour, and he wore blue eyes of his own for a confusing few months in 2016.)
Kanye has spent the better part of his career getting his explanation together — or, at the very least, knowing that he ought to. Sometimes that came in the form of passionate, if erratically articulated, logic, as in his infamous Yeezus-era press run. Sometimes it came in the form of music, like the intentionally palatable Dark Twisted Fantasy, a beautiful Real Hip-Hop™ mea culpa following the Taylor Swift interruption 'heard round the world. Contradictions have been explained to varying degrees of success: the vague refugee camp inspiration he cobbled together with documented racist Vanessa Beecroft (it was social commentary); the Confederate flags he printed on some of the most ubiquitous merch in history (it was a reclamation, an act of power); the endorsement of Trump that came alongside the admission that he hadn't bothered to vote at all (he's a proponent of free speech).
In recent weeks, the man who once described himself as a comedic Dead Prez has done yet more things he has to explain. He peacocked in a signed MAGA hat, literally aligned himself with the president's "dragon energy," and endorsed the hare-brained opinions of Candace Owens and Jordan Peterson. But ye, the album recorded and rolled out in Wyoming in the midst of an unprecedented level of chaos for even him, doesn't offer anything satisfactory by way of explanation. In fact, it seems to confirm that Kanye doesn't have real opinions so much as he has rote impulses and a lot of resources with which to make them real. The album's cover was shot on an iPhone hours before its release, for example; for an artist who has emphasized his influence in contemporary visual language, that seems a little odd. (There is the revelation that he is in fact bipolar, but using that as a justification for ahistorical, self-serving statements and behavior, as I've heard some people do, is like blaming racism on Ambien.)
The album is neither the catastrophic disaster some early reviews suggested, nor is it the grand, potentially political statement album implicitly promised.
Across ye's seven tracks, Kanye digs his heels in — no apologies, no regrets or introspection, just barely coherent thoughts and barely complete songs. In fact, its single most original idea, and the only one I hope seeps into the culture is its brevity, though even that is wielded unsuccessfully. The album's clearest ideological precursor is "Facts," the "Jumpman" facsimile first released on SoundCloud in late 2015. Just as on that song, which eventually ended up on The Life of Pablo, Kanye is defensive to the point of hysteria. When he references one of his recent most offensive comments on "Wouldn't Leave" — "I say slavery a choice / They say, 'how, Ye? '/ Just imagine if they caught me on a wild day" — he conveniently treats his words as just another Kanye controversy, not an actual hurtful, damaging statement.
In music, the line between strict autobiography and inspired hypothetical can be difficult and irresponsible to draw, but even the most personal revelations on ye are robbed of the intimacy and self-awareness that made a song like Pablo's "Real Friends" transcendent. There are references to his wife Kim and his daughters North and Chicago, all patriarchal and paternalistic, as Hannah Giorgis wrote in The Atlantic.
Also on "Wouldn't Leave," Kanye recounts Kim's reaction to his comments about slavery: "Now I'm on 50 blogs gettin' 50 calls / My wife callin', screamin', say, 'We 'bout to lose it all!' / Had to calm her down 'cause she couldn't breathe / Told her she could leave me now, but she wouldn't leave." Yet there appears to be no inner conflict or remorse, until the now-infamous father-of-daughters track, the disturbingly named "Violent Crimes," on which he wishes to impose control over his daughters more than he wishes to grow with them. Pathetically, Kanye makes a #MeToo reference in which he identifies with Russell Simmons, who has been accused of rape by multiple women. A parallel reference exists on Pusha-T's Daytona, the first project out of the Wyoming G.O.O.D. Music incubator. Eww.
There are brief moments on ye that aren't categorically bad, musical ideas that in another era would be pleasant enough. The melodic guest turn on "All Mine" — it's unclear who the voice belongs to — is the only bit of ye I've heard played in public so far; the droning, honking beat on "Yikes" is legitimately interesting. And there are fleeting moments, too, of the winking, self-aware sense of humor that once were his signatures: "I love your titties, 'cause they prove / I can focus on two things at once," he raps at one point.
Most overwhelmingly, this is probably the worst Kanye's ever rapped; some of his flows land so awkwardly that a Wiz Khalifa-type bit on "No Mistakes" comes as a relief, against all odds. Really, any song on ye stripped of Ye would be a lot more successful. Still, the album is neither the catastrophic disaster some early reviews suggested, nor is it the grand, potentially political statement album implicitly promised. Instead it's something infinitely sadder, a whimper of an LP, an anti-climatic punctuation mark at the end of an album cycle unworthy of the dialogue it's provoked. The absence of regular collaborators, like Fonzworth Bentley, who corralled a choir and multiple guests onto "Ultralight Beam," made me wonder to what extent Kanye's peers are as disappointed and uninspired by his recent behavior as some of his fans are.
In the wake of harsh critiques, I imagine Kanye sitting in a barren, concrete Calabasas mansion struggling to think up an explanation. For someone who has proven himself to be acutely aware of, and maybe even obsessed with, "how people are going to" react to him, Kanye may have proven that he's too big to be cancelled. But he's certainly not too big to fail.