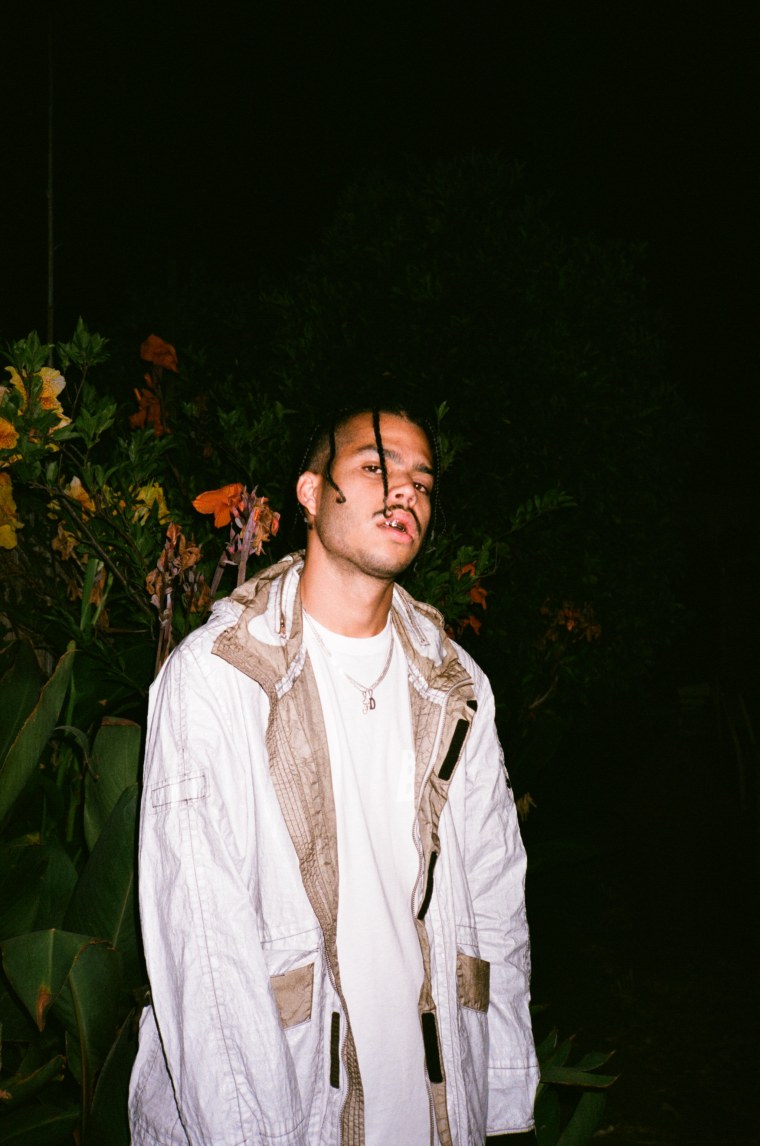 Los Angeles creative collective and label WEDIDIT turns 10 this month, and they're throwing a huge party to celebrate. Leading up to the event, which goes down on June 22, members of the collective have been dropping reworked versions of each others' songs. Yesterday, founding member and producer Shlohmo released his remix of Juice Jackal's "Looney Toon." Today, D33J shares his take on Juice Jackal's "Nightmare." Stripped down and overlaid with his own syrupy vocals, the rework, debuting below, is a melancholy counterpart to the upbeat rock original.
Over the last decade, WEDIDIT, founded by high school friends, has evolved into a powerhouse boasting its own clothing line, music label, and a kind of boundless DIY energy that helps them solve any creative problems. D33J has evolved too, now experimenting with his own vocal work on top of his instrumental production. Below, the producer chats about his recent sonic explorations and looks back at 10 years of WEDIDIT.
What's the thought process behind the covers and remixes that you guys have been releasing?

We have this artist Juice Jackal, and we had this idea to do this remix EP and kind of feature a cast member of WEDIDIT and bring a collection of remixes together. There's a remix from Shlohmo, I'm doing one, and there's a GroundIsLava one. It's a collection of mutual friends.
Your cover is more slowed down than the original track. Did you go into it with an idea of how you wanted to reinterpret it?
For mine, I wanted to reinterpret the song "Nightmare" so that it kind of exists in this weird space where it's not really a cover and it's not really a remix. I've been singing a lot recently so these songs have taken on this new form. I flipped the production, but I also redo the vocals and change some of the lyrics sometimes.
It was very intuitive. As I broke his song down, there were certain layers that stuck out more to me. I really liked the bass structure that he had, but I wanted to give it a new life. His is very uptempo, and I kinda wanted to see it in another existence. So the beginning is very stripped down; I figured out the chords and played them back on piano.
You're usually not singing on your songs. How did it feel to hear your voice on this?

You know when you hear your own voice or a recording of yourself on the telephone or something it trips you out a little bit? I know when I hear recordings of my voice on the phone I'm like, "Yo, who is that? Take that off now." But, yeah recently I've just come into my own singing more on my own productions. It's something that I used to do when I started making music. Now I've kind of come full circle and I'm bringing my vocal stuff back in. It's been really exciting.
Is that something you think you'll do more of?

Yeah, I think i'll definitely feature more of my vocal production and vocal work on music coming out. Definitely don't wanna have any sorta rules about it; I'm not gonna be like "Now I sing on everything." But I'm working on another project that has production of myself and features vocals, but then there's songs that I'm singing on as well. Moving forward, it would be nice to get beats from other people and start singing on those.
So the collective is 10 years old now. How do you think you guys have changed?
We've expanded our roster a little bit. We're all a little more well-traveled and seasoned, but I think at the core of it it's still pretty much the same ethos that we started [with] when we were younger, only now have we kind of come into our own and take ownership of it. [We've] started to treat it less as this hobby thing that manifested naturally and [we've tried to] usher in a bigger presence for WEDIDIT and keep expanding and doing these parties and releasing music. Lock it down a little more, and bring it into a bigger realm. I think we've always existed in this professional/unprofessional in-between zone. I think [we want to take] that ethos and make sure it can last another 10 years. I feel like we've stayed the same more than we've changed. It's still the same core group of friends.