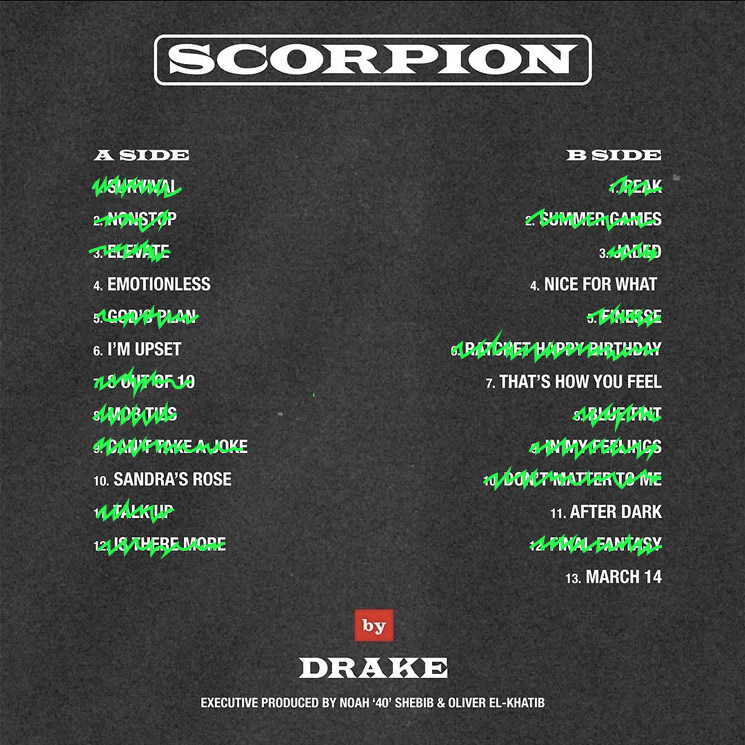 I actually don't think it is possible to make the ideal 7-track version of Drake's album Scorpion. Doing 9 songs feels better — that way you can include "Ratchet Birthday Party" and it wouldn't be as deranged. And it's definitely rude to try this in the first place and I'm sorry, but it's Friday and it's going to be 95 degrees in New York this weekend and I've already lost it.
But here's what I have, which is available as a playlist on Apple Music and on Spotify:
1. "Emotionless"
Probably the most expensive sample on the album, Mariah's "Emotions" drop would form an ideal intro. Moody but not as pedantic as "Survival" is.
2. "I'm Upset"
The singles on Scorpion all seem correct. This is probably the funnest beat on here, too, as understated as it is.
3. "Sandra's Rose"
DJ Premier elevates this album by loads, and "I'm the chosen one / Flowers never pick themselves" is actually amazing.
4. "Nice For What"
Only thing that would make this song better is if Freedia got paid as much as Mariah.
5. "That's How You Feel"
In my spread of 7 tracks, this is the minor track. But in the history of Drake things, it's fitting to have such a "Houstatlantavegas" type beat, and the Nicki sample breaking in is one of the most invigorating moments on the full album.
6. "After Dark"
How is Ty Dolla $ign so good at this.
7. "March 14"
Zero moments when Drake addresses his son on this album are good, imo, but in fairness to Scorpion as a full project and whatever issues Drake thinks he is working though, I think you have to include this one. It's a nicer ender to be sure.