If you have been following Norwegian singer-songwriter Okay Kaya's Both album cycle, you'll know that she's been a releasing a series of loosely-connected, disconcerting music videos for the project. "Vampire," "IUD," and "Dance Like U," have all received visuals exploring themes of love, voyeurism, and trauma if they were to be manifested as another physical body. Dreamlike scenes of Okay Kaya and her "twin" spying on, embracing, and attacking one another — all soundtracked to subdued, silky pop — introduced us to her alternate universe. Today she releases the latest episode to the surreal narrative, the equally eerie visual for "Habitual Love" which Aaron Maine of Porches helped style.
If you were to view it chronologically, "Habitual Love" picks up where "Vampire" leaves off: with Okay Kaya dragging her "twin" by the hair to a big house in the woods.There, they meet an outsider that throws the delicate relationship they've established in the last three videos off balance. I won't go into detail about what happens — all I'll say is that it gave me major ExmMachina vibes that intrigued me to want to learn more about the story behind the series. I hit up Okay Kaya over email to chat about her vision behind the previous videos and the reason why she decided to explore the idea of twin imagery. Read our chat below, and watch "Habitual Love" above.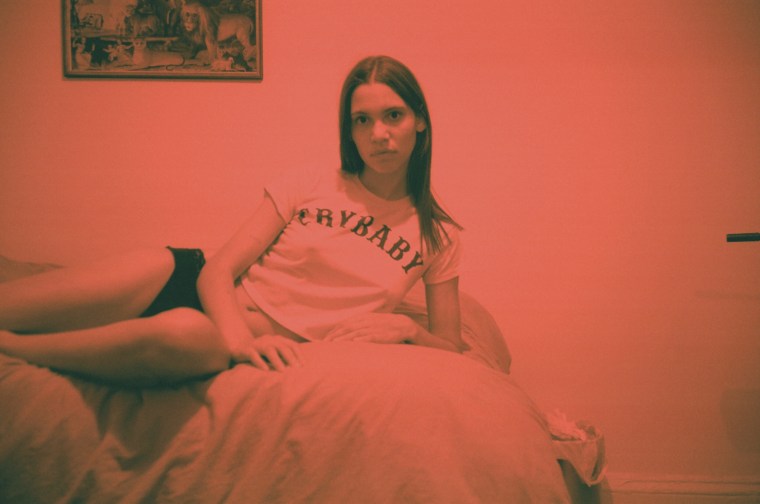 What kind of story did you want to tell with the videos you've released?
I wanted to make videos where Okay Kaya explores what it is like having a twin, a psychological condition turned physical embodiment. Was planning on making videos for almost every song off the record, treating the music video medium like episodes that would make up a short film.
In most episodes that have been made we find the twins in their home acting like sisters almost, spying on each other, embracing, alternating between hate and some form of autoeroticism. I wanted to make more videos in the public space where Okay Kaya has to pull her twin by the hair. She would go grocery shopping, go on dates, drive buses and taxis with her floppy twin. Unfortunately I ran out of funds, so I have not been able to make all the episodes that I wrote.
What inspired you to portray twins or visual doubles? I noticed there was a lot of mirror imagery as well.

A lot of Both explores duality and ambiguity. It felt like an obvious visual for the album to double Okay Kaya. There's so much amazing twin imageary in art and mythology. Good/evil, rivalry, and parallel realities. It's been really fun to work with imagery as graphic as the twin.
The mirror visual in the videos I enjoyed incorporating because you see what it would look like if you weren't in Okay Kaya's reality, and instead of interacting with her clone, she's just interacting with her own reflection the way she does in the self portrait on the cover of Both.
How does "Habitual Love" fit in the sequence of videos that you've been putting out?

"Habitual Love" introduces a third party so negligent that the twins end up having to work together and find solace in each other. "Habitual Love" was supposed to come after an episode in a public setting, but arrives just after "Vampire."
Speaking of "Vampire", you generally show very little emotion in the videos, but at the end of that video, you break out into this big, amazing bloody grin that's kinda disconcerting. What was your decision to do that?
I wanted to show the mirth of the twin after doing something bad, a childish sort of evil?
What was it like working with Aaron Maine of Porches for this one? What did he bring to the shoot/creative process?

Aaron styled the video and helped out with everything on our 6 person set. His eye for clothing is really good. We weren't necessarily trying to serve looks, but have vibrant colors for the camera to pick up. We spent about 20 dollars at Beacons closet. I think he did a great job!