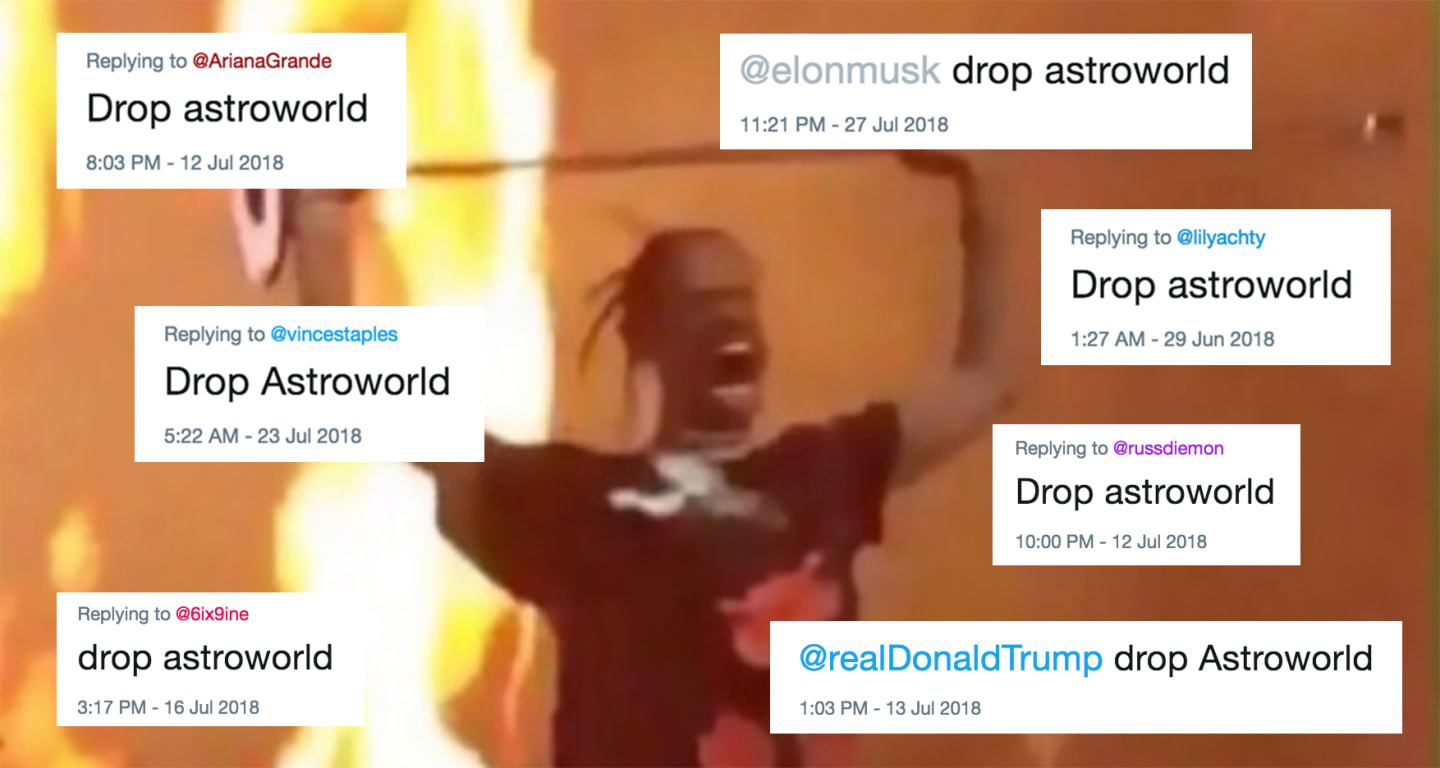 In the immediate buildup to the release of Travis Scott's third studio album, the phrase "drop Astroworld" became a meme on Twitter. Passionate fans spammed Lil Yachty, Vince Staples, and other artists who had nothing to do with the album or its release, filling their mentions with the command; an account dedicated to answering the question "Did Astroworld drop today?" posted updates that date back to May, while others shared pictures of futuristic utopias, depicting an advanced society post-album release.
The Houston rapper has spent the last five years acquiring a rabid and, at times, potentially dangerous fan base through his associations with the biggest stars in music and fashion — not to mention his hedonistic aesthetic that's largely comprised of copied-and-pasted influences. This approach has been controversial — Scott has long been accused of mimicry as well as outright theft — so Astroworld feels like a pivotal moment in the 26-year-old's career: an event album, cast in giant-inflatable-head-size hype.
Like Scott's previous two albums, Astroworld features a high volume of collaborators: the would-be stars who seek to follow his successful blueprint (Juice Wrld, Sheck Wes); the contemporaries who've built their own distinct lanes (Frank Ocean, Swae Lee, Migos); Scott's immediate influences (Kid Cudi, Pharrell, Drake); maximalist rap's favorite white guys (James Blake, Tame Impala's Kevin Parker, John Mayer); and certified legends (Stevie Wonder, Earth, Wind & Fire's Philip Bailey). Over the course of the album's 17 songs, Scott leaves plenty of space for the most inspired of these contributors to carry much of the weight. The result is his most cohesive album to date — and even though Astroworld finds Scott showing only incremental progress as a rapper who can command attention, it benefits from his role as a vessel for the star power of those around him.
Though Astroworld finds Scott showing only incremental progress as a rapper who can command attention, it benefits from his role as a vessel for the star power of those around him.
That's not to say that Scott doesn't make his presence felt: If Astroworld (named for the now-closed Houston Six Flags) is an amusement park, then the beat switch on opening track "Stargazing" is its first loop-de-loop, Scott sounding dexterous over the dizzying production. On "R.I.P. Screw," he pays homage to the pioneering producer, providing a smooth, slow-rolling break from the frantic pace of the initial section. The references to Houston's rap legacy that dot the album are, at their best, subtle nods that add some grounding to the placelessness of Scott's sound ("Can't Say") and, at their worst, topical recreations that dilute what made the source material so great ("5% Tint"). But Scott's best standalone moments come on the second half of the album: "Astrothunder" and "Houstonfornication" are the strongest examples of his songwriting at work, coming closest to establishing his own distinct sound within the chorus of voices.
His individual efforts on Astroworld are generally more consistent than they were on his previous albums, instilling a sense of purpose and control where before there was a huge divide — but the highest points still come from the guests. Frank Ocean's hook on "Carousel" saves the song from otherwise unremarkable verses, Drake and Tay Keith's latest collab on "Sicko Mode" is the album's most surefire go-up segment, Philip Bailey's chorus on "Stop Trying To Be God" is transcendent, and Gunna easily steals the show on "Yosemite" (itself a blatant rip of his "Sold Out Dates"). These moments, and the surrounding sounds that underpin them, might not happen without Scott bringing it all together, but they still tend to cast his weaker showings into sharp relief.
Multiple times on Astroworld, Scott threatens to derail his own feats of curation. On "Skeletons," a song produced by Kevin Parker that features vocals from The Weeknd and Pharrell, he's at his most irritating levels of Kanye West imitation, with a flow that sounds like it could have been a reference track for the ye sessions: "First visit, I gave her a pearl necklace/Next visit, I'ma need your girl naked." "No Bystanders," Scott's collaboration with Sheck Wes and Juice Wrld — two young artists whose rapid ascensions mirror his own — would seem like an obvious opportunity for him to run the table and show out. Instead, in the middle of an awkward skittering flow, he delivers the album's worst line: "I told her it's B.Y.O.B., that mean buy your own boobs."
In this year of blockbuster rap albums, Astroworld arrives at the tail end of a summer that saw the release of a manic, seven-song project from Kanye West, as well as a regressive sprawl of a double album from Drake. At this point, Scott doesn't possess the creative intelligence to make an album on the same level as West's best work, nor does he have the ability or songwriters at his disposal to craft enduring hits like Drake. But Astroworld is better than both their recent albums by default, even if "In My Feelings" charts for the next 52 weeks — and it's poised to land squarely in between the first-week sales numbers of ye and Scorpion.
And Scott has forced his way into this position, one "It's lit!" adlib at a time. It's possible that fatherhood will turn his focus deeper inward in time; for now, he seems destined to keep making slightly better versions of the unbridled, self-indulgent raps that got him to this point. Maybe that sort of commitment to maintaining a high makes for better music — or, maybe we're all taking this way more seriously than Travis Scott.