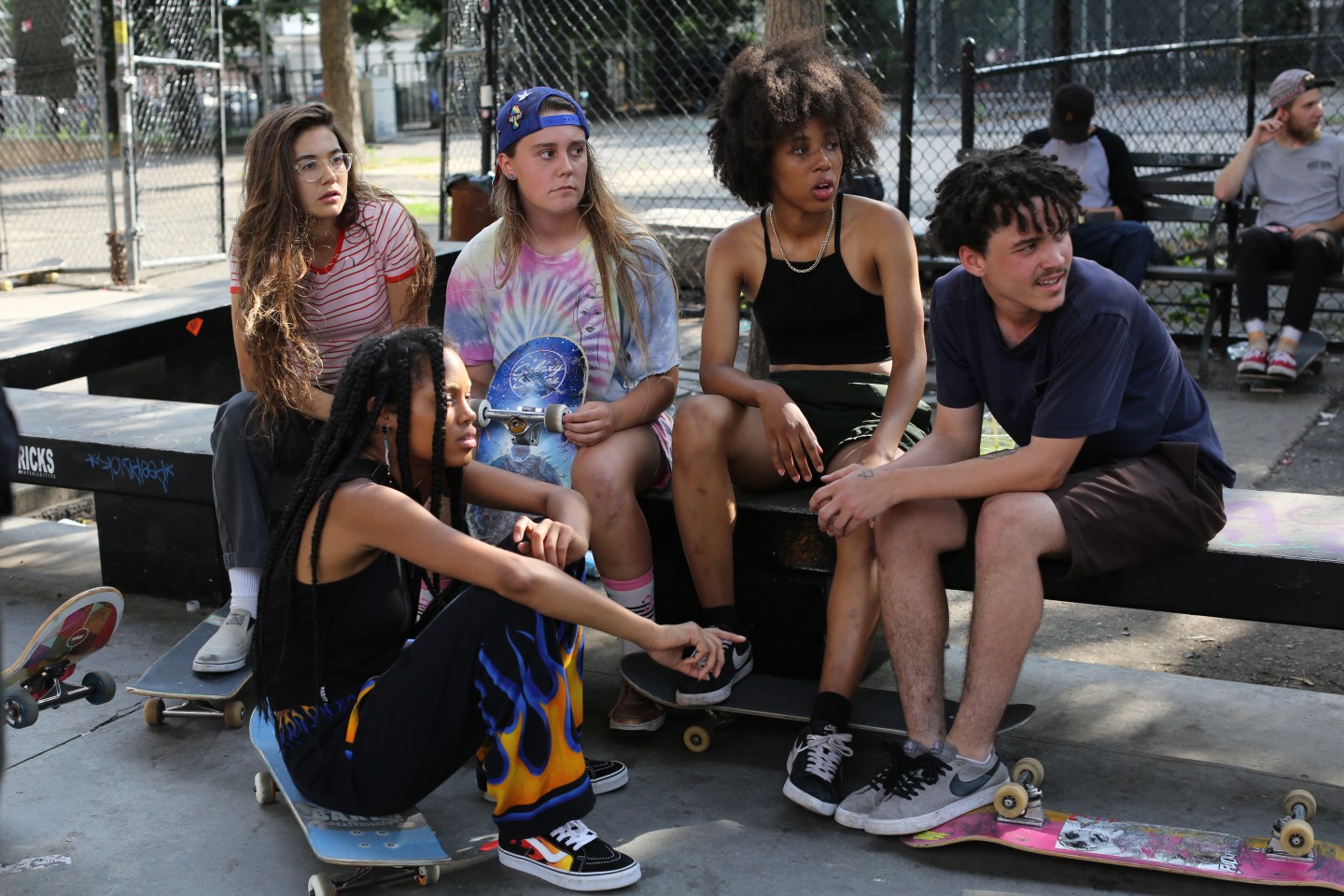 Skaters are having a moment in 2018. From Jonah Hill's upcoming directorial debut Mid90s to Bing Liu's award-winning documentary Minding the Gap, skating has re-captured the cinematic zeitgeist. And at its center stands Crystal Moselle's sophomore feature, Skate Kitchen.
Coming off the critical success of her 2015 Sundance hit documentary The Wolfpack, writer-director Crystal Moselle uses New York City as a backdrop for idiosyncratic teendom in her first narrative feature, loosely based on a real-life skateboarding collective. Kitchen follows isolated Long Island skateboarder Camille (played with a alluring aloofness by newcomer Rachelle Vinberg) as she obsessively checks the Instagram feed of an all-girl skateboarding crew called Skate Kitchen; she eventually escapes suburbia to meet up with the group and builds a genuine friendship, falling headfirst into a subculture dominated by men. Camille simultaneously falls out with her traditionalist mother and into the hands of a enigmatic photographer (Jaden Smith), who's also part of a rival all-boy crew. Newly formed bonds of friendship are tested, as the introverted Camille sets out on a path of self-discovery.
Moselle captures the esprit de corps of a unapologetically young, queer, feminist collective, with fiercely honest performances from first-time actors and a killer soundtrack curated in part by the cast. Skate Kitchen's vérité aesthetic offers a more successful rendering of contemporary American youth. On a recent afternoon, I spoke with Moselle about the film's genesis, memorable moments on set, and capturing the authenticity of Generation Z.
You first met The Wolfpack's Angulo Brothers on 1st Avenue, and two members of the original Skate Kitchen on the New York subway. What attracts you to these specific individuals in public?
I just have a natural instinct that goes off — I know that's something there, and I have to explore it. It's just how I work and I'll probably do that for the rest of my career. I have to feel that spark of energy to put all my time into it.
How did Skate Kitchen manifest, from that chance encounter on a subway to the final cut?
When I met them on the subway, I thought they were really interesting and I was intrigued. It's important for me to find interesting characters and the narrative tends to build around that. Nina [Moran] was talking and has that interesting voice, and pulled me into their group; then I met the rest of the girls and felt there was something there.
Miu Miu approached me about making a short film, and I pitched them the idea with the girls. Originally, I thought I'd do a documentary, but the Miu Miu project happened really quickly, so I created this narrative inspired by Rachelle's experience coming into New York City and meeting this group of girls. We were talking a lot about those moments in your life where you're like "Woah I'm not a kid anymore."
[The project,] That One Day, went to the Venice Film Festival and got a lot of attention, and from there I felt inspired about making the documentary again but [Sundance Film Festival Director of Programming] Kim Yutani said, "You shouldn't make a documentary — what you just did is awesome and it's working, so pursue that." We raised money by January, started rehearsals, and created the script while simultaneously working with the girls. We shot it the next summer.
The majority of the cast are first-time actors. What was the process like directing them, and how did they react to the final product?
I think they like the film — or, at least, that's what they told me [Laughs]. Directing non-professional actors is sort of my comfort zone, so I actually enjoy it. I just try to find versions of themselves under these new circumstances. We did a lot of resherals together, and it worked out nicely.
Were there any memorable moments on-set that stood out?
There was a really great moment when we were filming this scene in a loft in Bushwick. It was super late, everybody was in a good mood, and I just walked outside to get some fresh air and everyone from the set was dancing in the middle of the street. It was some real New York filming shit!

Many filmmakers attempt to capture modern-day youth culture, but Skate Kitchen has an authenticity that can't be duplicated. What do you attribute that to?
I was just recording their experiences and letting them live through the script. I allowed them the space to go off the page and do what they felt, as long as they knew what beats to hit. The tampon scene, where they talk about their vaginas — all that happened, I witnessed it and made them into scenes. Same with the Mandela effect [scene] with them out by the water. I wanted to bring them into moments that really happened so it can feel more real.
You shared a co-writing credit with women screenwriters, and also had key department heads lead by women. Is it important for you to follow the blueprint of the Skate Kitchen collective by creating your own all-female group behind the camera? Do you see these type of initiatives popping up more in the film industry?
I do see it popping up a lot more. It's really important for me to have as much as a diverse group as possible — but at the end of the day, it's difficult to find people you really connect with. My D.P. is a man, he's not white, but we really vibe. When people say "We need you to shoot this commercial, but we really think we should use need a female D.P.," I'm weary to kind of play by that rule. It's about who you're connecting with. That being said, I'm always about bringing in as many people as possible and having the most diverse crew!