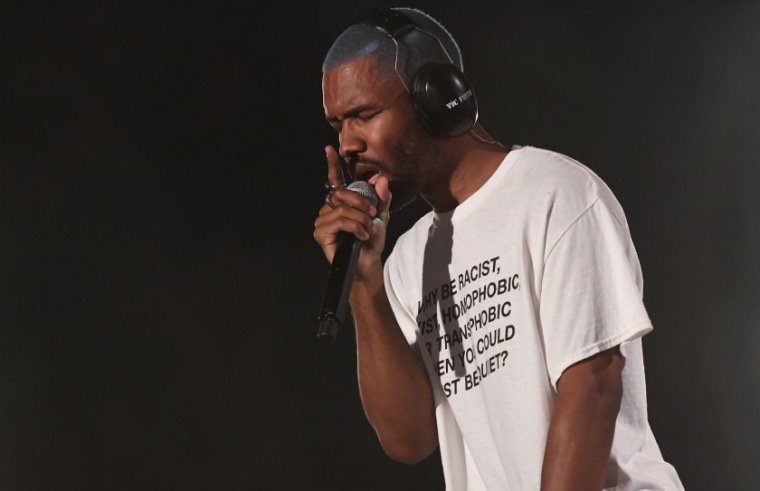 Frank Ocean's blonded Radio returned to Beats 1 on Tuesday for a special episode coinciding with the midterm elections. The radio show, hosted by Ocean, was titled "blonded Midterms pt. 1" and was filled with Ocean and co-host Vegyn discussing politics and urging listeners to vote.
The return.
Frank Ocean.#blondedRADIO.
6AM LA / 9AM NYC / 2PM LDN.

Listen live: https://t.co/OxDvr1hgmP
On demand: https://t.co/4k8xC6qDYI pic.twitter.com/kEaDSA8pIb

— Beats 1 (@Beats1) November 6, 2018
The hour-long episode began with Ocean's Endless song "U-N-I-T-Y" and also included music from Rico Nasty, Playboi Carti, Valee, Gil Scott-Heron, and The Carters. The final song played was The Honeydrippers' "Impeach The President."
Ocean, who rarely gives interviews or speaks publicly, expressed a number of political views during the episode. This included his dismissal of right-wing conspiracy theory #pizzagate and voter suppression tactics employed to restrict people from casting their ballot.
Unlike previous episodes of blonded Radio, no new music from Ocean appeared during the broadcast. See a full run-down of what was played below.
blonded Radio episode 08 tracklist:
Frank Ocean, "U-N-I-T-Y"
Mk. Gee, "You"
Arthur, "Sweet Memory"
Spoon, "Who Makes Your Money"
The Durutti Colum, "Sketch for a Summer"
Gil Scott-Heron, "We Almost Lost Detroit"
Popcaan, "Superstar"
Jadakiss, "We Gonna Make It"
Valee, "Womp Womp"
Rico Nasty, "Hockey"
Don Toliver, "Issues"
Kish!, "Benzo"
Retro X, "eTHO"
La Goony Chonga, "Tira Tira" (f. Black Kray)
Playboi Carti, "FlatBed Freestyle"
The Carters, "Black Effect"
Cam'ron, "Losin' Weight"
The Honeydrippers, "Impeach The President"
Late last year Blonded Radio was added to Grand Theft Auto. In January Ocean hinted that he may release new music at some point this year.