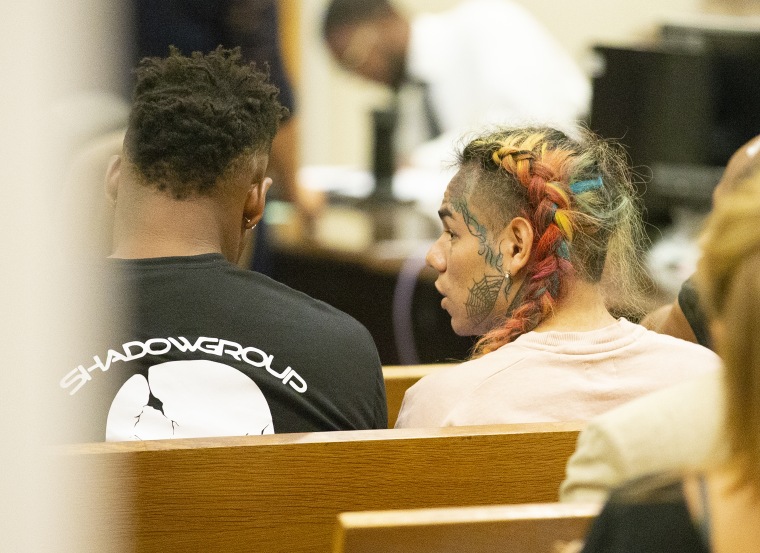 On Wednesday, TMZ reported that three associates of Daniel Hernandez, the rapper known as Tekashi 6ix9ine, have been served with federal indictments. One individual, Kintea McKenzie a.k.a. New York rapper Kooda B, reportedly faces charges in connection with the the June 2018 attempted shooting of Chief Keef in New York City's Times Square. Keef, a.k.a. Keith Cozart, was not harmed.
TMZ's sources claim that Hernandez told investigators McKenzie was the culprit behind the shooting and was paid $10,000. 6ix9ine's single "KOODA" takes its name from McKenzie's hip-hop alias.
The two other 6ix9ine associates named in the report are Anthony Ellison and Denard Butler – Ellison is a former member of the rapper's management team currently awaiting trial for the July 2018 kidnapping and robbery of 6ix9ine; Butler was reportedly arrested on Wednesday. Both men are reportedly scheduled to appear in court today - it is unclear what new federal charges they face.
The rivalry between 6ix9ine and Chief Keef began in May 2018, and manifested into songs like "I Kill People" and numerous taunts via Instagram. Prior to the Times Square shooting, 6ix9ine was filmed allegedly discussing a $30,000 hit on Chief Keef's cousin Tadoe after the two rappers argued over Facetime.
6ix9ine is currently in prison on federal racketeering charges. He has pled not guilty. In December, 6ix9ine's attorney Lance Lazzaro told Rolling Stone his client would "under no circumstances" cooperate with federal authorities.
The FADER has reached out to representatives for 6ix9ine and Kooda B for more information.