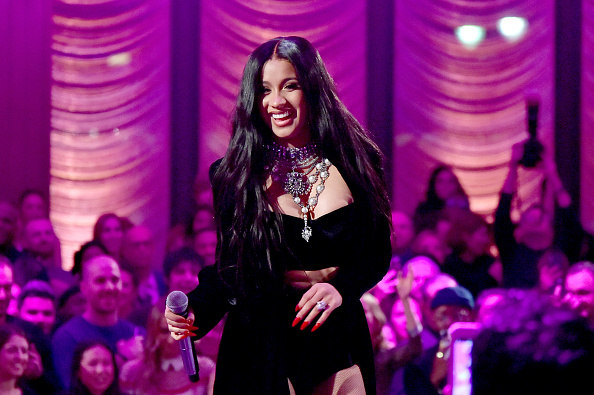 While Cardi B would eventually turn down the offer to perform at this year's Super Bowl Halftime show to show her support for Colin Kaepernick, she has since admitted the decision wasn't an easy one. According the The Associated Press, the rapper said the decision was made difficult by husband Offset's love for the game, but that their desire to show support for Kaepernick, who began kneeling at NFL games during the national anthem as a way to open discussions about racial injustice and police brutality, was more important.
"My husband, he loves football. His kids play football. It's really hard for him. ... He really wants to go to the Super Bowl, but he can't go to the Super Bowl, because he's got to stand for something," she said. "I got to sacrifice a lot of money to perform. But there's a man who sacrificed his job for us, so we got to stand behind him." Kaepernick's kneeling spread throughout the NFL and other leagues, starting an important dialogue about the need for addressing social issues in professional sports. The former San Francisco 49ers Quarterback has been a free agent since 2017, with the remaining NFL teams steering clear. Cardi has previously said she wouldn't take the stage at NFL's marquee event until Kaepernick lands another team. Other artists, including Rihanna and Pink have also reportedly turned down halftime performance offers. That slot that is now filled by Maroon 5, Travis Scott and Atlanta native Big Boi.
Cardi, who is no stranger to political commentary, hopes that positive change is on the horizon, but isn't partiularly optimistic.
"We got an arrogant president, and the racism right now has been reborn," she said. "When they see (how) the choices they made due to racism has affected the country, that's when things are going to start changing. Right now, they don't want to accept that their decision has affected the country."
Thumbnail image via Mike Coppola/Getty Images for Warner Music Group.