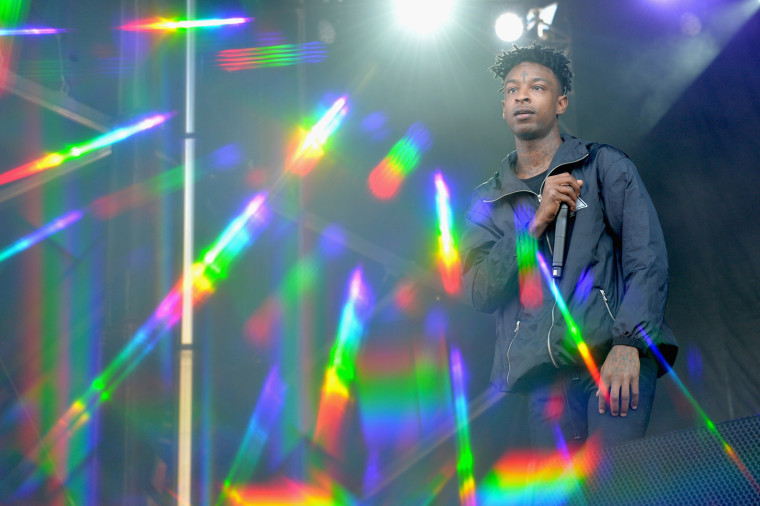 21 Savage has confirmed he was born in the United Kingdom in a new statement issued through his attorneys, and a report in Reuters claims to have unveiled the rapper's London birth certificate. Read the statement here via TMZ.
The statement reads thusly: Savage (real name She'yaa Bin Abraham-Joseph) was born in the U.K. and came to the United States legally at age 7. Abraham-Joseph returned to the United Kingdom to visit for one month in June 2005, and came back into the U.S.A. in July a month later. The visa expired in 2006, purportedly "through no fault of [Savage]'s own," and he applied as soon as he realized he needed one in 2017.
Announcing the rapper's arrest, I.C.E. said on Sunday the rapper "was in violation of federal immigration law" due to his presence in the country, and that he had been "convicted on felony drug charges in October 2014." Savage's new statement says both of these claims are false. "Mr. Abraham-Joseph has no criminal convictions or charges under state or federal law and is free to seek relief from removal in immigration court. ICE provided incorrect information to the press when it claimed he had a criminal conviction."
A federal drug conviction against Savage was reportedly expunged from his record in September of 2018. In a previous statement, Savage's attorney Charles H. Kuck called the visa lapsing in 2006 "a civil law violation."
On Tuesday, Reuters claimed in a new report to have unveiled Savage's London birth certificate. The document certifies the birth of one "Sheyaa Bin Abraham" on October 22, 1992 at Newham Hospital in east London to parents Kevin Emmons and Heather Joseph. Charles H. Kuck declined to comment on the document's authenticity when reached by Reuters.
Savage has been detained by I.C.E. since Sunday – the agency claimed the rapper was not authorized to be in the United States, but according to the rapper's attorneys, Savage has a visa application filed in 2017 and currently in process. "Generally, ICE has recognized a pending facially valid U visa as a basis to delay removal proceedings and release individuals from custody."
The statement insinuates I.C.E.'s motive for the arrested stemmed from Savage's performance of his single "A Lot" on The Tonight Show – the new version of the I Am > I Was single contains lyrics critical of I.C.E.'s widely condemned detention of immigrant children of the U.S.-Mexico border. "Many have speculated as to possible ulterior motives for his arrest and detention, including that he released music five days prior to his arrest by ICE, which included new lyrics condemning the behavior of immigration officials for their detention of children at the border."
Celebrities like Cardi B and Post Malone have promoted a petition calling for Cardi B's release, and House rep. Hank Johnson of Georgia has written a letter to Savage's immigration judge calling for the rapper to be released on bail.