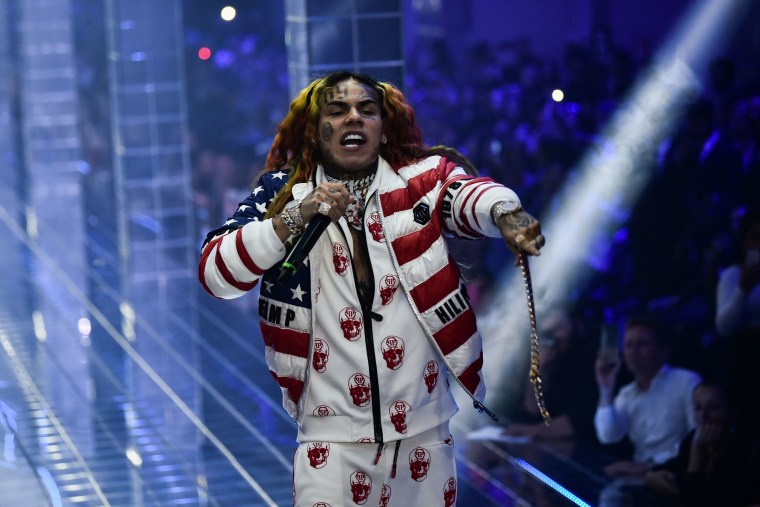 The former girlfriend of 6ix9ine, Sara Molina, is alleging to have suffered periodic physical abuse at the rapper's hands during their seven-year-long relationship. Molina made the revelations in a new interview with The Daily Beast, which includes graphic photos Molina took of herself following the alleged attacks.
Molina says she was beaten by 6ix9ine (real name Daniel Hernandez) for the first time during an October trip to Dubai, when the rapper was there for a concert. The assault was prompted by 6ix9ine's unfounded jealousy – he reportedly believed his manager Kifano "Shotti" Jordan was pursuing Molina romantically, which she denied. "He punches me out of nowhere," Molina said. "I was leaking blood." The initial assault allegedly lasted "for two hours straight," and Molina claims the next morning Hernandez "forced [her] to have sex with him."
In a separate incident last April, Hernandez allegedly attacked Molina after she began discussing another woman who claimed she was pregnant with Hernandez's child. The couple's two-year-old daughter was reportedly present in the car at the time and began to cry during the attack. Molina says she was left with "a battered face" following the alleged assault and showed pictures of the damage to the The Daily Beast.
The last alleged incident took place in November. Molina says Hernandez beat her soon after a music video shoot with Kanye West and Nicki Minaj was canceled following a drive-by shooting.
Molina did not report the incidents to police, and Hernandez has not been charged with domestic assault. Last week, Hernandez pled guilty to nine criminal counts as part of a federal racketeering trial.
The FADER has reached out to 6ix9ine's representatives for comment.