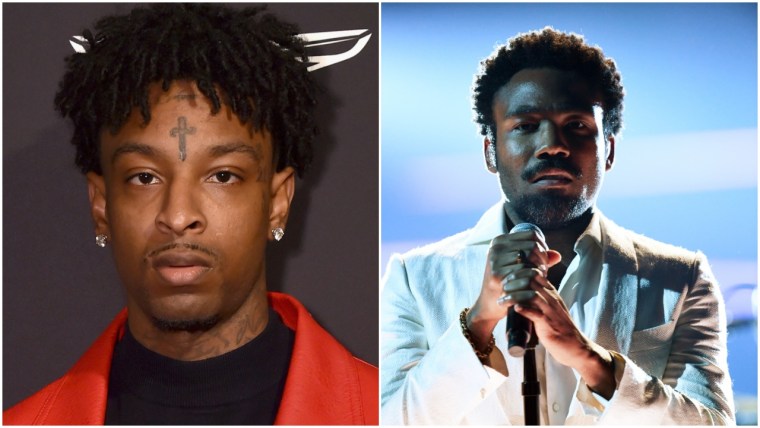 Sunday night's 61st Annual Grammy Awards ceremony was propped up by the most marketable form of solidarity: the uniting power of music. Host Alicia Keys deftly shepherded the audience like a cosmic guidance counselor — a perfect choice, considering the proceedings have been rightly besieged over the past year for the lack of women in its ranks. Pains were taken to show the strides the Academy had made in terms of female representation, as well as that it could play ball in an increasing woke marketplace.
Childish Gambino's No. 1 hit "This Is America" won four Grammys including Song and Record Of The Year, the first time a rapper pulled off the dual win in Grammy history. The Hiro Murai-directed video for "This Is America" was widely seen as an indictment of gun violence and the legacy of slavery in the United States, and instantly faced a close critical analysis beyond fans searching for clues. Murai's visuals, technically superb and undeniably entertaining, invited day-one Gambino fans and their oblivious MSNBC-addled parents alike to parse its imagery, achieving a wide resonance through its juxtaposition of heavy chaos and defiant joy that captured the overwhelming energy of an uncertain world.

But the Grammys — as well as a few of the artists who participated in last night's ceremony — also took a massive step backward by failing to address the recent imprisonment of rapper 21 Savage, who currently remains in what a human rights advocate has referred to as "one of the worst immigration detention facilities in the United States." The rapper, a U.K. national who came to the United States when he was seven years old, was apprehended by ICE at the top of the month and was accused of staying in the U.S. on an expired visa; his lawyers claimed he was being targeted for politically conscious lyrics, and that he had a visa application in process at the time of his arrest.
Savage was nominated for two awards at the ceremony, and his management attempted to transfer his invitations to his mother; after initially being stonewalled, the Academy relented following increased pressure on social media. Such treatment is even more striking considering the range of political statements made at the 2017 and 2018 ceremonies; last year, Camila Cabello spoke up in defense of DREAMers, the undocumented immigrants brought to the United States as children and since threatened with removal by President Donald Trump.

But the silence of 21 Savage's peers during the ceremony proved far more disappointing. Post Malone, nominated with Savage for two awards for "Rockstar," was silent on the issue during his performance of the song (after the show, a representative emailed The FADER a picture of Malone backstage at the Grammys wearing a shirt reading "21 Savage"). Drake used his speech accepting Best Rap Song for "God's Plan" to issue an indictment of awards shows' own cultural fallacies, but a statement of solidarity for his "Sneakin" companion could've had greater impact — and the same goes for Cardi B, who left off 21's name as she ran through the names of artists who had contributed to Invasion of Privacy during her flustered speech accepting Best Rap Album.
But speaking out shouldn't just fall on hip-hop artists' shoulders; presenters and award-winners from across the musical spectrum stayed silent. 21 Savage's co-manager said his team asked "several artists" to speak up on his behalf, but none did. Ironically, "This Is America" producer Ludwig Göransson was the first artist to mention 21's name during the telecast, thanking him and saying he "should be here." In a way, he was, but as an indictment of the music industry and his peers. In a just world, the 62nd Grammy Awards would spend a significant amount of time atoning for this systemic rot, too.