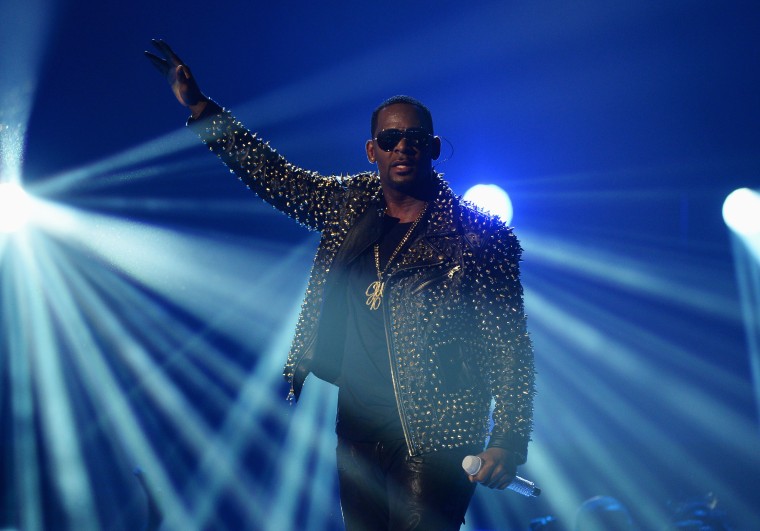 Prosecutors in Illinois are investigating a newly surfaced VHS tape that, according to a CNN report, appears to show R. Kelly sexually assaulting an underage girl. The previously unseen footage reportedly depicts R. Kelly engaging in sexual acts with an underage girl who repeatedly refers to herself as "14 years old" in the tape.
CNN obtained the videotape through attorney Michael Avenetti, who is representing a man he refers to as a "whistleblower" in the case. "My client knows the identity of the girl and R. Kelly," Avenetti told CNN. "He identified the two of them on the videotape. He worked for and has known R. Kelly for decades and he met the girl on a number of occasions."
Avenetti said in a statement posted to Twitter on Thursday that his firm had been retained in April 2018 by "multiple clients in connection with allegations of sexual assault of minors by musical artist Robert Kelly (R. Kelly)." He wrote that the tape was uncovered in the firm's subsequent investigation and that it is not connected to Kelly's 2002 child pornography indictment (Kelly was acquitted of all charges in 2008). Avenetti went on to claim the tape was given to the Cook County State's Attorney's Office last weekend.
Read his statement below in full.

CNN reports the 45-minute tape depicts "a naked man who appears to be R. Kelly" performing "multiple sex acts" with a girl who refers to her genitalia as "14 years old." After reportedly asking the girl to urinate, the man in the video then urinates on her.
A report also published Thursday by Jim DeRogatis in The New Yorker said that "a senior law-enforcement official" claimed authorities could soon indict Kelly based on the new tape. DeRogatis was a reporter at the Chicago Sun-Times when he was given the first tape that led to R. Kelly's 2002 indictment on child pornography charges.
Kelly's attorney Steve Greenberg told CNN in a statement: "We are unaware of any new information involving Mr. Kelly. We have not been contacted by anyone. We have not been informed about any new information by anyone and we have not been contacted by law enforcement." The FADER has reached out to Mr. Greenberg for additional comment.
The report is the latest bombshell as Kelly continues to face renewed scrutiny amid allegations of sexual and psychological abuse spanning decades. A 2017 Buzzfeed expose containing allegations of a "sex cult" prompted new accusations, as did and Lifetime's 2019 docuseries Surviving R Kelly, which contained interviews with alleged survivors.
Kelly's attorney denied all allegations in an interview with Associated Press published in January. "He never knowingly had sex with an underage woman, he never forced anyone to do anything, he never held anyone captive, he never abused anyone."
Intense public pressure from the #MuteRKelly campaign led to former collaborators like Chance The Rapper, Celine Dion, and Lady Gaga to remove their songs with Kelly from streaming services and publicly apologize.