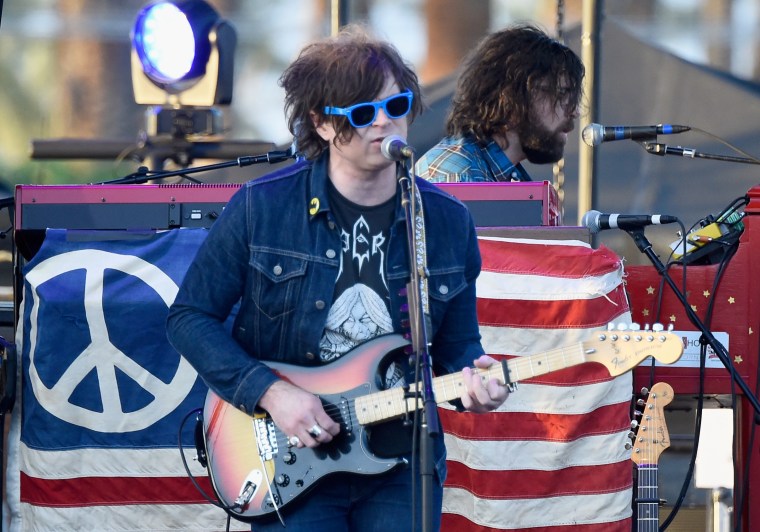 Big Colors, the first of three Ryan Adams albums due for release in 2019, has reportedly been "put on hold." Sources told Variety that the album has been shelved after a New York Times exposé this week in which several women accused the singer-songwriter of various acts of sexual misconduct and emotional abuse.
On Thursday, the FBI opened an investigation into alleged sexually explicit messages sent to a woman known as Ava when she was just 15. In the Times piece Ava explained she met Adams when she was 14 and that they engaged in both phone sex and Skype calls where Adams exposed himself. The inquiry is reportedly in "its earliest stages."
Adams's ex-wife Mandy Moore and former partner Phoebe Bridgers also contributed their negative experiences with Adams in the exposé. Since then both Liz Phair and Karen Elson have come forward and shared statements on him.
In an Instagram post Elson wrote, "I also had a traumatizing experience with Ryan Adams. I'm not quite brave enough yet to speak about my specifics. The trauma that lingers is often a very powerful silencer of women as is the business that enables these men to thrive without ever facing consequences."
Phair, meanwhile, responded to a fan's tweet asking if she'll "weigh in" on the accusations against Adams. "If I do, I'll write about it," Phair tweeted. "My experience was nowhere near as personally involving, but yes the record ended and the similarities are upsetting."
If I do, I'll write about it. But I think you can extrapolate. My experience was nowhere near as personally involving, but yes the record ended and the similarities are upsetting

— Liz Phair (@PhizLair) February 14, 2019
Adams has maintained his innocence and denies the accusations made against him. A representative for Adams did not immediately return The FADER's request for comment