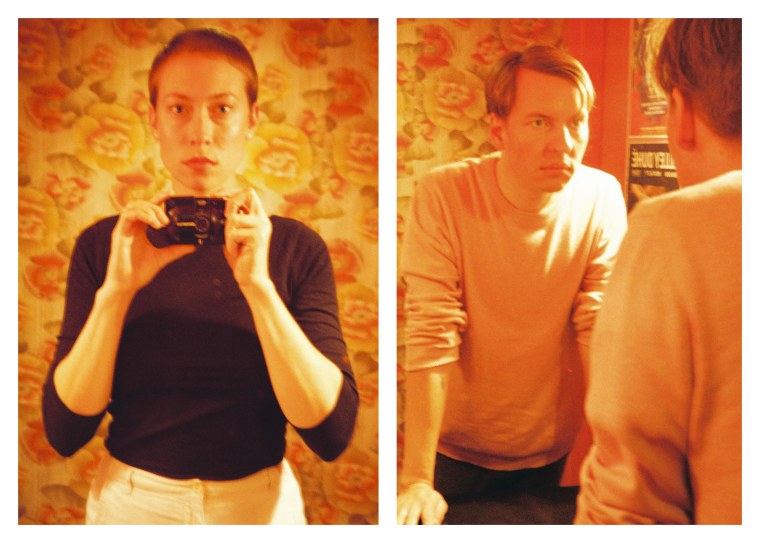 Anna Burch and Fred Thomas have a lot in common. They're both disarmingly witty and intuitive songwriters, both Michiganders, both intent on toying with indie-pop and bending it to their will. And ever since Thomas sent Burch's demo to Polyvinyl Records two summers ago — attached to a note that read "This is not a drill. You need to hear this" — they've been labelmates too. So it makes sense that they've toured together, collaborated consistently, and shared ideas with each other ever since. Listen back to "Altar," a standout from Thomas's Aftering last fall, and you can hear the two working in tandem, Burch's vocals arching over the hook while Thomas tacks one memory onto another without pausing.
Today the two are premiering a split 7" with two new singles. Burch contributes the dreamlike but shadowy "St. Adalbert," a track she wrote and recorded a half-decade ago. In contrast to her often melodically upbeat 2018 debut LP Quit The Curse, "St. Adalbert" comes across forlorn — a song about loneliness in the middle of a crisis. "None of my friends wanna hear it / So I'll try harder to keep it quiet," she sings ghostlike in the first verse.
"'St. Adalbert' was the only song I wrote while living in Chicago before I moved to Detroit in 2014," Burch wrote in an email to The FADER this morning, explaining the song's roots. "I worked on this recording with Paul Cherry alongside some early demos for the songs that wound up on my debut album. I decided not to include it on the record, partly because the vibe was different from the others, but also it had an emotional weight that I didn't feel totally comfortable with. My time leading up to the move was particularly messy and self destructive, and I was eager to forget it. The song was unearthed almost accidentally when the idea of Fred and I putting out a split came up, and when I heard it I connected with it in a very different way — I was pleasantly surprised by the quality of the recording and I no longer felt weighed down by the past I associated it with. I love Fred's song 'Parkways,' and I'm very happy that these two tracks could be presented together in this way."
Thomas's "Parkways" is the breezier-sounding of the two, its jangly guitars floating along on a flood of Burch's harmonies. Like much of Thomas's work though, the catastrophe and calamity comes through after a couple of listens. "'Outside again like a dream without a skull to hold it in,'" he sings at the top. "That was the only thought from those dark days / To survive my slowly eroding mental landscape / The only scrap not soaked through with red wine and dread."
In a separate email, Thomas said that "'Parkways' was originally intended for Aftering, but didn't sit right sonically. "It followed a running theme of songs about being on tour as an opening act and spiraling into existential crisis while driving alone for weeks on end," he wrote. "As the rest of the record came together, the song didn't fit in musically. It was a little too 'Range Life' in a record of 'Stop Breathin''s, but it felt like a shame to just shelve it. Anna's harmony parts give it such a soaring feeling, even though it's a pretty depressive song at heart. When the idea came up to do a split 7", I was thrilled, because I feel like this track might work best outside of an album, content to chill antisocially alongside its outlier cousin of Anna's non-album song."
The split single is out on Polyvinyl this Friday, March 1. Pre-order it here.