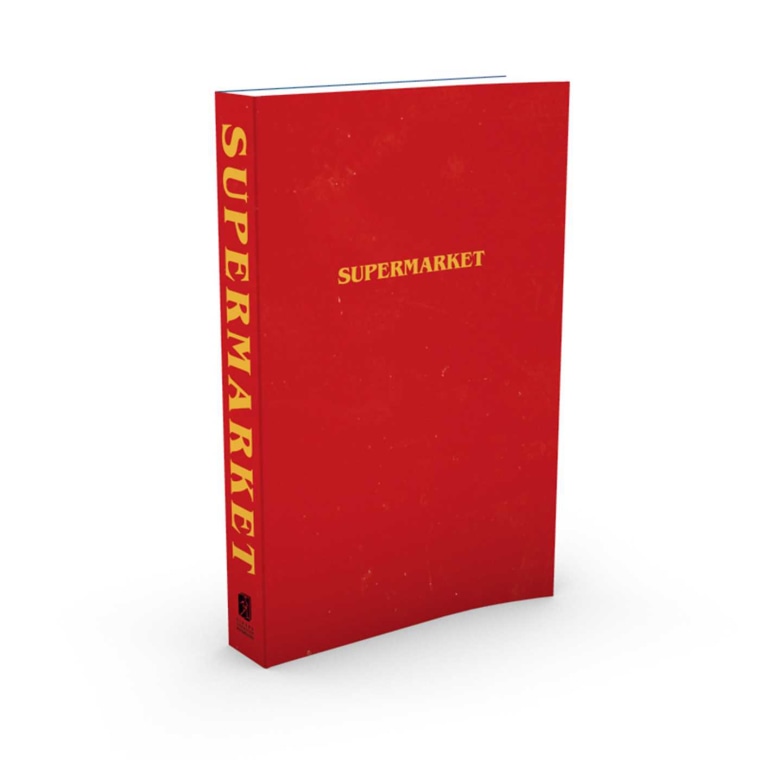 The most jarring thing that happens in Logic's debut novel, Supermarket, is Toro Y Moi's What For making an appearance as one of the main character's favorite albums. Flynn, he's called, puts the vinyl on for Mia, a coworker he's trying to impress during their second date. "Toro Y Moi," he says to her, "he's really special...I love his stuff. I wish I could make music like this… hell, music in general." Then they slow dance to it.
This is not to say What For doesn't deserve to be a favorite album. Toro Y Moi is great and so is What For. But there is something odd about reading the name in a novel, like it's just a bit too specific. There are other name drops that elicit this sensation: Salad Days by Mac DeMarco, Tame Impala's Currents, Rick and Morty, etc. After doing some googling, I figured out why — turns out Logic has nearly half of those selections tattooed on his actual body.
But I'm getting ahead of myself here. Grammy-nominated rapper and artist Logic, born Bobby Hall, released his first novel late last month. Supermarket is written as a book within a book, which may or may not be within a third book — it's confusing. It follows 24-year-old Flynn, a white boy from Baker City, Oregon, as he begins his new job at his small town's grocery store, Muldoon's. It's a strange place filled with some strange characters: an old man who comes in for coffee and mutters to himself, a too-smiley manager, and a co-worker named Frank, a lightly misogynistic, kinda trashy white dude who appears and disappears whenever he likes and ends up becoming Flynn's close friend.
Flynn, our hero, is writing a novel on the side about the grocery store. He frequently breaks out his Moleskine to talk about it. Weirder things begin happening — people and things appear and disappear, and Flynn starts having panic attacks, culminating in a reality-disrupting end that I won't spoil here. That's Part One. Disappointingly, the twist is not difficult to figure out, and it's particularly easy to piece together if you read the summary printed on the back of the book beforehand.
Supermarket is not a masterful work of literary fiction. But I don't really think anyone who's buying the book is expecting it to be, nor do I think it's what really matters here. In the book's acknowledgements, Logic reveals that he decided to write Supermarket after a week of "binge-reading novels for the first time in my life in my midtwenties."
It makes sense. Here's Flynn's description of an older black woman who works at the supermarket:
"Her name tag said Ronda. She was kind of like the slightly overweight black woman in every movie. Sassy attitude, lowered eyelids, and judgemental aura. But basing a first impression on her physical appearance really wasn't a fair thing to do."
Here's the mandatory inclusion of Flynn ruminating on the n-word usage:

"White nigga? l couldn't exactly just ask him what white nigga meant because, as a white man, I'm pretty sure he would beat the shit out of me. Rightfully so — white people have no reason to use that word. But maybe...white niggas do?"
Has Logic had this exact conversation in real life? Probably.
Little things like that offer an uncanny and bizarre transparency to the novel. If Logic isn't Flynn, then he certainly is the omnipresent air that his characters breathe. Which is to say, if you're a fan of Logic, that might not be such a bad thing. With 177 reviews, it currently has a 4.8 star rating on Amazon. (And all but one of the "critical" reviews are complaints about receiving a damaged book.) Reviewer E.Chube declares it "one of the most electrifying, fascinating, and breathtaking books that I have ever read." The Wagenblast Family solemnly writes: "This book may very well help other people out of their own supermarket."
Logic himself very earnestly mirrors that sentiment in the book's Acknowledgements. "I have used word and creative freedom to better myself," he writes. "I hope you have the courage to do the same through any form of creative expression." I'm told this is what listening to Logic's music is like. I haven't heard any of his records, and after reading Supermarket, which I'm inclined to think is Logic in book form, I imagine I won't have to.