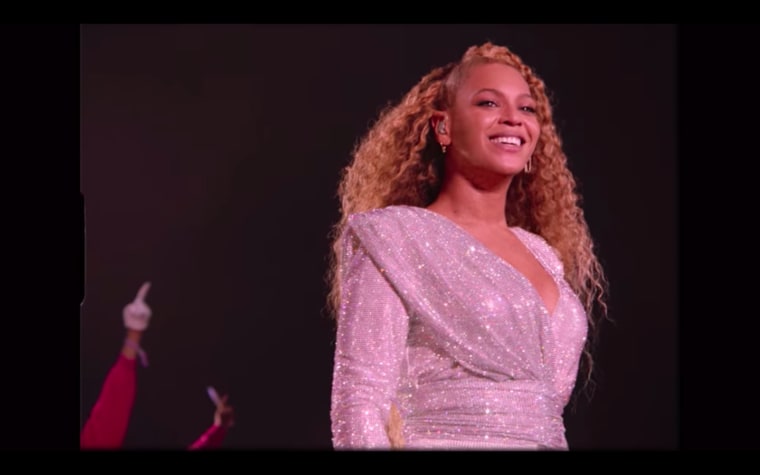 On Wednesday morning, Beyoncé released Homecoming, a documentary concert film of her iconic and monumental 2018 Coachella performance on Netflix, and an accompanying live album. Over two hours long, it includes rehearsal footage, intimate scenes from Beyoncé's pregnancy with twins Rumi and Sir, and commentary from the singer herself on how her legendary performance came together. Below, here are the six most important things we learned.
Beyoncé would have attended an HBCU.
"I always dreamed of going to an HBCU," Beyoncé says at the beginning of Homecoming. "I wanted a black orchestra, I wanted steppers and vocalists." For the performance, she ended up working with band members, dancers, and vocalists from Southern University, Jackson State University, Alabama A&M University, Grambling State University, Florida A&M University, North Carolina A&T University, Hampton University, and Alabama State University.
"It was important for me that everyone that had never seen themselves represented felt like they were on that stage with us," Beyoncé says in the film. "I wanted us to not only be proud of the show, but the process. Proud of the struggle. Thankful for the beauty that comes with a painful history and rejoice in the pain...We were able to create a free safe space where none of us were marginalized."
She adds that she always wanted the performance to feel like Battle of the Bands, the annual marching band exhibition from various HBCU's, which she says she grew up watching and was "the highlight of my year." She mined the pains and triumphs of her 22-year career, and put it all into her two-hour performance.

Coachella marked Beyoncé's first return to the stage after giving birth.
In a very intimate section of the documentary, Beyoncé details the difficulty of her pregnancy, the births of Sir and Rumi, and her recovery after.
"I was 218 pounds the day I gave birth," she says. During her pregnancy she had high blood pressure, and developed toxemia/preeclampsia, a symptom of hypertension that can cause swelling in the face, hands and feet. One of the babies' heartbeats paused a few times in the womb, so Beyoncé had to get an emergency C-section.
During the months long rehearsal for the show, Bey would breastfeed her babies in between dancing. Though she learned how far she could push her body, she says in the documentary that "I will never...never push myself that far again."
She worked her ass off and sacrificed a lot to prepare for the show.
The singer began the eight-month rehearsal period — four months with the band, and four months with the dancers — soon after giving birth. During that period she ate no bread, carbs, sugar, dairy meat, fish or alcohol. "I was hungry," she says in the documentary. "I just wanted to be with my children."
In addition to going to dance rehearsal, she was also attending Soul Cycle, and going to the gym to prepare. In a small scene of triumph, Beyoncé discovers she can fit into a costume from before her pregnancy, and FaceTimes Jay-Z to celebrate.
She had complete creative control over every single detail.
"I personally selected each dancer, every light, the material on the steps," she says in the documentary. "The height of the pyramid, the shape of the pyramid. Every patch was hand sewn. Every tiny detail had intention." Including the colors of the clothes, which Beyoncé chose with Olivier Rousteing, Balmain's creative director, and longtime outfitter for the singer. "How do we look united, but how do we have these different characters that stand out," she says.
With over 200 people on the stage, it took Beyoncé and her team months to script the show. During rehearsal, Beyoncé rotated between three sound stages (band, dancing, and creative staff), and after every rehearsal run-through, she would provide feedback on things that could be improved. She was even working on her anniversary.
Blue Ivy loves to sing.
Blue Ivy sweetly sings a snippet of "Lift Every Voice And Sing," with the help of Beyoncé whispering the lyrics in her ear, towards the end of the film. After the performance, Blue giddily asks to do it again because it "feels good!"
Beyoncé is the best performer alive.