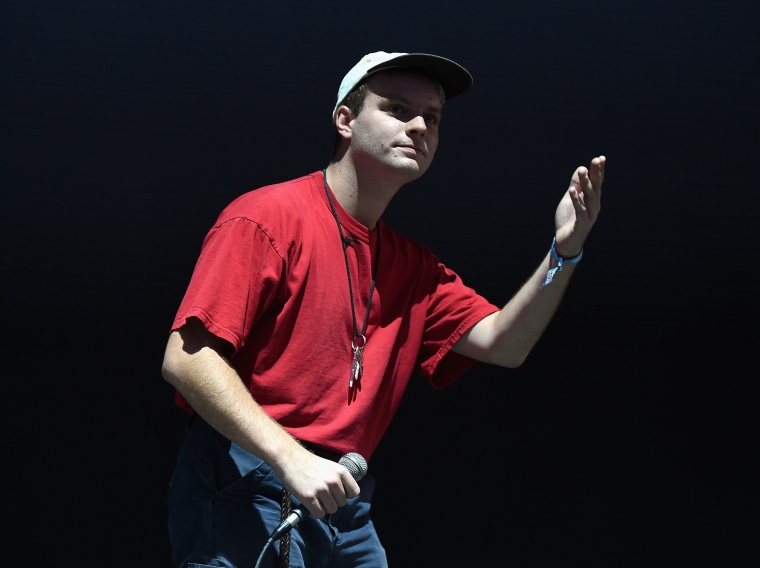 Mac DeMarco is the cover star for The Hedonism Issue of Huck Magazine. During his interview, the Canadian singer-songwriter discussed the controversy surrounding the superficial similarities between the titles of his upcoming album Here Comes The Cowboy and Mitski's 2018 album Be The Cowboy – both projects also have songs titled "Nobody." DeMarco also talked about his struggles with alcoholism and friendship with Mac Miller, the rapper and producer who died of in 2018.
The interview took place in March, the day after the announcement of DeMarco's album Here Comes The Cowboy and the release of the single "Nobody." Soon after the news of the project dropped, the similarities between the titles of Mitski's album and song and DeMarco's new work were pointed out, leading to accusations of plagiarism, trolling, and a discussion of white privilege. (Mitski soon stepped in and said she was sure that the similarities were just a coincidence.)
DeMarco claims to Huck Magazine that he hadn't heard of Mitski or her music when he settled on the titles and that he wasn't "trying to troll" her. "Even if I had known, I don't think I would've changed it. I didn't think people were gonna run with it that far. It's ridiculous. It's just music."
He strikes a more conciliatory tone later in the interview: "It hurt yesterday to see people say, 'Mac is trying to minimize a woman.' Do people assume I would troll [Mitski]? That makes me sad." When asked if he "to apologize for taking up space," DeMarco responds "Yes. Days like yesterday make me feel like that."
Elsewhere, Mac discusses his dependence on alcohol, and describes himself as "a savage alcoholic." "It's an 'only at work' thing, which is fucked up," he says of his drinking. "I like to be with people, I like to party, I drink, I smoke... Now I'm getting close to 30. My hangovers last two days. I'm sure people still like the idea of Mac being this rowdy, fucked-up, stinky, party master guy. I have been, maybe I still am."
There is also a brief mention of Mac Miller, who befriended DeMarco in Los Angeles before his death. The two would frequently visit each others' studio spaces: "Mac Miller and I used to go back and forth to each other's houses all the time. May he rest in peace."