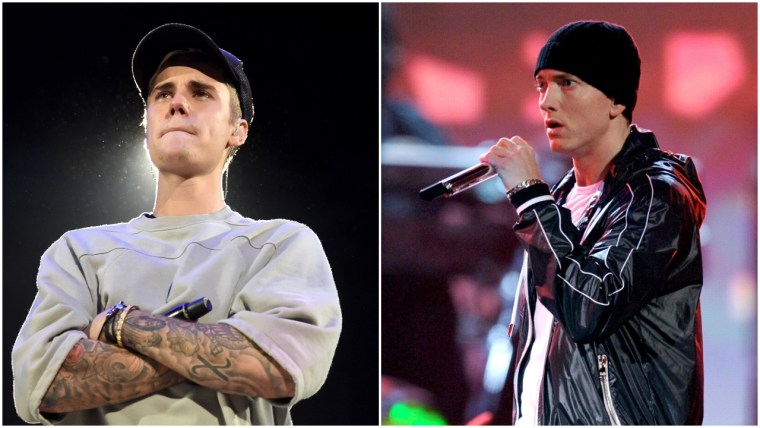 Justin Bieber is standing up for his generation's rap musicians. In his Instagram Story on Wednesday, the singer shared a screenshot of his iTunes playing Eminem's 2018 song "The Ringer," and subsequently defended "the new generation of rap" from lyrics in the song.
Bieber wrote: "I just like Ems flow but don't like that he's dissing new rappers... I like the new generation of rap he just doesn't understand it." See the post below via Genius.
"The Ringer" is the opening track from Eminem's surprise album Kamikaze. He specifically says that he's not dissing the so-called "mumble rappers" he doesn't enjoy listening to, at one point rapping: "I can see why people like Lil Yachty, but not me though / Not even dissin', it just ain't for me."
However, he gets more barbed later in the song: "I heard your mumblin' but it's jumbled in mumbo-jumbo / The era that I'm from will pummel you, that's what it's comin' to / What the fuck you're gonna do when you run into it? / I'm gonna crumble you and I'll take a number two."
While Eminem may not be the freshest name in rap, he's still in demand: He was 2018's top-selling artist for pure album sales, according to Buzz Angle Music.
Justin Bieber appeared onstage with Ariana Grande at Coachella, and took flak for appearing to lipsync to his hit song "Sorry."