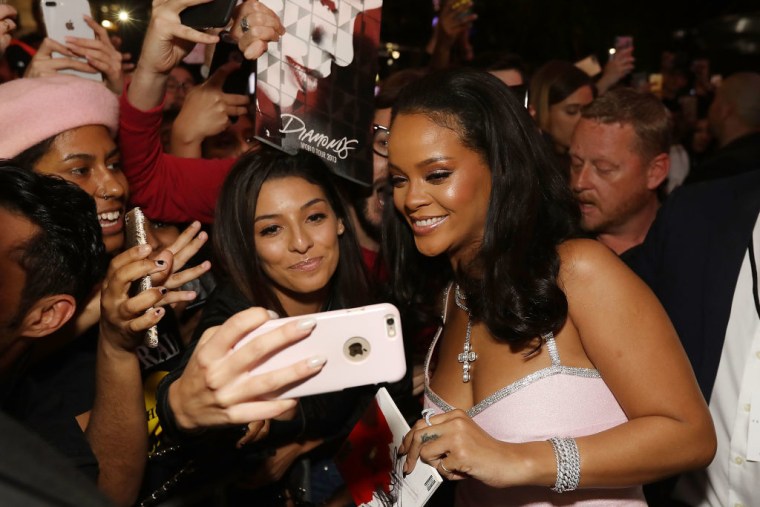 Rihanna has gone into detail about Fenty, her new fashion house launched in collaboration with LVMH, in a new interview conducted by playwright Jeremy O. Harris and published in the New York Times.
News of Fenty's creation was first announced earlier this month. The arrival of the new brand makes Rihanna the first black woman in history to run a major luxury fashion house. Speaking to Harris, Rihanna was keen to note this landmark.
"You're going to be black wherever you go. And I don't know if it's unfortunate or fortunate, because I love being black," she said. "So, sorry for those who don't like it — that's the first thing you see before you even hear my voice. There are also other factors: I'm young. I'm new to the family. I'm a woman. Those factors do come into play, but I will not apologize for them, and I will not back down from being a woman, from being black, from having an opinion. I'm running a company and that's exactly what I came here to do. I don't know if it makes people uncomfortable or not, but that's not even my business, you know? I do know that the reason I'm here is not because I'm black. It's because of what I have to offer. That's what they're invested in. And the fact that I'm black is just that: a fact."
The Times piece sheds some light on the unique distribution method Fenty will employ. Sales will begin via fenty.com on May 29 with the brand focusing primarily on direct-to-consumer online sales. The collection, which includes sunglasses, shoes and other accessories, will be added to every few weeks.
"I want to be as disruptive as possible," Rihanna says, explaining the model. "The brand is not traditional. There is no runway show. It's a new way of doing things because I believe that this is where fashion is going to go eventually."
Harris also found time to ask Rihanna about music. She confirmed that she is still working on a reggae album and that it will probably be titled R9, the working title her Navy fanbase have given to the record online. "I'm about to call it that probably, 'cause they have haunted me with this "R9, R9, when is R9 coming out?" How will I accept another name after that's been burned into my skull?"
Don't expect to hear a Drake collaboration, however. "I don't see it happening," she said of her "Work" collaborator. "Not on this album, that's for sure." She added that the album doesn't currently have a release date.
News of a deal between LVMH and Rihanna first leaked back in January, but has only been formally confirmed on May 10. Along with Louis Vuitton, LVMH includes a number of high fashion houses, including Fendi, Christian Dior, Givenchy, and Marc Jacobs among others.
Last week Rihanna was among the many stars who spoke out in the wake of Alabama passing a bill that effectively makes abortion illegal, labelling the state senate "idiots."