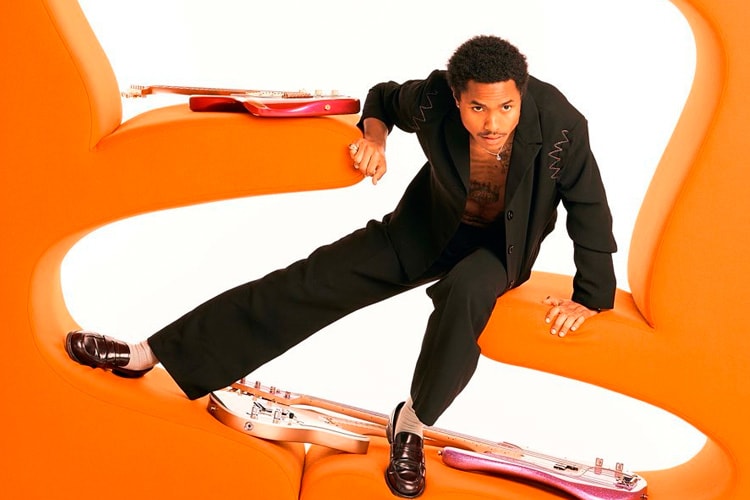 Two minutes into his debut album Apollo XXI, before jumping into the nine-minute-long "Like Me," Steve Lacy addresses his listener directly. "This is about me, what I am. I didn't wanna make it a big deal, but I did wanna make a song, I'll admit," he says. "I don't know if you can still relate, and that's what I'm afraid of. I just wanna relate to everyone." There couldn't be a more appropriate place to start. Anyone can make festival-ready funk — and you don't have to look far in 2019 to find people trying — but not everyone can make it right. Lacy's been practicing for this for years. On Apollo XXI, it pays off.
Part of what makes Lacy's story so appealing is that his success wasn't entirely intentional. He picked up the guitar after being obsessed with Guitar Hero as a kid. He met keyboardist Jameel Bruner, who would go onto play keyboards in The Internet, in a high school band class. By his sophomore year, Lacy was working on the production of the band's third album, Ego Death. In the time since, he's been credited on production for Kendrick Lamar, J. Cole, Solange, Vampire Weekend, Kali Uchis, Mac Miller, Ravyn Lenae, and Isaiah Rashad.
But while Lacy's name has been attached to countless stellar projects over the past few years, it's been difficult to discern his actual contributions to them. Excepting his fuzzy and fleeting 2017 EP Steve Lacy's Demo, the 21-year-old multi-instrumentalist and producer always been a part of a package deal with other artists — obviously talented enough to nab the co-sign, but not quite loud enough to establish a distinguished voice.
That's changed now. Apollo XXI isn't just his debut album — it's his first definitive statement. Loosely tied together as an intergalactic mission, the album moves with the viscosity of a lava lamp. The aforementioned "Like Me" sets up the main point of tension in the album: Lacy's bisexual, and he's worried of the repurcussions of coming out and owning his identity. He gets through it with repetition: if he can convince himself that there are others out there like him, with the same fears, then maybe it's worth it to take the plunge and be totally open.
After going through the wringer on "Like Me," the rest of the album sounds like liberation — more specifically, sexual freedom. Almost every track on Apollo XXI emanates pure horniness. Right out the gate we get "Playground," which is what I imagine Woodstock would sound like in 2019 (if it wasn't already such a disaster) — a real Flower Power, bell-bottom-jeaned fuckfest. "Guide" is a frantic cut that has Lacy reaching into the peaks of his falsetto, while "Lay Me down" sets the groundwork for a babymaker of a guitar solo.
Though Lacy's elastic vocals bring ample dynamism across Apollo XXI's 43 minutes, it's his instrumentation and production skills that fuel the real magic, particularly on the addictive jangle of a song like "Hate CD." Sonically, most of the album is so imaginative and stimulating that it only feels a bit bogged down when Lacy slows the pulse: lead single "N Side" is completely enjoyable on its own, but surrounded by the exuberance of the rest of the album, it begins to feel like a bit of an outlier.
Save for some vocals from Daisy (frontwoman of the Los Angeles band of the same name) and a brief instrumental jam session with Amandla Stenberg on the album's back half, Lacy's all solo on Apollo XXI, and for the better. For the first time it's all about him, and the talent he's been building for the past half-decade. While the album doesn't necessarily make any grand statements (excepting "Like Me"), it's so much more than just horny soft-funk — it's an impressively cohesive introduction to an artist coming into his own.