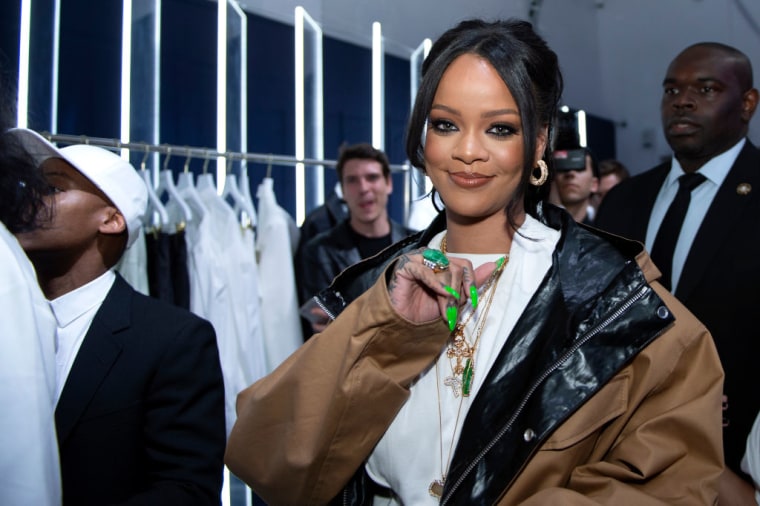 Rihanna has revealed that Kwame Braithwaite, the Brooklyn-born photographer who helped pioneer the "black is beautiful" movement in the 1950s and 1960s, was a major inspiration for her new luxury brand, Fenty.
Fenty officially launched today, May 29. Launched in partnership with LVMH, Fenty makes Rihanna the first black woman in history to run a major luxury fashion house.
Rihanna marked the occasion by sharing a photograph of Braithwaite's on Instagram. The image, dated 1968, was taken at the Renaissance Casino Ballroom in Harlem on Garvey Day. A poster reading "Buy Black" can be seen in the background.
Braithwaite's movement promoted an Afro-centric version of female beauty that included unstraightened hair and dark skin at a time when representation was poor.
Speaking to Vogue in a new interview, Rihanna explained how she first came across Braithwaite's work. "When I was coming up with the concept for this release, we were just digging and digging and we came up with these images – they made me feel they were relevant to what we are doing right now," she said.
It was the discovery of one image of a group known as the Grandassa Models, who deigned their own clothes and regularly appeared in Braithwaite's work in the '60s, that struck a chord. "It was a really strange and powerful parallel," Rihanna said. "And he gave me permission [to use the imagery], obviously that is a big deal."
That wasn't the only parallel. "Kwame Brathwaite is from Barbados! And, his last name is my grandfather's name, which was my mother's name before she was a Fenty."
In a recent New York Times interview Rihanna said the plan for the Fenty luxury brand was to be "disruptive" and change the luxury fashion world with a focus on direct-to-consumer online sales. The collection, which includes sunglasses, shoes and other accessories, will be added to every few weeks.