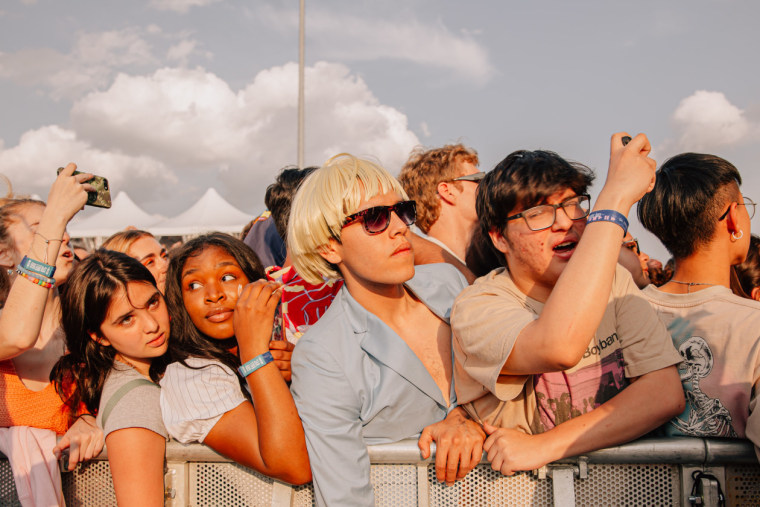 Now in its ninth year running, Governors Ball has worked its way to becoming New York City's biggest annual music festival, and not without some bumps in the road. Especially with Panorama Festival on hiatus and The Meadows' future in question, this year felt like the right time for Governors Ball to officially establish its dominance. The 2019 lineup prioritized booking a new generation of artists, as opposed to legacy acts (aside from promising the festival's third headlining set from The Strokes in six years).
The first day brought sets from Jorja Smith, The Internet, Blood Orange, Lil Wayne and MØ. Mitski delivered the most intentional set of the day, performing her newest album Be The Cowboy as a choreographed routine on a kitchen table. BROCKHAMPTON, who dropped out of last year's lineup following the allegations levied against former member Ameer Vann, redeemed themselves with high production value and buoyant energy. But really, most of Friday was just build up for Tyler, the Creator, who burst through the curtains with a lime green suit and dynamite ambition. Fresh off the release of his newest album IGOR, it was the most timely and colossal set of the weekend.
Saturday aimed for consistency over climactic energy. Kacey Musgraves hit the stage at 4:45, sending a fleet of inflated globes into the crowd in celebration. While she tore through Golden Hour, Playboi Carti proved his last album to be hit with an astonishingly young crowd. Elsewhere in the day, the kid from Stranger Things' band performed all ten minutes of Television's "Marquee Moon," and The 1975 gave their latest album A Brief Inquiry Into Online Relationships a cheeky, unifying New York debut.
But then Sunday happened. Storm cells had been brewing in the tristate vicinity since late into Saturday night. Rather than plow into the final day as scheduled, organizers preemptively cancelled most of it before it even began. Doors were pushed to open at 6:30pm, immediately nixing anticipated acts such as Charli XCX, SOB X RBE and Soccer Mommy from the lineup. When most of the day proceeded to be blue-skied and beautiful, organizers issued an announcement that the festival would actually open earlier than scheduled, at 5pm.
At 5pm, attendees were held back from crossing the Robert F. Kennedy bridge; the advanced opening was retracted, and everyone was encouraged to seek shelter due to a "pop up storm cell," which, despite the funny name, was not sponsored content. Almost as soon as the retraction was issued, doors officially opened, and the crowd rushed in for a criminally abbreviated 25-minute set from Noname. In fact, the only acts that really got to play their sets (nearly) in full were Lily Allen, Sheck Wes and Nas.
People were not braving the doomed forecast for those three, however. With Charli XCX out of the picture, festival goers were holding out almost exclusively for The Strokes and SZA. About an hour before they were due to take the stage, sometime during Louis The Child's set, rain began to spray down, eliciting a mass shuffle into the American Eagle Stage, the only tented stage at the festival. KAYTRANADA was angled to start at 9:30, but the instant he walked on stage, all screens went black with a stern announcement: "Due to approaching severe weather, all persons should move quickly and calmly to the nearest exit and seek shelter for your safety."

Here's the thing about exiting Governors Ball: it doesn't happen quickly, or easily.
A crowd of 150,000 has to funnel through one of two narrow passages and cross a bridge that was not built to accommodate such a heavy stampede of foot traffic. The same pathways that were littered with empty liquor nips and teenagers blacked out on Everclear just hours before, now bucketed over a foot of muddy New York water and a sad crusade of sopping clowns who somehow believed that this day could have ended differently.
It's impossible to quantify how much of the night's trauma could have been avoided if Governors Ball had clearly delineated protocol for keeping its attendees sheltered and protected, rather than shoving them on an overcrowded bridge in the middle of a severe thunderstorm. (Update, June 5: Governors Ball co-founder and co-owner issued a comment to The FADER regarding the protocol that you can read below.) In a recently released statement, organizers maintained that nobody reported any injuries during the evacuation, but then again, it would have been difficult for anyone to report anything amid the scrambled, near-anarchic chaos. If it is true, and everyone left Randall's Island unscathed, it's a total fluke at best.
There was one good thing that came out of Sunday night: yet another reminder that crowded music festivals held on islands without proper shelter are actually a major safety hazard and probably shouldn't happen. Governors Ball is by no means a bad festival, and in fact, most of this weekend was a genuinely fun, raucous time. But its location, time and time again, has proved to be its greatest weakness. New York City deserves a festival with enough chutzpah to match its energy, and Governors Ball might have that. The only way we'll be able to know for sure is when it finds a location that can truly accommodate the unexpected.

[UPDATE: 2:15PM, June 5] Governors Ball co-founder and co-owner Tom Russell has issued a statement to The FADER. Read his response below:
"We have a 106 page emergency plan that's been worked through with all levels of the city — police, parks, MTA, TBTA, and others. I don't think it's allowed to be more public facing than it currently is, but we have spent years fine-tuning it and will continue to do so. Things can always be improved, no matter how good or bad they are. When you're dealing with tens of thousands of people, things can get a little chaotic, but safety is our number one concern. I'm the co-owner of the festival and I'm extremely concerned with the safety and feedback of our attendees. That's why I've spent the last 24 hours doing a Reddit AMA, answering every single question. We intend on spending the next 362 days of the year improving, too."