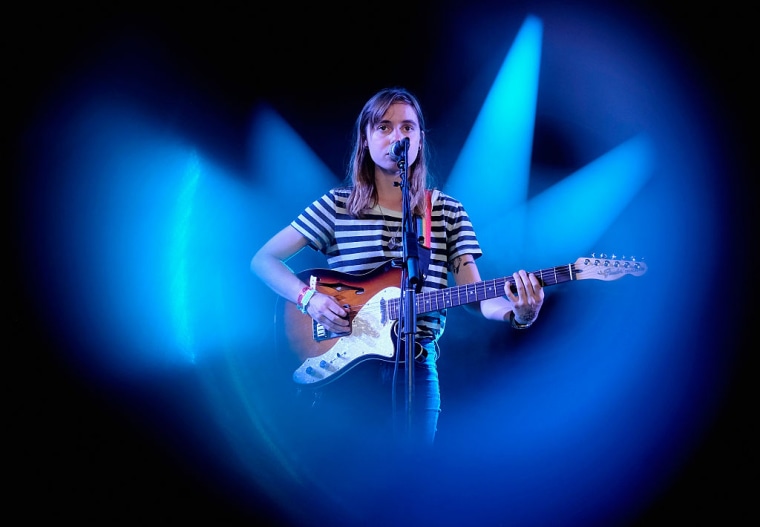 Shortly before his death in May last year, Scott Hutchison and his Frightened Rabbit bandmates went on tour to celebrate a decade of their 2008 album, The Midnight Organ Fight. The band also curated a selection of artists, including Aaron Dessner of The National and Chvrches' Lauren Mayberry, to cover songs from the record for a future release.
That release was postponed by Hutchison's untimely death but is now due for release on July 12, with the first two cover versions from the record revealed today. Both Julien Baker and Scottish rock band Biffy Clyro offer their takes on "The Modern Leper," the opening song from the 2008 album. Other artists to have contributed include Ben Gibbard, Daughter, The Twilight Sad, and comedian Sarah Silverman.
"This is a celebration of a record that connected thousands of people to Scott and connected thousands of people to each other and ten years on is still managing to do it," the band wrote in a statement announcing the upcoming release of Tiny Changes: A Celebration Of The Midnight Organ Fight.
Proceeds from the sale of the album will be donated to Tiny Changes, the mental health charity launched last month in Hutchison's honor.
Tracklist:
"The Modern Leper" (Biffy Clyro)
"I Feel Better" (Oxford Collapse)
"Good Arms vs Bad Arms" (Fiskur)
"Fast Blood" (Right On Dynamite)
"Old Old Fashioned" (Josh Ritter)
"The Twist" (Wintersleep)
"Bright Pink Bookmark" (Peter Katis)
"Head Rolls Off" (Craig Finn)
"My Backwards Walk" (Katie Harkin & Sarah Silverman)
"Keep Yourself Warm" (Benjamin Gibbard)
"Extrasupervery" (Jeff Zeigler)
"Poke" (Daughter)
"Floating In The Forth" (The Twilight Sad)
"Who'd You Kill Now" (Aaron Dessner & Lauren Mayberry)
"The Modern Leper" (Julien Baker)
"The Twist" (Piano Bar Fight)
"My Backwards Walk" (Manchester Orchestra)