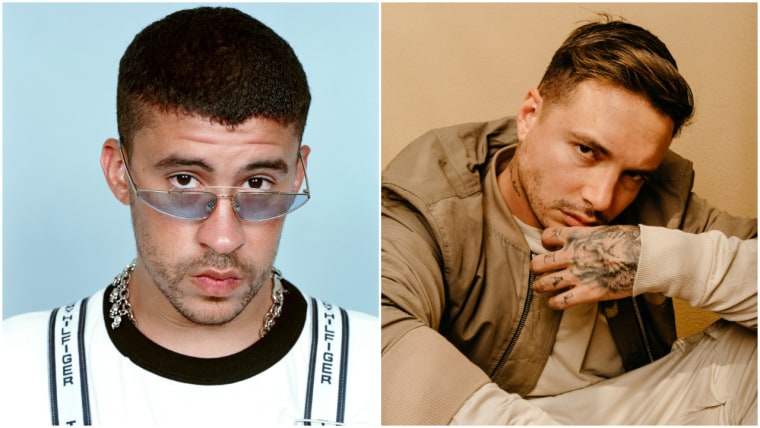 Oasis, the new 31-minute joint project between Bad Bunny and J Balvin, is a bellwether of change in urbano. Its succession of songs, over almost as soon as you start to settle in, is an escape to a lawless land where music needs not be defined. It's the product of a breath taken between solo tours and albums, freely given unto listeners of all backgrounds as both the prelude and soundtrack to their hot girl summers. There are drunken, wistful moments of nostalgia, big (yet matured, and somewhat nonchalant) moments of "Te Boté" energy, and even '90s-esque classic, perreo-primed reggaeton for the basic in all of us.
In the late '90s and early 2000s, during the first global wave of reggaeton and nascent molding of what urbano is today, the possibility of a joint album of this nature would've been impossible. Not only because there were no widely-known Colombian artists in the genre, or outside of Puerto Rico or Panama for that matter, but because of the cut-throat, analogous nature of the industry and sound respectively. Sure, Daddy Yankee could've had an El Cangri Y El Don with nemesis Don Omar, but it would sport neither the genre fluidity nor chemistry this does. The unafraid, collaborative risk Bad Bunny and J Balvin took with Oasis perhaps isn't groundbreaking in its thematic or lyrical depth, but it does beautifully set the tone for the culture of urbano.
The pairing of these two stellar urbano artists who orbit on the same plane but are otherwise in competition — plus the deft use of new production techniques and risky fusion of genres — make this project incomparable to anything that's come before it in the Latin music landscape. The latter, a testament to the brilliance of longtime go-to reggaeton producers Marco "Tainy" Masis and Alejandro "Sky" Ramirez. Free of pressure and unannounced, though continuously teased since September of last year, Oasis is a neat and tightly packaged presentation of who J Balvin and Bad Bunny are (coupled and on their own), as well as a reminder of where they've been, and whiff of where they're going.
For Bad Bunny, Oasis is yet another way to further cement the foundation of his musical legacy. With his debut album, X100PRE, Benito Antonio Martínez Ocasio assumed his place as harbinger of this generation of urbano artists. His eye for synthesizing diverse styles in music was first evidenced there with smooth transitions from punk rock in "Tenemos Que Hablar" to Latin trap and pop in español with "Otra Noche en Miami," and even dabblings in bachata with "La Romana."
Now, the Puerto Rican icon and his compratiota Tainy, who produced a significant part of that album, continue to push boundaries. On Oasis, Tainy shines on moments like the jazzy trumpet-infused blend of reggaeton in the sweet but ruthless "La Cancion." That fifth track — a sly standout — uses trumpet echoes to gently outline El Conejo Malo and Balvin's voices in the hook and further push their hate-soaked daggers as the song unravels, particularly felt in Ocasio's run in the outro: "I thought your name was dead, but I dreamt you awake. I went out to the street loose today. With no feelings, heart deserted," he trills in Spanish. Then, in the album's two tracks with featured artists, the team drifts away from their usual entirely, with alt-rock and a suave Afrobeat dancehall track. In "Un Peso," Argentenian rock, courtesy of Los Enanitos Verdes' Marciano Cantero, is seeped in a ukulele-infused beat à la "Ni Bien Ni Mal," while in "Como Un Bebé," Mr Eazi and Nigerian duo Legundary Beatz lend their popular sound to a perhaps untapped audience. With simple yet transcendent decisions as such, Bad Bunny and J Balvin show us this moment is about more than a genre or a people — it's about creating a unifying, global sound, and honoring its roots.

"I want mainstream artists to respect me, and accept Latino artists as equals, without us having to sing in English," Balvin told The FADER in 2016. Three years later, the fact that this album is entirely in Spanish, a given rather than a choice being that it's their vernacular, is still a statement in itself. With J Balvin's recent disassociation from former longtime manager Rebeca León (Rosalía, Juanes, Fuego) and link up with Scooter Braun (Justin Bieber, Ariana Grande, Demi Lovato), this feels like silent affirmation to fans that his priority is still the celebration of Latindad. But more than anything, this album is a testament to José Álvaro Osorio Balvin's visionary build as an artist, and it attests to his heightened awareness of the opportune.
With 15 collaborations over the last six months alone, it's evident that the Medellín-born artist's success and rise has remained in perpetual motion because of his eye for, and openness to, the right collaborations. From high-charting, undying summer playlist culprits like "Con Altura" with Rosalía and El Guincho or "Contra La Pared" with Sean Paul, to his consistent evoking of genre-shaping producers and songwriters, Balvin knows that being great is about much more than talent and range alone. Similar to his recent work with rising artists like Lalo Ebratt and Jhay Cortez in the "Mocca" and "No Me Conoce" remixes respectively, the Colombian reggaetonero saw vast potential in Bad Bunny in 2017, when the refreshingly weird Puerto Rican casanova was on the edge of a sudden yet merited leap from beloved SoundCloud crooner to mainstream pop sensation. The Latin Grammy nominated single "Si Tu Novio Te Deja Sola" was an indicator and foreshadowing of this moment.
This is a historical moment, not only for Balvin and Benito, but for the genre as a whole. The longevity and continued influence of urbano on a global level will rely on the willingness of the appropriate Latinx artists to drift from the norm, maintain healthy symbiotic creative relationships, and further push the malleability of our Caribbean sound. If done well, we'll all be basking in this oasis' light for the unforeseeable future.