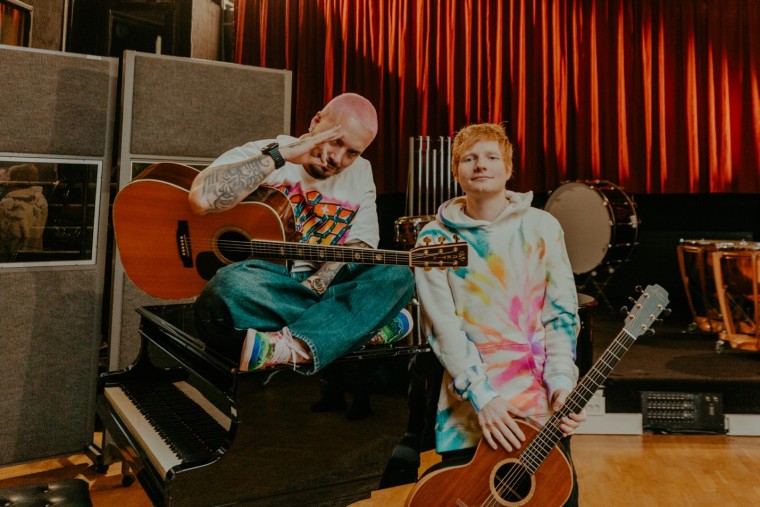 J Balvin and Ed Sheeran may not seem a likely pairing on paper but ̶m̶o̶n̶t̶h̶l̶y̶ ̶l̶i̶s̶t̶e̶n̶e̶r̶ ̶f̶i̶g̶u̶r̶e̶s̶ musical connections are hard to deny. Today the pair are sharing two songs, billed as an EP, one of which leans into Balvin's comfort zone of party starting reggaeton ("Sigue") and another more in Sheeran's earnest balladeering wheelhouse. "Sigue," produced by Tainy, features Sheeran singing in Spanish on a song that translates to "follow."
""Everything good takes time. Six months ago I was at the gym and told myself, 'this guy looks like Ed Sheeran.' Well it was," Balvin said in a statement. "We had a coffee and spoke about life and we there was a dope vibe. We bonded over simple things creating a genuine friendship."
Sheeran, hinting that there is more to come from the duo, added: "I was in New York at Christmas for shows and we decided to have one day in the studio that led to so so much more. The first two songs we wrote were 'Sigue' and 'Forever My Love' and I absolutely love them. He wanted to bring me into his world, and I wanted to bring him into mine. It was a proper challenge learning Spanish for this and I had so much fun doing it."
Sheeran and Balvin both released albums in 2021, Balvin's Jose dropped in September with Sheeran's = following a moth later.