How the Haxan Cloak's Bobby Krlic brought unnerving beauty to Midsommar
The British artist on the process of composing for Ari Aster's new film and how he ended up in the liner notes for Khalid's latest album.
When it comes to Midsommar, it's best to leave your expectations at the door. Director Ari Aster's follow-up to Hereditary, last year's hellish and horrifying meditation on family and the ways we try to avoid repeating personal history, shares very little in common with its predecessor beyond an often-uncomfortable examination of what makes us tick when it comes to the relationships we maintain. An unnervingly sunlit and slow-crawling descent into cultish gore that follows a group of American tourists visiting a small Swedish hamlet to observe a once-in-a-lifetime ritual, Midsommar surprisingly doesn't feel much like a horror film — and the Haxan Cloak mastermind Bobby Krlic's score is similarly unexpected, diving headlong into golden string arrangements and melodic brightness in a way that sharply diverges from the cascading, terrifyingly empty soundscapes he's known for under his main project.
There's a tinge of irony that Krlic's score will likely surprise those who are familiar with his past work, primarily in how the pair came to collaborate on crafting Midsommar's uneasy mood after his agent approached him in early 2017 — a full year and a half before Hereditary was even released. "He told me that Ari had written this script entirely to my music, so I couldn't say no to that," Krlic recalls during a phone conversation late last week, just a few days after the first-ever screening of the film (the finishing touches were being put on Midsommar as recent as earlier this month); Aster came to Krlic's abode in Los Angeles and the latter played him music he'd been working on. "We had so much common ground. In those situations, you're supposed to play your cards close to the chest, but before he left my house we were both like, 'OK, yeah, let's do it.'"
As Aster was hard on work at Hereditary at the time, Krlic hadn't yet seen Aster's breakout debut — but he'd gotten an idea of Aster's artistic approach from the short film work that came before. "It was obvious that the guy is a genius," Krlic beams. "He weaves a lot of emotion into a very dark framework, and it deeply resonates with things that I do in my own music." Over the next two years, Krlic composed music to the script itself before a single shot was lensed on Midsommar, drawing from influences as disparate as classic Disney animated films, the ultraviolet melancholia of the Beach Boys' Brian Wilson, and Alexander Desplat's score to Jonathan Glazer's classic 2004 drama Birth. The process was often deeply collaborative between him and Aster, a mind-meld reflected in how perfectly suited the former's music plays against the latter's distinctive imagery.
Now that Midsommar and Krlic's score is nearly out in the wild, he's got plenty more on the way too: there's a new Haxan Cloak album in the works, as well as collaborations with Father John Misty's Josh Tillman, who he refers to as a "great friend" — and he has plans to launch his own label now that he owns the masters to his previous work. Read on for our conversation on working on Midsommar, Krlic's own experiences with heartbreak, and what lies ahead in his career.

When I first saw Hereditary, I walked away with a headache that lasted for several hours. What was your reaction when you first saw it?
It was at a screening in London that Ari was at too. The last 15 minutes of that film is one of the most intense things I've ever seen in the cinema — it really affected me. I remember turning around to Ari as the credits were rolling and I said, "Holy shit dude, this is unlike anything I've ever seen." He just looked at me and said, "Let's fuck people up even more with Midsommar." It was game on at that point.
What was your reaction seeing the finished product of Midsommar after being so involved from the beginning?
I've seen every version of Midsommar over the past nine months, since they started getting reels done — the first cut that I saw was three and a half hours long. It's a completely original and breathtaking experience — it looks beautiful, the cinematography and acting are fantastic, and it sounds exactly how I wanted it to sound. It's a really unique piece of work.
How much music did you write that didn't end up in the final film?
Not much. There's the score itself, and then there's all the music in the film that the Hargars play and sing — I wrote all of that before filming so it could be performed on set. In terms of the score itself, I built a lot of textures and thematic elements to fit certain characters, and Ari came to L.A. to spend the week with me in my studio. We worked seven or eight hours a day. Ari sat next to me and he'd describe things emotionally, and I'd just keep playing until we hit the points together where we felt it was working. It was a really great and unique way of working with somebody.
Colin Stetson wrote the score for Hereditary. Did you have his work for that film in mind in terms of sounds to embrace or avoid for Midsommar?
I was extremely impressed with what Colin did for Hereditary, and I'm a big fan of his music, but they're two very different films. Reading the script, you could definitely envision Midsommar as a horror film, but when the dailies started coming in and Ari and I were speaking more, we were trying to craft a fairy tale — which is why we were leaning on a traditional orchestra. I was trying to bring magic into it while avoiding a lot of horror tropes until it was necessary — but they only appear in short bursts.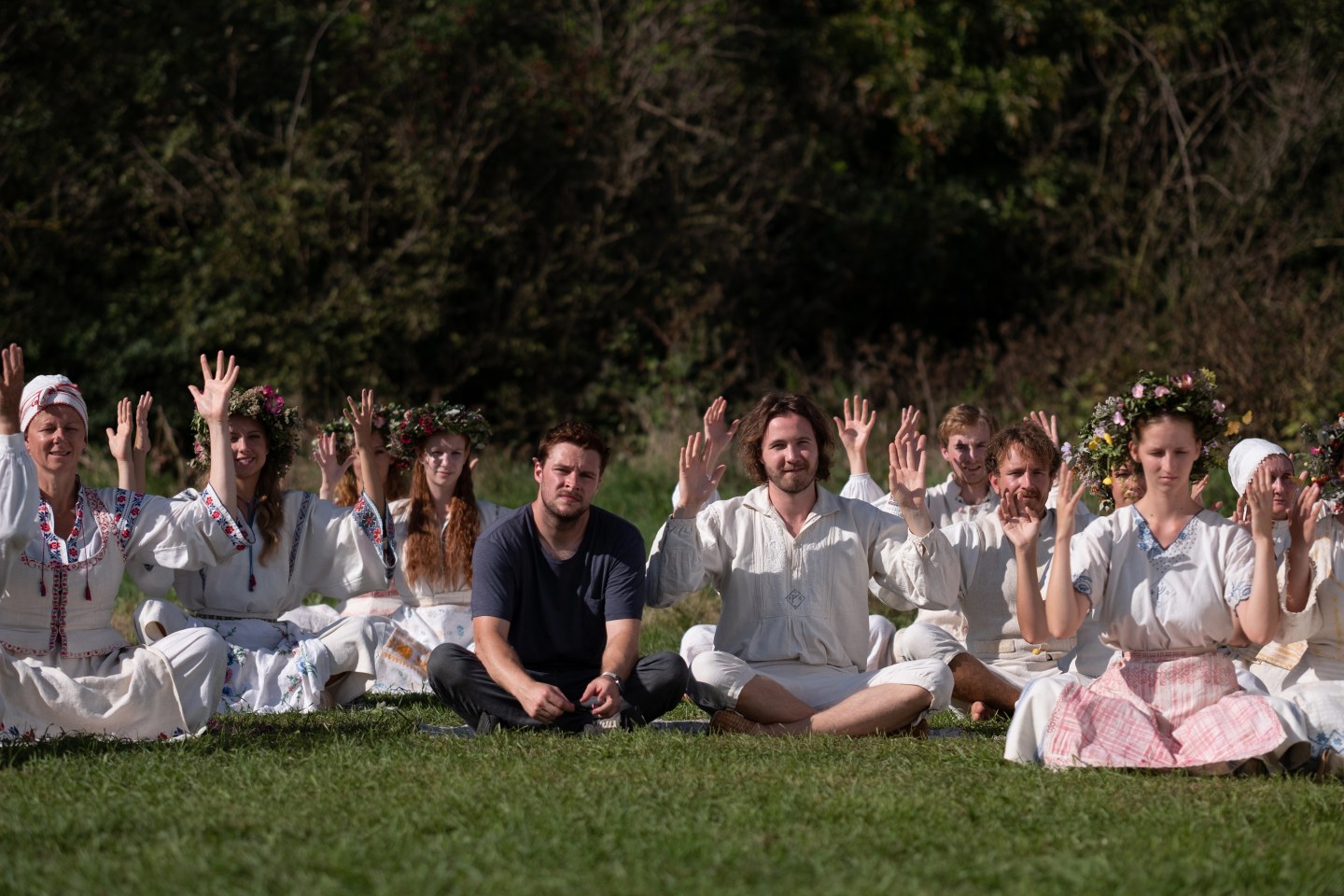 Your music as the Haxan Cloak was already considered fairly cinematic — now you're actually making music for the cinema. Did scoring come easy to you because of that?
I've got to say, I didn't find it very hard. I've always made largely instrumental music, I come from a classically trained background, and my records have always had strong themes. I've always done a lot of visual research while making them — I love cinema, and I used to want to be a director when I was younger. I'm as much visually minded as I am musically, and I get inspired by books, films, and just walking around — especially in L.A., with such wonderful light and scenery. Scoring isn't easy, but it definitely came fairly naturally.
The score is quite radiant and beautiful at points — to the point where people who are familiar with your previous work might be surprised at how it sounds.
I really hope they are. You always want to feel like you're on a journey as a musician — you don't wanna be flatlining. In the six years since my last album, I've been consistently working and trying to figure out what I'm trying to say. I've been quite fortunate that I've been able to do a lot of scoring, songwriting, and production that has given me a chance to grow and figure out who I am as a person, an artist, and a musician. I was 24 when I wrote Excavation — a lot changes in that time, and the Haxan Cloak records are just a small part of what I'm interested in and what I want to say as a musician.
Similar to Hereditary, Midsommar can thematically mean different things to different people. How do you interpret it?
It's a film about loss in different senses — loss of family members, loss of trust in somebody that you love. The music in the film has a very particular tone before we get to Sweden, and as it starts shifting we introduce more electronic textures. I was trying to create something that symbolized the Hargas' hive mind — the influence they have over these people. There's a cultish, brainwashing element. It's about finding the core emotions of what Dani was going through and trying to amplify that as much as possible.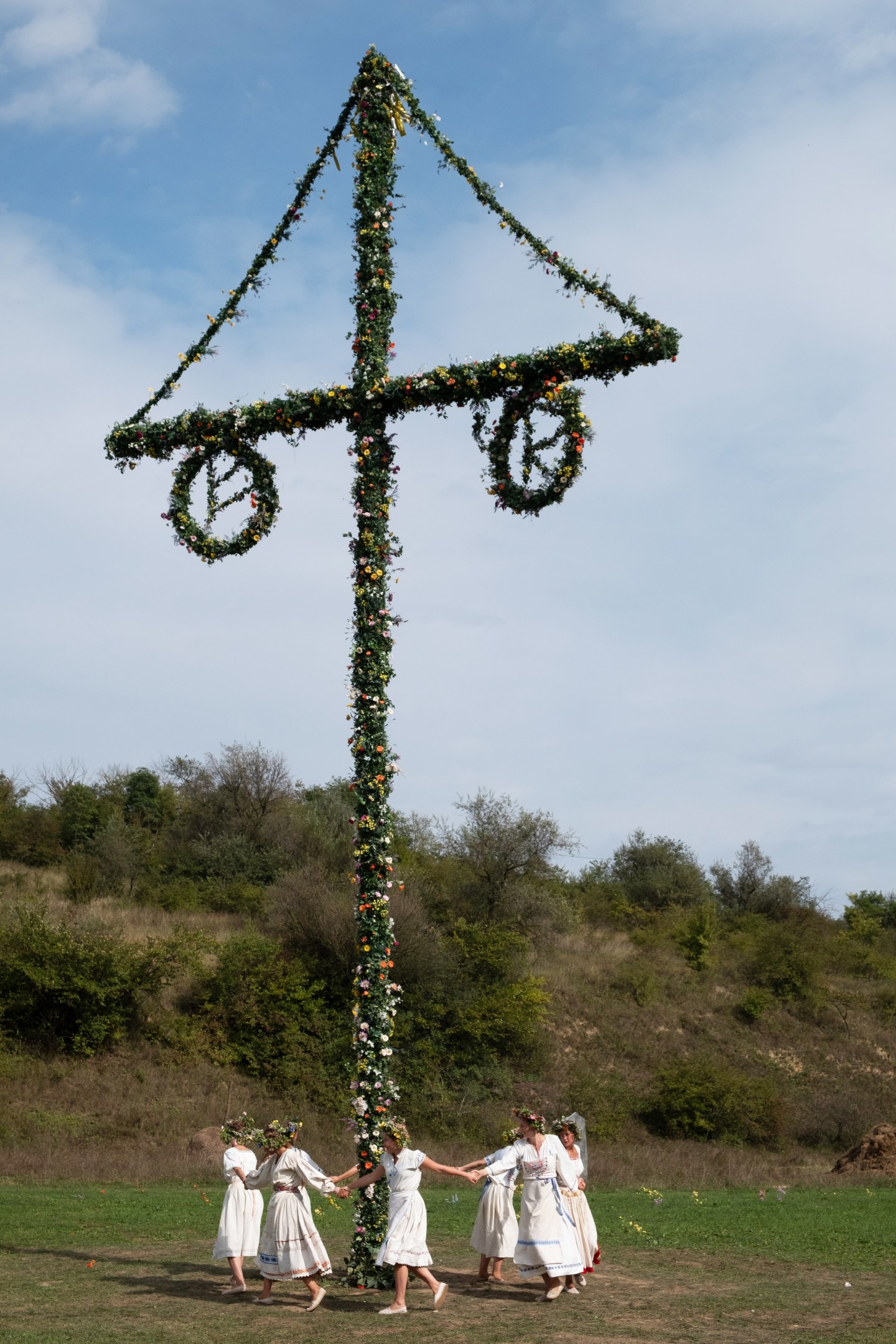 What did you learn about scoring from working with Atticus [Ross]?

I've been a fan of Nine Inch Nails for a long time, so meeting Atticus was a big deal for me. He told me he never really worked with anybody outside of his family, so it was a big honor to be asked to help. He's exceptionally talented and intelligent — he sticks to his guns, and he taught me that if you believe in something, you should stand your ground, be confident, and assert your voice. The Hollywood film industry can be quite daunting, but he dispelled a lot of that for me, which was great.
Ari Aster has said this is a breakup film. Have you ever gone through a transformative breakup?

Definitely. When I first moved to L.A., I was in a relationship that only lasted a few months with me being here. I was with them for six or seven years, and I definitely moved here in an effort to get away from that. The first few months I was in L.A., I was single and for the first time, living in a house by myself, operating on my own schedule — and I just turned 30. It was a big discovery to be culturally displaced — to be somewhere where I was completely an outsider. I mean, I still kind of feel like a tourist, you know? But when you move away from all familiarity, it helps you to look inside yourself and figure out who you really are and what you want.
I was surprised to see your name in the liner notes for Khalid's latest album. What has it meant to you to embrace your own artistic versatility?
It's very easy for people to listen to my records and assume one thing about what I do but, first and foremost, I'm a musician interested in many different types of music. Both my parents were musicians and, when I was younger, there was so much music going on in the house all the time. I'm truly fascinated by music, and with being here in L.A., it's interesting to witness the amount of cross-pollination that happens — people just being open to work, which was one of the things that drew me to living here. It's a really great gift to expand my musical vocabulary, and I want to do a lot more of that.