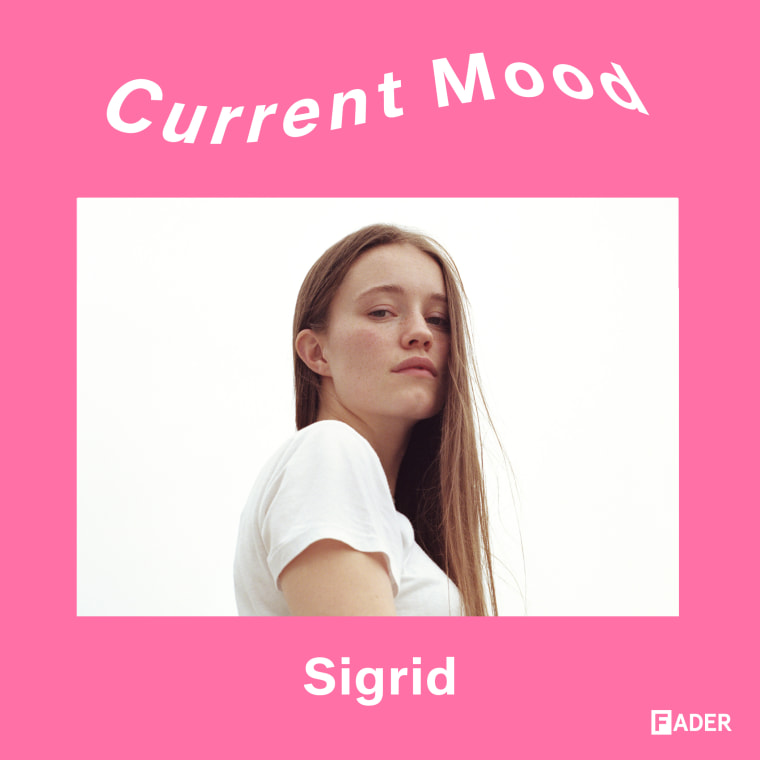 In our Current Mood series, we ask some of our favourite artists to curate a playlist according to a specific theme or mood of their choice. For Current Mood #003, ascendant Norwegian pop star Sigrid shares a playlist that soundtracks all hours of her day. Listen to past Current Mood playlists here.
Sigrid's music isn't beholden to place or time. A song like "Strangers" could just as easily soundtrack a summertime picnic as it could an early hours house party; the Norwegian pop musician has a knack for writing songs that sound appropriate in all locations, at all hours. From the sweeping, film-ready anthem "Don't Kill My Vibe" to offbeat song-about-songwriting "Sucker Punch," the 22-year-old's already formidable body of work has surely soundtracked more than a few formative experiences since she first emerged two years ago. In that spirit, Sigrid has put together a Current Mood playlist that's designed to be listened to at all hours of day and night.
Sigrid's Sunrise to Sunset playlist traverses broad musical ground: The 1975's sad-hopeful anthem "Love It If We Made It" fades into Australian folk crooner Matt Corby's "All Fired Up," which eventually gives way to Tove Lo, the Sugababes, and star of the moment Lizzo. She caps things off with The Cure and Nick Drake — songs to watch the sun rise to.
"This playlist consists of all my favorite songs I'm listening to at the moment, old and new 💕," Sigrid tells The FADER via email, "Hope you like it! There's something for every time of the day or night." Listen to Sigrid's Sunrise to Sunset playlist, and find her upcoming tour dates, below.
Sigrid 2019 Tour Dates:
01 Aug 2019 — Chicago, United States — Thalia Hall Chicago
02 Aug 2019 — Chicago, United States — Lollapalooza
04 Aug 2019 — Montreal, Canada — Osheaga
11 Sep 2019 — Los Angeles, United States — Fonda Theatre
12 Sep 2019 — Sf, United States — Mezzanine
14 Sep 2019 — Atlanta, United States — Music Midtown
15 Sep 2019 — Nashville, United States — Mercy Lounge
17 Sep 2019 — Washington, United States — 9:30 Club
19 Sep 2019 — New York, United States — Webster Hall
20 Sep 2019 — New York, United States — Webster Hall
21 Sep 2019 — Boston, United States — Paradise Rock Club
24 Sep 2019 — Toronto, Canada — The Danforth Music Hall
26 Sep 2019 — Detroit, United States — El Club
28 Sep 2019 — Madison, United States — Majestic Theatre
30 Sep 2019 — Minneapolis, United States — Fine Line Cafe
02 Oct 2019 — Englewood, United States — Gothic Theatre
05 Oct 2019 — Austin, United States — Austin City Limits
07 Oct 2019 — Kcmo, United States — Recordbar
08 Oct 2019 — St Louis, United States — The Ready Room
12 Oct 2019 — Austin, United States — Austin City Limits