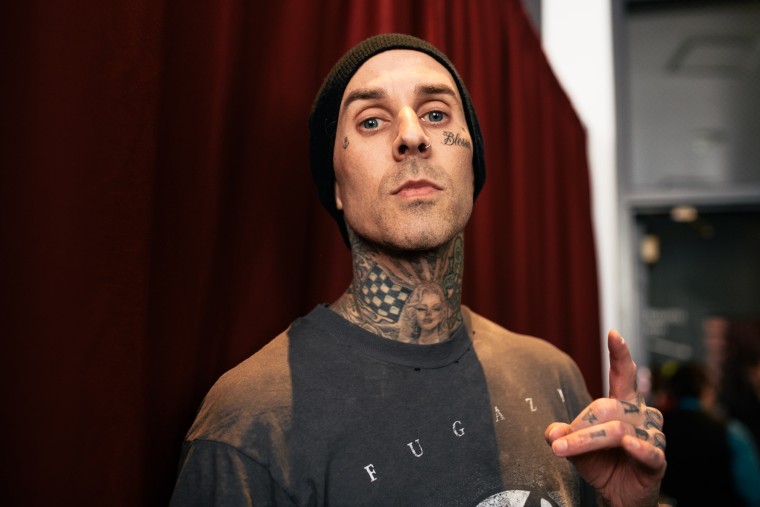 In a world of constant line-up changes, super-catchy hooks, and relentless dick jokes, Travis Barker is Blink-182's renaissance man. His love of hip-hop has long been known: back in 2011, he released solo album Give The Drummer Some, featuring Pharrell, Snoop, and Kid Cudi among others, but in 2019 he's been on a real hot streak. In the last month alone he's produced a song on Lil Nas X's debut EP [the spiky "F9mily"] and dropped a whole joint project with the incarcerated L.A. rapper 03 Greedo. Meet The Drummers is a trap-heavy release that acts as both a showcase for Greedo's undeniable melodic talents, as well as Barker's ability to produce outside of his pop-punk comfort zone.
Right now he's on tour with Blink-182, a tour that hit the headlines last week, the night after this interview was conducted, when supporting act Lil Wayne said the crowd was "not my swag" and walked off-stage mid-way through a set (a representative for Barker did not respond to The FADER's request for comment following the incident). During our interview, Barker discussed celebrating 20 years of Blink-182's Enema Of The State and what it's like being one of the very few people in music who can say they have worked with both Tom DeLonge and Trippie Redd.

Can you explain how you first got to know 03 Greedo and how the Meet The Drummers project came to be?
Kenny Beats hit me one day and was like, "Yo you got to meet Greedo, he's seriously over here clowning me saying we don't even know each other." It was so funny. I was like, "Dude I'll definitely pull up." So I pulled up one day, and he was just so funny and so cool. Kenny Beats was in the middle of just throwing ideas and playing beats. And then Greedo was like, "Trav, why don't you play something? You got beats?" And I played something. And he got on one and then he said, "You got any more?" So two of the vocals on the EP were recorded at Kenny's studio. And then he said, "Later on this week I'm pulling up on you." So, he came to my studio, we knocked out another three songs. And this is, like, 72 hours before he went to prison. I was basically on call for Greedo. He'd say, "It's five in the morning, I'm inspired and want to come by the studio." And I would go meet him at the studio.
He was super productive in that period, right?
Yeah. In those last couple days, he had his going away party and between his going away party and saying goodbye to people he was in my studio. I know he was in Kenny Beats studio, he was in Mustard's studio, and he was just making music.
What was he like to work with in the studio?
Everything was a freestyle. I would just play a beat, I don't even know if the beat would play out for even 30 seconds to a minute, he would jump in the booth. "I got something." And that's literally how that EP came together. He's so genius. That whole EP is a story. He's talking about being locked up, how he will be when he's locked up. I don't know, man, he touched on so much.
Have you spoken to him since he went away?
I speak to him, maybe, once every two weeks. He'll hit me from prison and just have a conversation leading up to the EP coming out. And then I stay in touch with his wife and stuff like that. I just try to keep him in good spirits, I tell him I love him, you know, keep his head up. Let him know that his music is still alive out here. I'm actually going to visit him when I drive through Texas.
And he's getting on alright, given the circumstances?
I always say, "Is everything cool in there? You straight?" And he's like, "Trav, I'm in my house slippers." So, he's good, you know?

Your remix of Lil Peep and XXXTentacion's "Falling Down" came out this past week. What made you want to rework that song in particular?
I was a big fan of both Peep and X, and I had actually worked with X a few times before he passed away. I love that song ["Falling Down"] — from the moment I heard it, it was on repeat. So, they hit me up to do a remix, and I had asked, "Is there any kind of direction that you want to go? Or something that you want in particular from me?" The label said we want like a classic Travis Barker remix. So, I just kind of did my thing and approached it as if I was writing drum parts for a Blink song. I think of it like, what if X or Peep was backed by one of their favorite bands.
What was your experience of working with X and dealing with him as a person?
He was the greatest. I love that kid. It was actually really emotional for me to even do this remix. He was nothing but a great guy. He would always call me and FaceTime me with...super excited and have tons of ideas. Like, 'I'm about to send you something and my engineer is going to fly it out to you. Record it and bring it right back.' That was like our first collaboration. And then the second collaboration he had sent me some stuff and between the time that he had sent me it and I returned it, he had passed away.
So you have no issues associating your name with him at this point in time?
No. My relationship with him consisted straight-up of music. He never asked me about my personal life and I never asked about his. I've had this same conversation with Kanye West, he's like, 'What does it matter about what he did in his personal life? We didn't grow up and make decisions together, we made music together." And that's pretty much the extent of it.
Another person you've worked with recently is Lil Nas X. What's it like being a part of his crazy journey?
The kid has started his own wave, his own genre of music, it's incredible. He came into the studio and beforehand I'd been told, "Look he's never been in a real studio. He's not afraid to say what he doesn't like and likes." And I'm like, "Oh that's fine, you know I'm kind of used to that. That's how the studio goes." So that day he comes in and he's having a rift with his family, a blowout, and I was kind of thinking, Shit man, this session might not happen, you know?
I start playing beats for him and, in between whatever drama is going on with his family, he's like, "What the fuck is this?" And I said, "It was actually an idea I made for the new Blink album but no one's gotten on it yet." And he's like, "How did you create this, this is amazing. Like this speaks to me so much and I have to get on this." So, he literally goes in and writes about what just happened with his family. And it's just...comes together super, super quick and it's so different. I don't even know what you call it. Can't even describe it but he literally writes about what just happened to him.
Who else are you working with right now?
I have a whole rock album with Trippie Redd ready to go. Trippie is so talented, he can really sing and he's so great with melody. I'd love to get in the studio with Playboi Carti again, too. We got in one time years ago. We just kind of linked up one day and played beats and hung out in the studio, but we didn't really make anything. I think we're due to do something soon.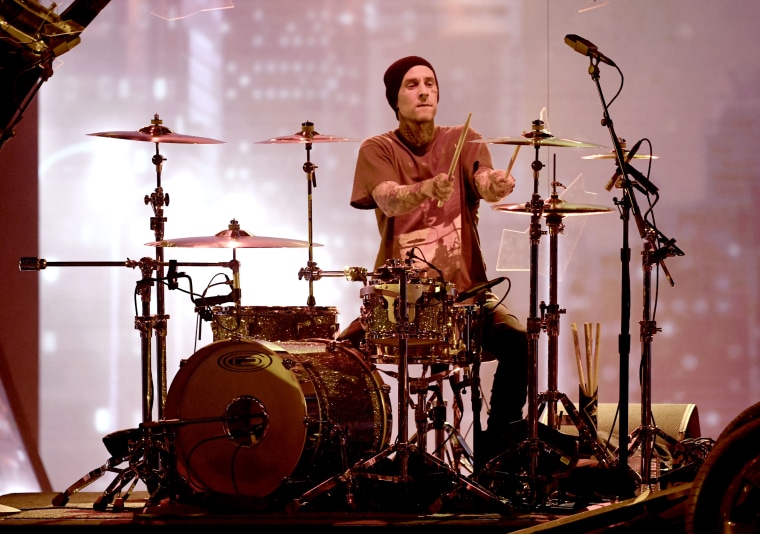 Blink are currently on tour with Lil Wayne. What's it like celebrating the 20th anniversary of a classic pop-punk album?
Thankfully, I look back and I love every song on it and I feel like it's aged so well. I mean there's albums I finish making that I never listen to again and, honestly, I never really ventured back to listen to Enema in its entirety until we learned it for this tour. I just love every song on it. I wouldn't change a thing about it if I was to recreate it today.
You and Wayne go way back, right? That's a pretty cool support act.
I was kind of raised on his music. I always loved Lil Wayne's music, even from like the Hot Boys days. We toured together in 2006. I think we collaborated with each other in 2005 on my solo album. We played the Grammys together with Eminem and Drake. I played on his rock album. So we had collaborated a lot. They started throwing out names for this tour and someone said, "Weezy." And I was like, "OK, you guys you know you don't have to fucking twist my arm." I obviously love the guy. But I was like, is it going to make sense. Everyone is going to think I pitched this idea for Blink, you know? I'm going to be the bad guy or something. There's some fans still, believe it or not, in 2019 that just…I only like rock music or I only like rap music. For me, I really really don't enjoy touring with bands that kind of sound like us. I feel like it's kind of boring and old school.
What's your favorite Weezy memory?
There's a funny story. We were in L.A. filming the video for "Can a Drummer Get Some," which is him, Rick Ross, Swizz Beatz, and The Game. We're all on set and Wayne pulls up in his bus. There's tons of people everywhere, basically almost shut down the street. And then Wayne's assistant comes up to me and goes, "Hey bro, Wayne's not going to do his verse. He's not going to film his verse but maybe he'll film the chorus." And I was like "What's up?" And he's like, "That was old Wayne, you know, that was before he was locked up in Rikers and that's not Wayne anymore." We're in full production mode on the video, and Wayne's decided he doesn't like his verse any more. He ended up re-recording his verse, paid for the song to get mixed, and paid for the song to get mastered. Then, a month later, he paid for the video crew to come out to Miami and film a new part for the video.
Will you record with him while you're touring together?
I have a song that's got Wayne on it, a verse from Rick Ross, and Anderson. Paak's on the chorus. So I'm trying to figure it out to where I can possibly release it on this tour.
What can you say about the new Blink album?
The new Blink album is awesome. It's — I don't know — it's the evolution just like how Enema really didn't sound like their album prior to that or self-titled didn't sound like Take Off Your Pants and Jacket. This album is a lot of songs that are, I guess they're songs like "Happy Days" that just came out last month. A lot of stuff on this album was started by beat ideas that I had that I was playing for rappers in the studio. Just like how I said one beat idea got away from the Blink album and went to Lil Nas X, like a lot of times we'd just get in the studio like, "Does anyone have ideas?" And I'd be like "Yeah I have 30 beats to play you." And that's how we started most of the songs off this album.